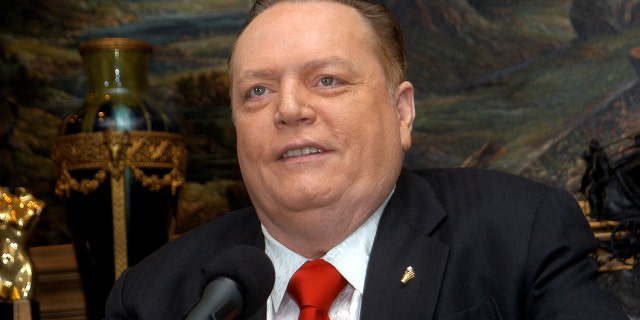 Larry Flynt (Photo by Steve Grayson/WireImage)
On this day, Feb. 24 …
1988: The Supreme Court unanimously overturns a $150,000 award that the Rev. Jerry Falwell had won against Hustler magazine and its publisher, Larry Flynt — a ruling that would expand legal protections for parody and satire.
Also on this day:
1582: Pope Gregory XIII issues an edict outlining his calendar reforms. (The Gregorian Calendar is the calendar in general use today.)
1761: Boston lawyer James Otis Jr. goes to court to argue against "writs of assistance" that allow British customs officers to arbitrarily search people's premises, declaring: "A man's house is his castle." (Although Otis would lose the case, his statement would provide early inspiration for American independence.)
1868: The U.S. House of Representatives impeach President Andrew Johnson by a vote of 126-47 following his attempted dismissal of Secretary of War Edwin M. Stanton; Johnson would be later acquitted by the Senate.
1920: The German Workers Party, which would become the Nazi Party, meets in Munich to adopt its platform.
1955: The Cole Porter musical "Silk Stockings" opens at the Imperial Theater on Broadway.
1961: The Federal Communications Commission authorizes the nation's first full-scale trial of pay television in Hartford, Conn.
1983: A congressional commission releases a report condemning the internment of Japanese Americans during World War II as a "grave injustice."
1989: A state funeral is held in Japan for Emperor Hirohito, who had died the month before at age 87.
1994: Entertainer Dinah Shore dies in Beverly Hills, Calif.
2008: Cuba's parliament names Raul Castro president, officially ending nearly 50 years of rule by his brother Fidel.
2009: In the first prime-time speech of his term, President Obama appears before Congress to sketch an agenda that begins with jobs, then broadens quickly to include a stable credit system, better schools, health care reform, reliable domestic sources of energy and an end to the war in Iraq.
2014: "Late Night with Seth Meyers" premieres on NBC.
2018: The U.N. Security Council unanimously demands a 30-day cease-fire across Syria to deliver humanitarian aid and evacuate the wounded, as the death toll reaches 500 from a Syrian bombing campaign in the rebel-held suburbs of Damascus. (The cease-fire would fail to take hold.)
2018: At the Winter Olympics in South Korea, American men win the gold medal in curling in a decisive upset of Sweden; it is only the second curling medal in U.S. history.
Source: Read Full Article