Haley Cureton starred in Netflix's first season of Too Hot to Handle. Right away, she became known as the Florida sorority girl who doesn't know where Australia is.
She also became known for losing her housemates money by kissing Francesca Farago, something that Francesca calls "necessary."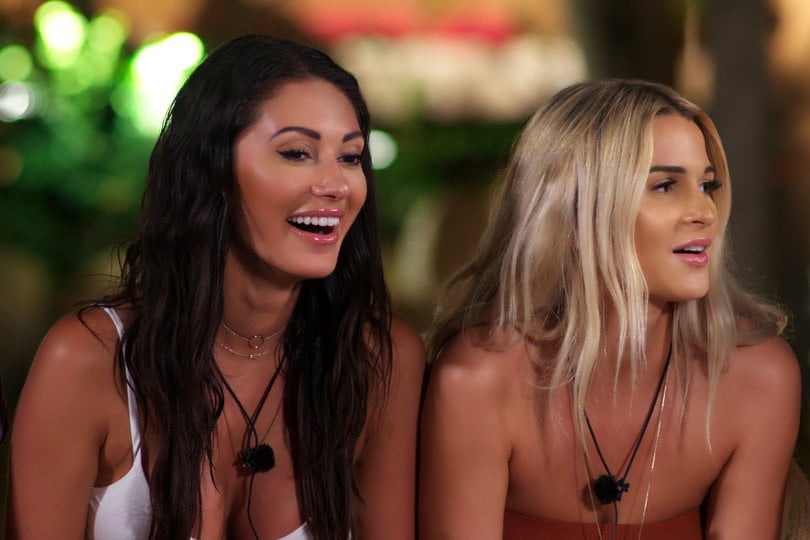 "I definitely feel like that was necessary," she told TVLine of her kiss with Haley. "It was easy for her and I to make that decision because we weren't really forming strong friendships with anyone else in the house at that moment. We felt like no one was really taking the time to get to know us, and we really wanted to stir the pot. Plus, Haley's beautiful, so it was fun to kiss her. It was a win-win for me."
According to Francesca, she and Haley really thought there were "going to get away with the kiss."
"This secret was going to be taken to our grave. No one was going to know the truth until they actually watched the show. If we knew that Lana was going to throw us under the bus, we might have told some people ourselves so they would have been less mad," she said. "Everybody was really mad, and understandably so, but it was so fun. Haley and I had such a good time together. I enjoyed watching her lie to the group. It was so hard to contain my laughter. We were like partners in crime."
Why Haley was kicked off 'Too Hot to Handle'
Then, during episode 6, we learn that Haley was sent home. Apparently, Lana has the power to send contestants packing for not having a "positive impact" on the group.
We see Lana tell the group: "Haley. I have been evaluating your performance so far. Having a positive impact on the group as a whole: fail. Showing signs of personal growth: fail. Obeying the rules: fail."
"Insufficient progress has been made. Haley, your time in the retreat is over," the robot concluded.
Haley didn't seem to mind heading home. This wasn't what she thought she'd signed up for. Earlier, she'd been heard saying she wished there was an "elimination ceremony" element to the show so she could go home. Well, she got her wish.
The 'Too Hot to Handle' fans living for Haley
Despite her early exit, Haley's got herself a fan base of loyal supporters.
"UGHH KWEEN WHO DESERVED BETTER," commented one fan on a recent Instagram post of Haley's.
"Savage n the most entertaining," wrote another.
"I'm so proud of you on too hot to handle you're so underrated," commented another fan.
"u were such a bad*ss on the show i live for it😍😍" wrote another person.
Read more: 'Too Hot to Handle': Francesca Says She Only Went on a Date With Kori to Prove That She and Harry Were Solid
Source: Read Full Article