This Is Us is one of the most popular television shows of all time, a drama that highlights a family throughout their highs and lows. The NBC series premiered in 2016 and with the sixth and final season currently airing, many fans are diving deep to learn what they can about the show's inception, along with the actors who are behind the beloved characters in This Is Us. Two of the most popular characters in the show are Jack and Rebecca Pearson, played by Milo Ventimiglia and Mandy Moore. In a recent interview, Milo Ventimiglia opened up about the vows that he and Mandy Moore made to each other prior to the series premiere of This Is Us — and why the actress is the "best partner" he's ever had. 
Ventimiglia and Moore star in 'This Is Us'
Milo Ventimiglia and Mandy Moore were both popular performers prior to being cast in This Is Us. However, the show has helped to give their careers a major boost. Today, the two are considered to be television royalty. Ventimiglia plays Jack Pearson, married to Rebecca Pearson, played by Moore, and throughout the series, the actors have had to portray their characters in different decades and at different ages.
Viewers have watched as Jack and Rebecca Pearson welcome children of their own, decide to adopt, and go through the unique challenges associated with raising a family while struggling to achieve their own happiness at work and in their marriage. Ventimiglia and Moore have managed to make the characters their own, and fans absolutely love their chemistry on the show.
What did Milo Ventimiglia say about him and Mandy Moore taking vows?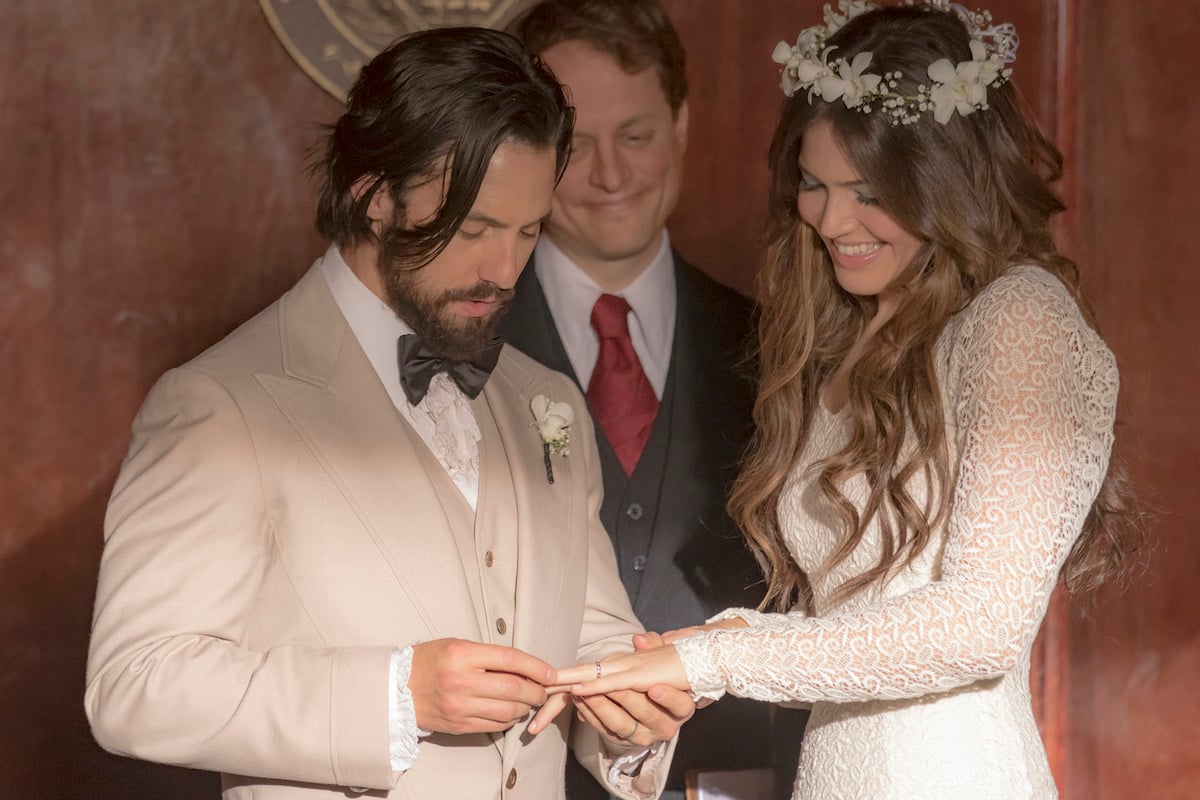 As it turns out, Ventimiglia and Moore have serious chemistry in real life as well. In a recent interview with Jimmy Kimmel, ahead of the season 6 premiere, Milo Ventimiglia dished on the vows that he and Mandy Moore made to each other when they first got together to film This Is Us.
As reported by Insider, Ventimiglia said that they made specific commitments to each other as they went on their new journey. The vows, according to Ventimiglia, included, "I promise to always communicate. I promise to not be happy until you're happy. I will always look out for you."
"And we have stayed very true to what we said in the beginning," the actor told Kimmel, calling Moore "the best partner I've ever had." Ventimiglia's sentiments in his recent interview echoed an older conversation that he had with E! News, when he said that he and Moore had agreed "that from action to cut, for all intents and purposes, we're a married couple."
Are Moore and Ventimiglia married to each other in real life?
Mandy Moore and Milo Ventimiglia might act like a married couple on the set, but in real life, Moore is married to musician Taylor Goldsmith. The two were married in 2018 and welcomed their first child in February 2021. As for Ventimiglia, while he has dated some well-known actresses, including a long-term relationship with Hayden Panettiere, the actor is single these days, according to The Things. 
The publication notes that Ventimiglia likes to keep his personal life very private, so even if he was casually dating someone, it is unlikely that he would bring it up in an interview. Still, with Ventimiglia being one of the hottest bachelors in television, there's a very good chance that he could find his very own Rebecca Pearson in the coming years.
Source: Read Full Article