Sara Haines is known by many fans as the peppy on-air personality from "The View," "Good Morning America," and other talk shows. And it was the television personality's work on a daytime show that led to meeting her husband!
The successful host had dedicated herself to a lucrative career, but decided she wanted to focus some energy on finding a partner. "If I can go to the gym an hour a day, I can spend an hour a day whether I'm looking online or on a date for one drink," she wrote in a 2017 essay for Glamour. While Haines worked on "TODAY," a producer approached her about creating a dating profile on OkCupid for a segment on the show. She agreed, and kept the profile open after the segment was filmed.
Afterward, Haines matched with Max Shifrin on the dating site, and the two had an instant connection when they met in person. "I went to shake hands, the gentleman that I am, and she went to aggressively hug me," Shifrin recalled to Yahoo! Life in 2018. The couple became serious, and Shifrin proposed in bed nearly two years after they started dating. "I literally got up, crawled out of bed in my pajamas and got on one knee on the floor next to the bed," he told Yahoo of the proposal. 
In November 2014, Haines and Shifrin tied the knot, per ABC. Keep reading to find out more about the couple's marriage.
Sara Haines' husband is also a hard worker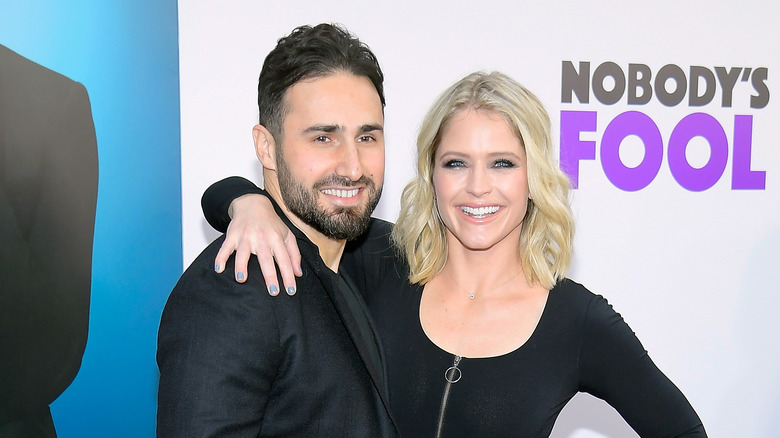 Sara Haines was eager to get married and start a family well before she met Max Shifrin, but she did not want to rush. "For me, it was never an option to settle, because my biggest mission in life is to evolve as far as I can to be the best I can be," she wrote in Glamour in 2017.
Shirin may not be as high-profile as his TV host wife, but he has enjoyed a successful law career. The lawyer is a senior member of BakerHostetler and has worked tirelessly on resolving a myriad of lawsuits involved in the Bernie Madoff case. According to his profile on the firm's website: "Max's efforts have helped the Trustee distribute over $14 billion of recovered assets to Madoff's victims."
Besides their tireless (and beneficial!) respective work, Haines and Shifrin keep busy at home. The couple has three children: Alec, Sandra, and Caleb. "We wanted more [children], and I was older, so we didn't have the luxury of time to catch our breath," she said during a fan Q&A on Instagram in 2020 (via People). Haines and Shifrin own a beautiful home in the heart of Brooklyn, New York, and "The View" host often brings her little ones to nearby parks, as she told Closer Weekly in 2020. The whole family sticks to healthy eating. "All of us follow a paleo diet as much as possible," Haines told the publication. They seem like sweethearts!
Source: Read Full Article