The Real World: Key West star Paula Meronek reached a major milestone in her sobriety journey. Check in with The Challenge star and other MTV favorites below.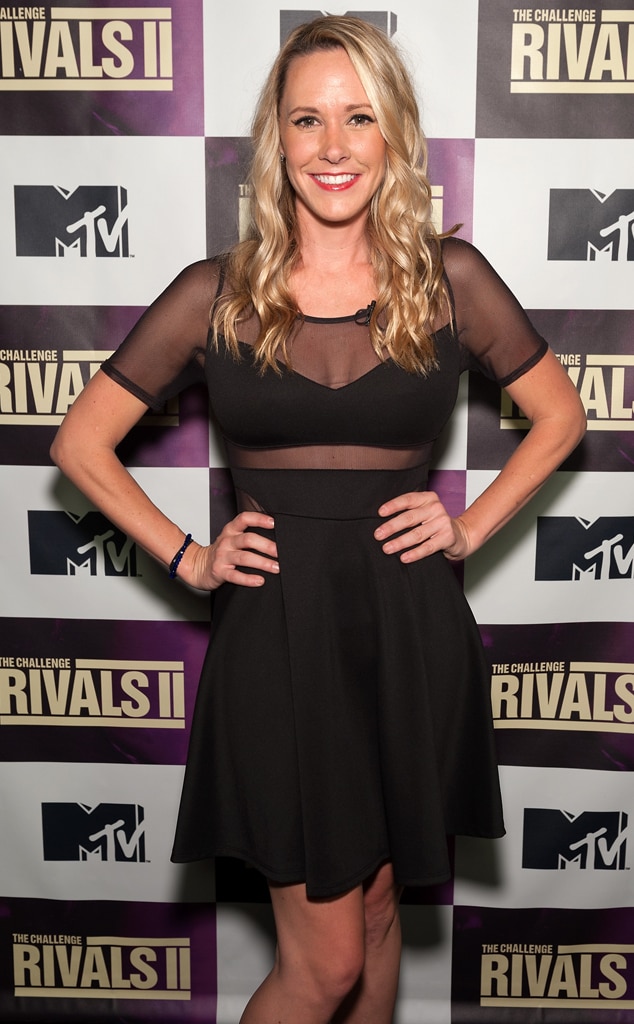 Paula Meronek has a big reason to celebrate this week.
The Real World: Key West star took to Instagram on Nov. 4 to mark a major milestone in her personal health: The former MTV reality star is seven years sober. 
"2556 days," she shared with her followers before posting a message that read, "Keep calm because 7 years sober is sexy as hell."
Paula immediately received well wishes from friends and her extended MTV family, including Derrick Kosinski, Camila Nakagawa and Johanna Botta. "So proud of you my friend," Johanna shared in the comments section. "I always knew you were amazing but now I'm in true awe."
Fans first met Paula on The Real World back in 2006. She would later appear on several variations of The Challenge where she ended up winning two seasons of the "Rivals" edition.
After stepping away from the spotlight, Paula married Jack Beckert in 2014 and now has three children.
When one fan asked the MTV star what made her get sober, she pointed to her family. "Atlas," she wrote in reference to her eldest son, who is featured on her Instagram page.
Paula's milestone has us wondering where our other favorite Real World stars are up to long after they stopped being polite and started getting real.
Keep scrolling to check in on some of the most memorable roommates in our gallery below.
Trending Stories
See Kim Kardashian Hilariously Grill Nephew Reign Disick Over Her Age
RHOBH's Erika Jayne and Tom Girardi Break Up After 21 Years
Carrie Ann Inaba Is Being "Bullied" for Kaitlyn Bristowe Judging
Ah, the OG Real World heartthrob. After model Eric Nies graced our screens as one of the first seven strangers picked to live in a house, he continued a relationship with MTV, hosting dance show The Grind (which also featured a pre-fame Camille Grammer!) and made several appearances on the Real World/Road Rules Challenge over the years. He parlayed his success on The Grind into The Grind Workout, a multi-platinum video series. According to his website, he's worked as a life, health, nutrition and wellness facilitator, a spiritual guide, and an addiction rehabilitation facilitator for over a decade. He's also a "license CyberScan quantum energy practitioner, and a licensed Doctor of Pastoral Science and Medicine." His website offers booking availability for services as varied as private individual or group retreats (priced at $1,000 a day) to 90-minute phone sessions (at $300 a pop). 
As outspoken as he was about race relations during The Real World's inaugural season in 1992, it came as no surprise that Kevin Powell parlayed his fame into a career of journalism, political activism, and writing. He served as a founding staff member and senior writer for Vibe magazine until 1996, written for other publications such as Esquire, Rolling Stone, and The Washington Post, interviewed and profiled Colin Powell and Tupac Shakur, and published 11 books, including the 2015 memoir, The Education of Kevin Powell: A Boy's Journey into Manhood. In 2006, he launched his first of three bids for United States Congress, seeking to unseat Edolphus Towns in New York's 10th congressional district. He lost each time, finally ruling out a fourth run in 2012. He's been married to wife Jinah Parker since 2017.
After becoming the first person to have an abortion on reality television as a cast member on the second season, set in Los Angeles, Tami Roman married pro basketball player Kenny Anderson in 1994. And despite divorcing the former NBA player in 2001, she parlayed that relationship into a reality television resurgence, joining the second season of VH1's Basketball Wives in 2010, where she remains one of the faces of that franchise. She's also dabbled in some acting work, as well, and will appear in Octavia Spencer's upcoming Apple TV+ series Truth Be Told.
When Rachel Campos arrived in the City by the Bay for season three of The Real World, she announced to her new roommates that she was a proud Republican. So, it should've come as no surprise that she's parlayed those views into a lengthy TV career. After competing in Road Rules: All Stars in 1999—where she met future husband Sean Duffy, whom she married that year, becoming Rachel Campos-Duffy—she competed in an on-air audition for Debbie Matenopoulos' gig on The View, a role she sought out again when Lisa Ling and Elisabeth Hasselbeck left, losing out each time. She's found steady work on the Fox News network, appearing as a commentator on shows like Outnumbered, where she's a recurring guest host, Fox and Friends, Hannity, and The Ingraham Angle. She and Duffy have nine children.
After the Australian native joined the fourth season—the show's first to film overseas—she attended the British American Drama Academy in Oxford before embarking on an acting career that began with a segment in the anthology horror film Campfire Tales in 1997. Since then, she's appeared in films like Ladder 49, Bridget Jones: The Edge of Reason and Poseidon and TV shows like Suits, The Following and Bloodline, where she played wife of Kyle Chandler's John Rayburn. Following an engagement to comedian Chris Hardwick, she married Suits star Gabriel Macht in 2004. They have two children together. And we'd be remiss if we didn't point out that she was the only Real World star to attend a royal wedding, earning herself a ticket to former Suits star Meghan Markle's 2018 nuptials with Prince Harry.
After outspoken Republican Sean Duffy made his debut in the show's sixth season, he made a few more appearances on the network, once in 1998's Road Rules: All Stars (where he met wife Rachel Campos) and in 2002's Real World/Road Rules Challenge: Battle of the Seasons. In 2002, he was appointed to Ashland County district attorney by former Wisconsin Governor Scott McCallum, a seat he was elected to unopposed in 2004, 2006, and 2008. In 2010, he resigned from his position to focus on a campaign for Congress in Wisconsin's seventh congressional district, a race he won. He remains in Congress, having beaten every Democratic challenger to come his way. As he and his wife welcomed their ninth child, daughter Valentina StellaMaris, in October 2019, he announced he was resigning from Congress to focus his time and attention on his family.
Irene McGee's early exit from the Seattle-based seventh season of The Real World remains one of its most infamous for the way that cast member Stephen Williams assaulted her with a slap to the face after she called him a homosexual on her way out the door. Despite claiming her exit was brought on by a flare-up of her Lyme Disease, Irene later stated that she wanted out due to ethical objections over the production of the show. She went on to earn a master's degree, started the podcast No One's Listening, hosted a radio talk show, co-founded the health education site FYILiving.com, started a nonprofit Nap4Lyme to raise awareness and money for Lyme Disease, and has lectured at colleges and conferences nationwide about media manipulation and media literacy. She is the mother to a young daughter, also named Irene.
Oh, Amaya. Who can forget watching her hopelessly pine after Colin in the show's tropical eighth season despite the way he treated and spoke to her? In the 20 years since her season, she's competed in two seasons of the Real World/Road Rules Challenge, done some VO work, hosted on radio, and lectured at colleges about body image and self-esteem. She's also a voracious Twitter user. And if you're wondering what the status of her and Colin's relationship is these days? This tweet, making hilarious use of the Mariah Carey "I don't know her" meme ought to clue you in.
After a more-than-memorable stint on The Real World's eighth season—who can forget the paramedics arriving to take care of her extremely intoxicated self on day one?!—a now-sober Ruthie Alcaide appeared on four seasons of The Challenge before taking her career behind the cameras, working as a production coordinator and assistant on dozens of film and TV sets. She's also dabbled in acting, starring in the 2018 film The Rainbow Bridge Motel, which she also co-produced. Dedicated to her sobriety, Ruthie also works the lecture circuit, educating people about substance abuse.
After sorority girl Kelley Limp starred in the show's Big Easy-set ninth season, she did her requisite one season of The Challenge in 2002 before meeting husband (and former Party of Five heartthrob) Scott Wolf through a mutual friend the same year. The two tied the knot in 2004, the same year she made a guest appearance on his latest gig, Everwood. The couple have three children and reside in Park City, Utah. These days, she works as a certified life coach, making appearances at lecture series to talk FLOW, or Finding Love Over Worry.
When openly gay Danny Roberts appeared on the show's ninth season, he helped put a face to the U.S. military's "Don't Ask, Don't Tell" policy that banned gays form openly serving in the armed forced as his boyfriend, an officer, had to have his face obscured so that he wouldn't be discharged like the more than 1,200 servicemembers were that year. After competing in a season of The Challenge in 2002, he more or less retreated from the spotlight—save for appearing in a handful of episodes of short-lived Logo soap DTLA in 2012—and, as he revealed in Entertainment Weekly in late 2018, currently lives in New York City, working as a digital design recruiter. The father to an adopted daughter also revealed to the magazine that he's been living with HIV since around 2011. He's remained close to costar Kelley Limp, telling the outlet she's "my life sister," adding, "She was one of the first people I turned to and talked to. She has been strong and helped me through this."
When Mike Mizanin appeared in the show's tenth season, always getting schooled by Coral Smith for his admittedly narrow-minded views on race and sexuality, it was clear that his personality was larger-than-life. But who could've predicted just how much he'd go on to accomplish? After introducing us to The Miz, his alter ego, in one episode, he went on to make the character a professional wrestling gimmick, first competing in the fourth season of reality series Tough Enough, which awarded the winner a contract with WWE as well as $1 million, in 2004. Despite placing as runner-up, he was offered a developmental contract and he eventually made his main roster debut in 2006. It was there that he met girlfriend and fellow wrestler Maryse Ouellet. The two tied the knot in 2014 and are expecting their first child this fall. In 2018, he and Maryse began starring in reality series Miz & Mrs on USA, which was recently renewed for a second season.
Following her titillating appearance in the Sin City-set 12th season, where she was one-third of an unforgettable hot-tub make-out sesh, Trishelle Cannatella did the MTV Challenge circuit for a number of years, competing in four seasons from 2003-13. She was also among the first cast to reunite entirely for a mini-series five years after their original season, spending two weeks with all her old roommates back in their plush suite at the Palms Hotel and Casino in 2007. Outside the MTV universe, she appeared in reality shows like Celebrity Poker Showdown, Dr. Steve-O, and Hulk Hogan's Celebrity Championship Wrestling. In recent years, she's lived a life outside of the spotlight, enjoying married life with husband John Hensz, a fighter pilot with the Louisiana Air National Guard and pilot for Delta. The two tied the knot in New Orleans in 2017. 
OK, as if you need to know where this guy has been. After starring in the show's 13th season, its second set abroad, in 2003, Chris "C.T." Tamburello essentially became an MTV mainstay. Since 2004's RR/RW Challenge: The Inferno, C.T. has competed in an astounding 15 seasons of the spin-off series. He's also appeared in all three seasons of off-shoot The Challenge: Champs vs. Stars. Over the years, we've watched as he's grown up, fallen in love with fellow Challenge competitor Diem Brown, had to suffer the loss of her tragic death from cancer, welcome son Christopher Tamburello Jr., and marry Lili Solares in 2018. Despite his long-running career on MTV, he's always kept a job off-camera, as well, telling Rolling Stone in July 2018, "I always took the guaranteed show money and came home and got a job…I've been doing real estate and construction for years."
After introducing the world to his boyish good looks in the show's Paris-set 13th season, Irish-born Simon Sherry-Wood has gone on to maintain a well-deserved modeling career. He even joined RuPaul's Drag Race as one of the members of season six's Pit Crew, aka the eye candy brought in to help out during challenges. He most recently attended the 2019 GLAAD Awards alongside fellow LGBTQ Real World alumni Ruthie Alcaide and Anessa Ferreira, invited by Facebook to celebrate the show's move to the social media site.
Alongside London's Jacinda Barrett, season 14's Jamie Chung is one of the few Real World stars to make the leap to a legit acting career. After a guest star appearance in a 2006 episode of Veronica Mars, Jamie landed a 2007 arc on Days of Our Lives, followed by a recurring gig as Mulan on Once Upon a Time, Valerie Vale on Gotham, and a starring role on Fox's recently-canceled The Gifted. On the film side, she's popped up in Grown Ups, The Hangover Part II and Part II, Big Hero 6, and Office Christmas Party. She and actor Bryan Greenberg tied the knot in October 2015 after three years of dating.
After making reality TV debut at the tender age of 19 in the first San Diego-set season of The Real World back in 2004, Cameran Eubanks made her return to the genre a decade later as one of the original cast members of Bravo's Southern Charm, which follows the personal and professional lives of seven socialites living in Charleston, South Carolina. In between seasons one and two of the show, which is currently in its sixth season, she married husband Jason Wimberly. The two welcomed their first child, daughter Palmer, in November 2017.
When the world first met Karamo Brown in the show's 15th season, he became the first out gay black man on reality TV. While he competed in a season of The Challenge afterwards, he spent nearly a decade working as a social worker, putting his degree from Florida A&M University to use. Beginning with Bethenny Frankel's eponymous talk show in 2012, he began serving as a correspondent on several talk shows, including Dr. Drew on Call and Huffpost Live before returning to MTV in 2017 at the host of Are You the One: Second Chances. But everything changed for Karamo in 2018 when he chosen to join the new Fab Five in Netflix's revival of Queer Eye, serving as the resident culture expert. In March 2019, he released a memoir entitled Karamo: My Story of Embracing Purpose, Healing, and Hope, and launched a podcast two months later. In 2007, Karamo learned he was the father of a 10-year-old boy named Jason, whom he received custody of that year, adopting Jason's half-brother Chris in 2010. In May 2018, he became engaged to his partner of eight years, Ian Jordan.
As with Chris "C.T." Tamburello, we're sure we hardly need to fill you in on what John Devananzio, otherwise known as Johnny Bananas, has been up to since he made his debut in season 17 of The Real World. Like C.T., he's made a career out of The Challenge appearances, competing in a record 18 seasons, as well as the three seasons of off-shoot Champs vs. Stars. He's also become the host of NBC's First Look, as well as dabbled in a bit of acting, with a role in the 2018 film The Head Thieves. As for whether his time on The Challenge will ever end, he's not so sure. "Obviously, yeah, when I die," he joked to E! News in February 2019. "There will, but when that is, I have no idea."
Perhaps we should say Paula Beckert now. The fan-favorite and two-time The Challenge married Jack Beckert in 2014. Since then, the couple welcomed three children who are often spotted on Paula's Instagram.  Since her last appearance (her tenth!) on 2013's Rivals II, the fan favorite and two-time champ has been living a healthy lifestyle. In fact, she celebrated seven years of sobriety in November 2020. 
Source: Read Full Article