Get ready Upper East Siders — a "Gossip Girl" reboot is just around the corner, set to drop on HBO Max on July 8 (via Elle). The newest installment of the hit teen soap once again centers on the "glamorous lives of Manhattan's elite," but rather than redoing the story completely, it seeks to show "just how much social media — and the landscape of New York itself — has changed in the intervening years," (per Decider). As screenwriter Joshua Safran told The Hollywood Reporter, "it's a new look at how this particular society in New York, the idea being that society changes constantly … how has this world changed, how has social media … changed?"
To illustrate these changes, the reboot debuts a much more diverse cast. Fans may remember that the original series featured all-white leads; however, this version promises to accurately reflect the diversity of New York City. "This time around, the leads are nonwhite," Safran explained at Vulture Festival. "There's a lot of queer content on this show. It is very much dealing with the way the world looks now, where wealth and privilege come from, and how you handle that." Based on Safran's description, it sounds like the reboot explores relationships that fall outside of the typical heteronormative, cisgender relationships portrayed in the original "Gossip Girl."
But what about the real-life relationships of this new generation of hard-partying New Yorkers? Let's take a look at who is paired up with who when the cameras aren't rolling.
Thomas Doherty split from long-term girlfriend, Dove Cameron — but he seems to have moved on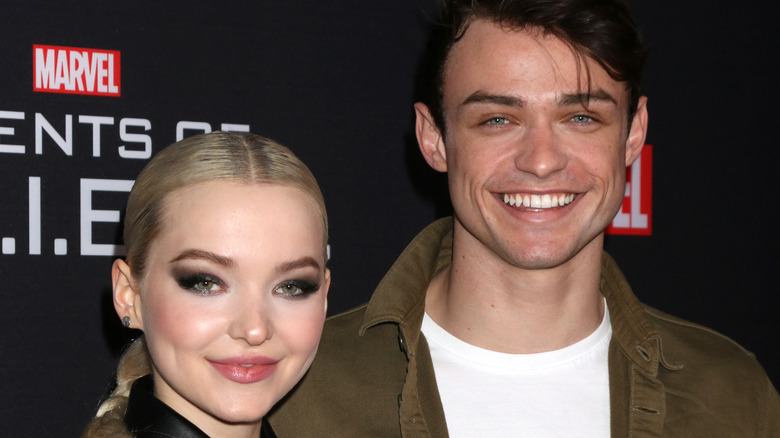 Scottish-born star Thomas Doherty, who plays Max Wolfe in "Gossip Girl," split from long-term girlfriend Dove Cameron in December 2020, according to Entertainment Tonight. Per Us Weekly, the pair first met on the set of Disney's "The Descendants," and dated for nearly four years before calling it quits. "The decision was incredibly difficult, but we still have love for each other, and will remain friends," Cameron shared via Twitter. "Thank you for allowing us our privacy in this time." 
The one-time couple allegedly shared "intense" chemistry while filming together, as Cameron explained to J-14 in 2018. "People were like, 'When you guys walk into a room together, it's insane. Have you ever talked to him [Doherty]?' And I'm like, 'No, not really.' And they're like, 'You need to,'" she recalled. "And they're like, telling him the same thing, like, 'Something needs to happen.'" 
Now, it seems like Doherty may have moved on from his split. Per Us Weekly, the actor was spotted cozying up to model Yasmin Wijnaldum in late March; the two reportedly "snuck kisses" during dinner.
Jordan Alexander met her partner on Tinder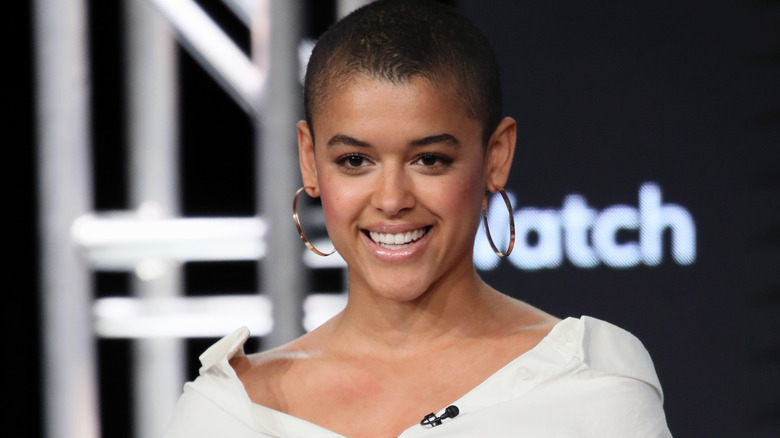 On "Gossip Girl," rising star Jordan Alexander tackles the role of Julien Calloway, "a social media influencer and Queen Bee of the NYC prep school set," per Nylon. For Alexander, who identifies as queer, the diversity of the show's LGBTQ+ relationships is important. She teased a "juicy piece for the girls and the gays," which, while under wraps for the time being, is still foremost in her mind (via Nylon). Maybe Alexander's excitement stems from the fact that she's currently in a relationship with model and activist Shane Homan. The pair proved that their chemistry is off the charts when they posed up a storm for a steamy Dauphine magazine photoshoot in May 2021. 
Explaining that she met her partner on Tinder in 2018, Alexander talked openly about how blessed she feels to be in a loving relationship. "I feel empowered knowing I'm lucky enough to be able to live my authentic truth and self," she shared with Dauphine. "I feel like once I really got right with myself, everything is easier." This sense of authentic self is also reflected in the "Gossip Girl" reboot, where "people are allowed to just be there and be whatever they are — whether it's queer or not," the actor shared with Them.com.
Savannah Smith is proud to be a 'Black, bisexual woman in media'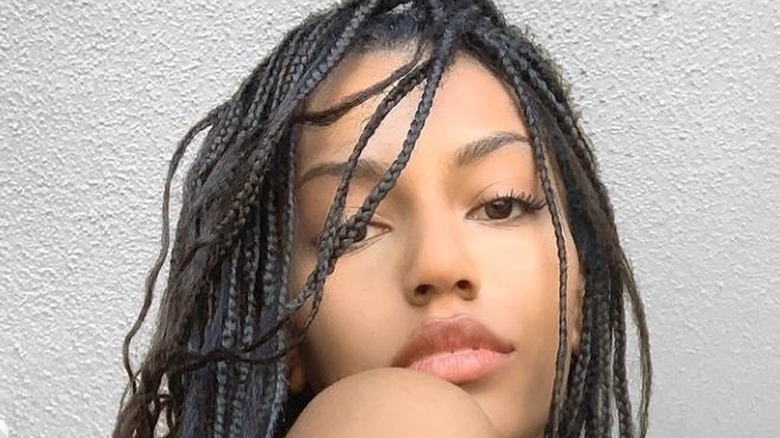 Jordan Alexander isn't the only "Gossip Girl 2.0" star to break new ground for living out relationships beyond the heteronormative ones displayed on the original series. Onscreen, newcomer and NYU acting student Savannah Smith plays Monet de Haan; offscreen, she proudly flaunts her bisexuality. "It's already a dream to be able to be a part of this project, but on top of that, I get to be a part of a greater responsibility that I feel as a Black, bisexual woman in the media," Smith told Wonderland Magazine in May 2021. She added, "It's important for everyone to see Black bodies and Black female bodies and people of color in positions of power, and positions of wealth and status … when you start to level out the playing field, then we can start to see some real change."
Though Smith doesn't appear to be dating anyone at the moment, she's taken to social media to express her love for both men and women. "I'm so bi. Happy Pride, babies," she tweeted on June 2. Judging by the comments on the post, the openness with which she displays her sexuality has already endeared her to fans — and "Gossip Girl" hasn't even premiered yet!
Evan Mock is single after having his heart broken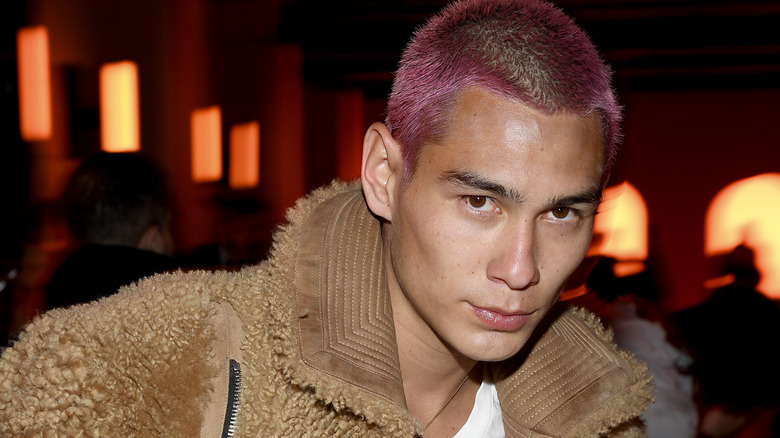 Model Evan Mock was just your average pink-haired skater dude when he stumbled headfirst into notoriety after appearing in a skate video with Frank Ocean, according to Vanity Fair. One thing led to another — and as of this writing, Mock has launched a clothing brand, gone on tour with rapper Travis Scott, and landed a role as Akeno "Aki" Menzies on "Gossip Girl." (Not too shabby!) In March 2021, Mock told Vanity Fair that his character on the show is "figuring things out sexually," which leaves lots of room for interpretation.
In real life, Mock appears to be single, perhaps still recovering from a painful relationship in his past. When asked by an interviewer for Monster Children what he would change if he could change one thing in his life, Mock replied that he would like "to erase all feelings and memories of my high school ex-girlfriend cheating on me with my so-called 'friend.' Once upon a time, I had my heart broken, and people think that's healthy to experience at least once in your life, but I'm calling bulls**t on that." He continued, "I don't care about feeling that pain ever again, truthfully." Unfortunately, it sounds like the experience has left a lasting scar on the actor.
Zión Moreno seems to be super focused on her career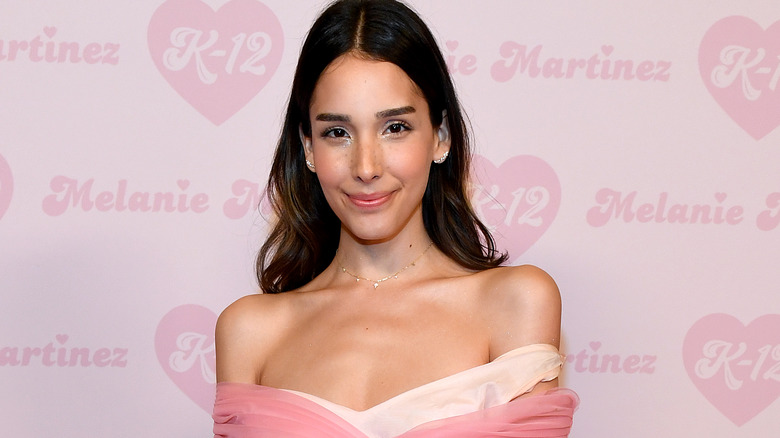 Newbie Zión Moreno seems to have put romance on the back burner in favor of her career.
Moreno burst onto the scene in Netflix's 2020 Spanish drama "Control Z," per Remezcla. As a transgender actor, Moreno is open about how she was bullied growing up, and "knew early on that her identity didn't match the body in the mirror." She doesn't appear to be dating anyone right now, according to PopBuzz, and seems to have thrown herself into acting instead, telling Numero magazine that she would like to "continue creating art" and possibly even write her own films in the future.
As for what gives her confidence, Moreno said, "Community. Knowledge. Love." So maybe a relationship isn't too far from her mind…
No doubt fans can't wait to learn all about the cast's love lives — both on and off screen — when "Gossip Girl" hits HBO in July. 
Source: Read Full Article