It's not a secret that Jenna Fischer loves her character Pam Beesley's relationship with Jim Halpert (John Krasinski.) She kept an important prop from The Office, and there is a rumor that she wears it. Fischer addressed the rumor and called it terrible.
Jenna Fischer kept Pam's wedding ring from 'The Office'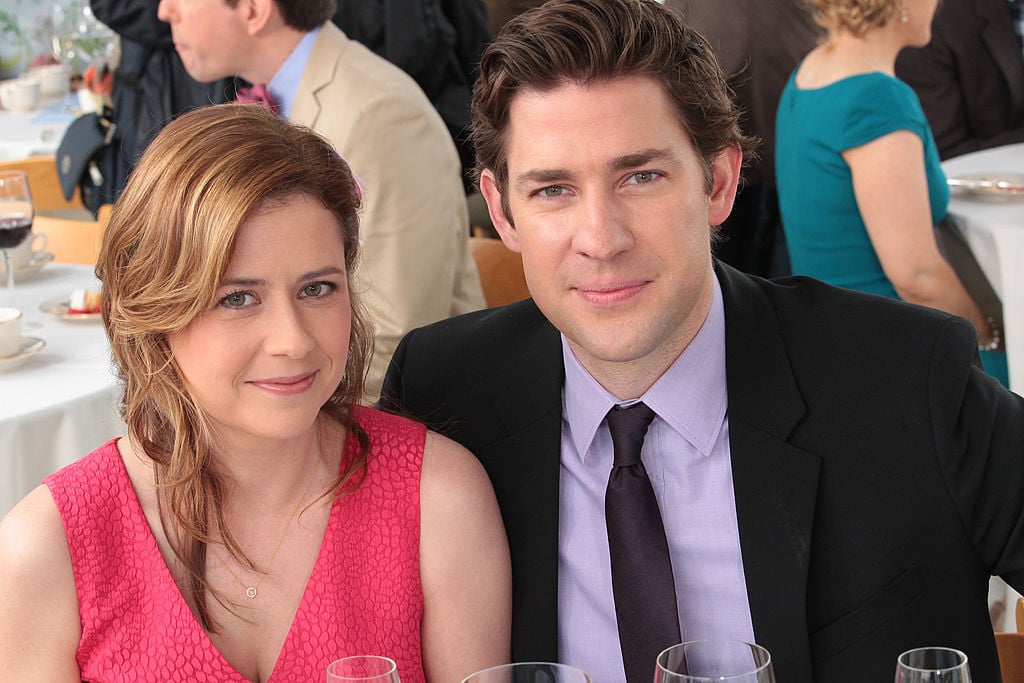 Jim proposed to Pam in "Weight Loss Part 2." The couple was struggling due to the distance between them as Pam was working on her art in New York City. They meet halfway at a gas station and he decides to get down on one knee.
One prop that the actress kept was Pam's wedding ring. She also claimed that it wasn't expensive at all.
"While true that I kept the engagement ring Jim gave to Pam, it was a silver prop ring, not worth $5,000, and I do not wear it in real life," she tweeted. The actress has been open about loving her character's relationship with Jim.
"I'm really proud that we created this healthy version of a relationship and didn't wait until the last episode to see them get together," Fischer told Entertainment Weekly. "There's no cheating, there's no crazy weird breakups and makeups. They just gently weather the storm."
She also pointed out the moments that got fans to start rooting for the couple. "Jim says it was a pretty good day, and he's saying that because Pam fell asleep on his shoulder," Fischer said. "That look on Jim's face, every woman out there wanted a man to look like that when they talked about her."
She said a real part of them fell in love
Fischer later talked about the connection between Jim and Pam. She said on Watch What Happens Live that a part of her also fell in love.
"There's like a real part of me that is Pam, and there's a real part of him that's Jim, and those parts of us were genuinely in love with one another," she said. "But, in real life, we aren't totally Pam and totally Jim. So in real life we're not like the perfect match."
Krasinski in real life married Emily Blunt in 2010. Fischer married Lee Kirk the same year. The actors continued to work together until the show ended in 2013.
Fischer denies wearing the ring
A fan commented on Fischer's picture with her husband on Instagram. The fan asked if she wore Pam's wedding ring in real life.
"It's a weird question but I kept hearing that you do. Or did," wrote the fan. The actress answered with "what a terrible rumor! Of course not! I wear the ring that my actual husband of 10 years gave me!"
Fans reacted to the exchange on Comments By Celebs. "I still don't understand why people can't comprehend that @msjennafischer has a hot husband and he's not baby faced @johnkrasinski. lol," read a comment. It's still unknown where the actress keeps the prop, but fans shouldn't expect to see it on her ring finger.
Source: Read Full Article