With the finale episode of The Bachelor Presents: Listen to Your Heart tonight, fans are positive that Jamie Weintraub is still on the show for only one reason. Viewers believe the producers are planning to bring Jamie back for Bachelor in Paradise or The Bachelorette.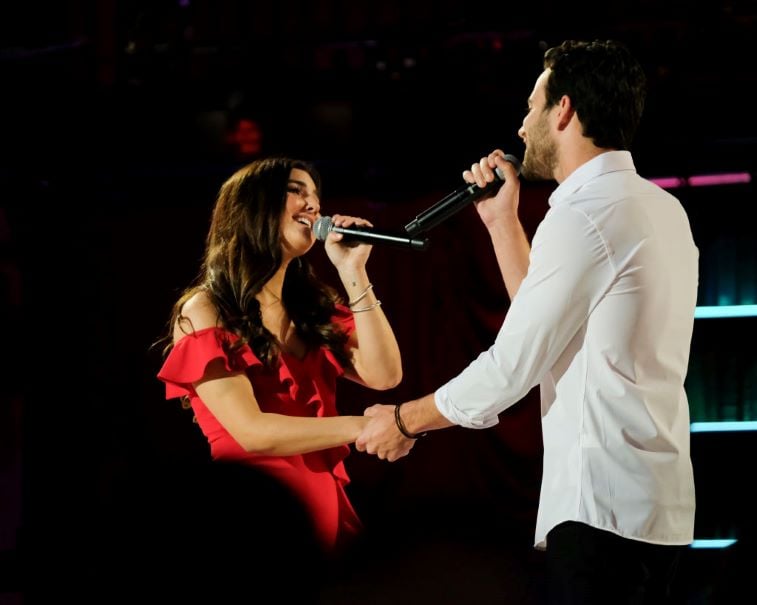 Jamie and Trevor break up after 'The Bachelor Presents: Listen to Your Heart'
Although Jamie and Trevor Holmes make it to the final performance, the relationship does not last.
"Trevor has already broken up with Jamie," Reality Steve revealed on April 14, 2020. "Shocker, I know."
On the show, Trevor and Jamie both admitted they were falling in love with each other. However, the spoiler king received information from various sources that Trevor is a player. The 29-year-old country-pop singer also went on American Idol and openly flirted with Katy Perry. He had a girlfriend at the time whom he brought to all of his auditions.
RELATED: 'The Bachelor Presents: Listen to Your Heart': All the Spoilers So Far, Including Who Wins the Season
Jamie seems head-over-heels in love with Trevor. However, Steve commented that the 21-year-old country singer "has no idea what she's in for once this is all said and done."
Fans believe the producers are keeping Jamie around for 'BIP' or 'The Bachelorette'
"Personally, I think The Bachelor producers like Jamie and want to use her for future shows," one Reddit user wrote. "I like 99% think she'll be on BIP when it happens or the next season of The Bachelor. When Trevor breaks her heart (which no one needs spoilers to know this will happen) they can paint her as heartbroken and deserving of love. I'd bank almost anything on this."
Many fans commented that Jamie is not the best singer on the show, and they aren't sure how she makes it so far in the competition.
"It does seem like the 'Jamie Show' a little," added another fan. "She also got two dates. I agree. Maybe they like her? I like her, too. I wouldn't mind watching her on BIP."
RELATED: 'The Bachelor Presents: Listen to Your Heart': What Do the Winners of the Season Get?
Fans point out that the judges do not say anything negative about her, although she isn't a great singer.
"She's super young and immature," another viewer added. "I don't believe she's a real musician. Now, she's 21, doesn't really know what she wants out of life, so she wants to be a singer and get famous. The problem is, I don't even think she's that talented or find her voice very pleasant at all."
Fans find Jamie entertaining and want to see her on 'Bachelor in Paradise'
"I like her, too," another fan added. "In a cringing way? Sometimes. But she's entertaining."
Although fans do not believe Jamie is a great singer, they do find her easy to watch on television. She is very emotional and wears her heart on her sleeve.
RELATED: Jordan Rodgers is Happy He Didn't Meet JoJo Fletcher on 'The Bachelor Presents: Listen to Your Heart'
"Agreed," another Redditor wrote. "She's very good TV. She's pretty, and she's really entertaining."
While Bachelor In Paradise Season 7 is postponed, fans think that the producers have Jamie already on the list when it returns.
Source: Read Full Article