Star Wars fans obviously know the name, George Lucas. The man, the myth, the legend, right? Well, nowadays, two more names pop up more and more when it comes to the franchise: Dave Filoni and Jon Favreau. And even if their names don't exactly ring a bell, fans definitely know their work. Filoni is the supervising director of The Clone Wars and Favreau is the showrunner for The Mandalorian, which Filoni also works on. They're ushering in a new wave for Star Wars, with more than a decade of experience between them, and fans can't get over a picture that surfaced on the internet.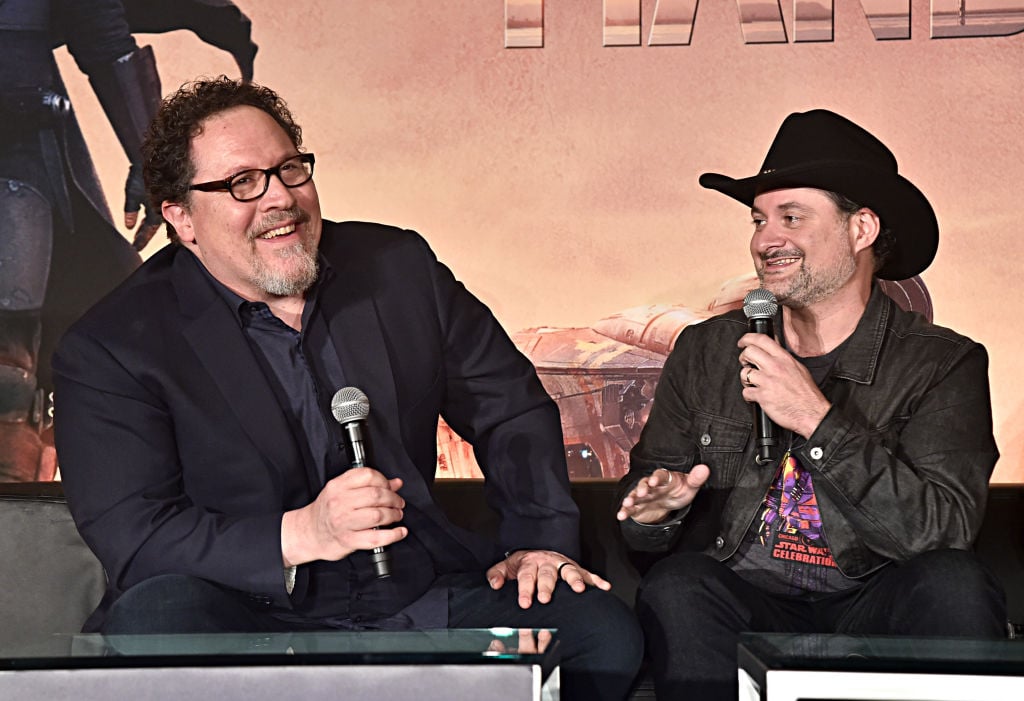 A photo from the set of 'The Mandalorian' showed Favreau, Filoni, and Lucas
On April 23, the popular YouTube creator Star Wars Theory tweeted out a photo of Favreau, Filoni, and Lucas, and wrote, "No caption needed." The photo isn't new; it's from the set of The Mandalorian and has been on the internet for about five months, but it was brought up again because of the recent success of The Clone Wars.  
This final arc is like a movie, and fans can't get over how good it is. Filoni has worked on the show since the beginning, in 2008, and worked alongside Lucas until it was canceled in 2013. Seeing these three together showed fans how much Lucas approves or appreciates their current work on the franchise. 
Fans tweeted things in the replies like, "The 3 GOATS of Star Wars" and "This picture gives me nothing but hope." And the new Disney Gallery: The Mandalorian docuseries that's coming to Disney+ will show just how much work went into the series. 
Fans want to see more Favreau and Filoni leadership in 'Star Wars' in the future
At a time where Star Wars can divide fans, especially when it comes to newer content, the success and fervor that The Mandalorian and The Clone Wars caused is noticeable. While there are different opinions and a lot of toxicity, a lot of love comes out of the woodwork for these two series. And Filoni and Favreau have gained a fan base of their own through their work here. 
It's not a new thing for filmmakers and screenwriters have a sort of reverential space in a franchise, but there hasn't really been a figure like that in Star Wars since Lucas. Filoni was the last one to work with Lucas directly for The Clone Wars, which was Lucas' last addition to the franchise. Now, everything Filoni works on, including The Mandalorian, seems to be Lucas-adjacent in a way.
Lucas specifically picked Filoni to carry on his project, 'The Clone Wars'
As stated above, Lucas hand-picked Filoni to work with him directly and learn from him about his world. Vanity Fair did a feature on Filoni in November, and Lucas stated that Filoni's listening skills struck Lucas right away. 
"I immediately found him to be very open-minded and a great listener, which are qualities I admire because it opens a person up to new experiences," Lucas said. Lucas also said he "was just giving [Filoni] advice along the way" and that Filoni, of course, is a great writer in his own right. 
Favreau also commended Filoni in the article. "[Filoni will] be very forthcoming with his thoughts and opinions if he thinks that I'm going down the wrong path," Favreau said. "But he'll pivot suddenly to learning and questioning and understanding." 
Kathleen Kennedy, who is the current President of Lucasfilm, also told Vanity Fair that she checks with Filoni when it comes to storytelling in the universe. "What I find about Dave is you don't just sit down and have a discussion about plot or review characters inside the Star Wars world. You end up having meaningful, thoughtful discussions about what it is we're trying to say inside the storytelling. He has a lot of empathy."
Between all these kind words about Filoni, and Favreau's massive success with The Mandalorian, it's no wonder fans adore these two. Only time will tell what their further involvement with the franchise will be.
Source: Read Full Article