The Real Housewives of Potomac original cast member Karen Huger got into an exchange with friend and newcomer Mia Thornton. The back-and-forth happened at a Washington DC-based improv club which all of the cast, and a few husbands, attended. It's unclear what sparked the exchange, but it seems to have been resolved, with Huger eventually admitting she's "not perfect." Before their interaction, the Grande Dame previously tweeted a cryptic message to her "haters," encouraging her followers not to "waste your shine on them" and "stay focused."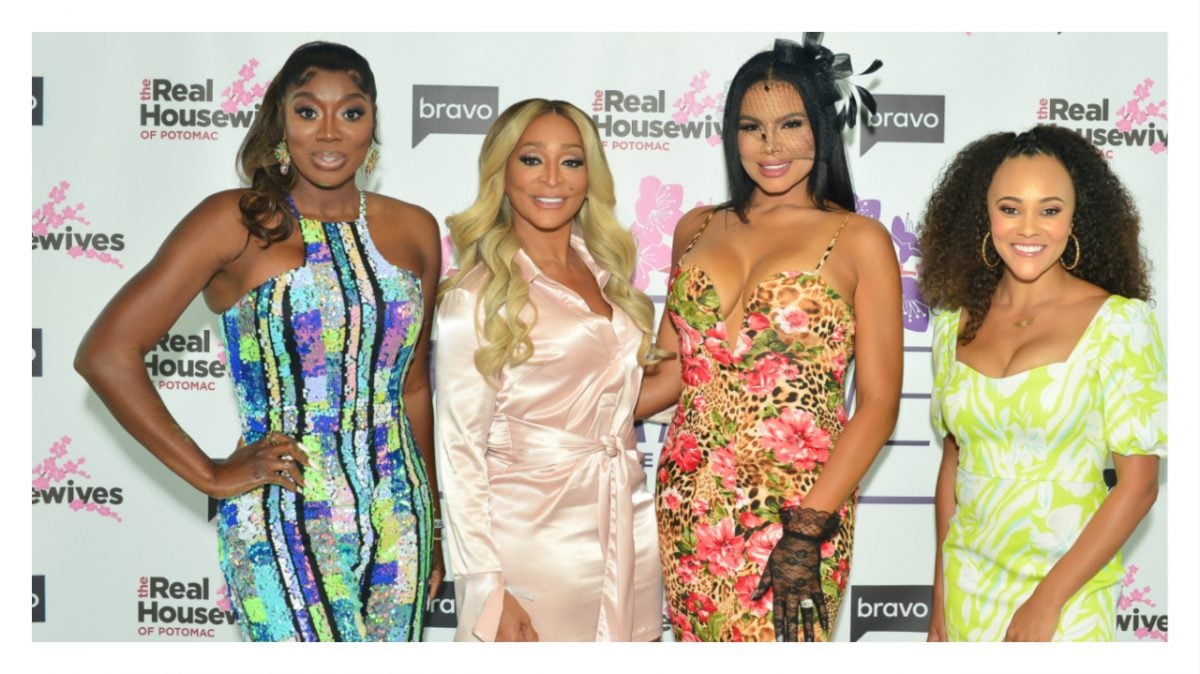 Karen Huger and Mia Thornton got into an exchange over 'loyalty' during 'RHOP' Season 7
The cast recently appeared at a DC improv comedy club together, which was likely filmed for the upcoming season 7. A brief clip showed newcomer Mia Thornton speaking to Karen Huger, who was seated on stage with a microphone.
It's unclear how or why the exchange began, but the video starts with Thornton telling Huger that she's "not upset" but does consider "loyalty everything." Huger responded, explaining she is "loyal" to Thornton because they both own their "s–t."
The Grande Dame also added, "what I said about you was the truth; get over it!" which garnered applause and cheering from the audience. Thornton came right back, insisting that "communication is key," and asked her not to "run and tell these two" things that the newcomer told the OG.
It's not clear which two cast members she pointed to, but assumed Gizelle Bryant and Robyn Dixon as they're close friends. Huger agreed, admitting she's "not perfect," and Thornton accepted, noting, "I respect that." More photos showed Ashley Darby, Candiace Dillard, Wendy Osefo, and husband Gordon, Ray, and Eddie in attendance.
Mia Thornton joined 'RHOP' in season 6
After Monique Samuels left the show following season 5, Thornton joined the cast of The Real Housewives of Potomac, becoming a full-time cast member for season 6.
The health and beauty shop founder, franchise owner, and regional developer married Gordon in 2012, and the couple is raising three kids together; Joshua, Jeremiah, and Juliana.
After graduating from Southeastern Institute with her degree in neuromuscular massage therapy, Thornton began her career as a clinic director in Charlotte, North Carolina.
She then developed several Joint Chiropractic Doctor offices and got into philanthropy. The Thorntons have also sponsored multiple organizations, such as the Ronald McDonald House.
Thornton has already bumped heads with Candiace Dillard
Huger introduced Thornton to the group, describing the franchise owner as "a boss" and "breath of fresh air."
Last season, she opened up about her childhood in foster care and attempts to strengthen her relationship with her mother.
Thornton butt heads with Dillard during her first season when the latter didn't appreciate comments the newcomer made about her music video. Therefore, she began throwing shots at her mother, which Thornton felt hit below the belt.
She also got into it with Bryant a couple of times as the OG cast member voiced her opinions on Gordon's flirtatious behavior. The Real Housewives of Potomac airs on Bravo.
Source: Read Full Article