Luann de Lesseps from The Real Housewives of New York City and ex-husband Tom D'Agostino apparently signed a prenuptial agreement before dissolving their seven-month marriage.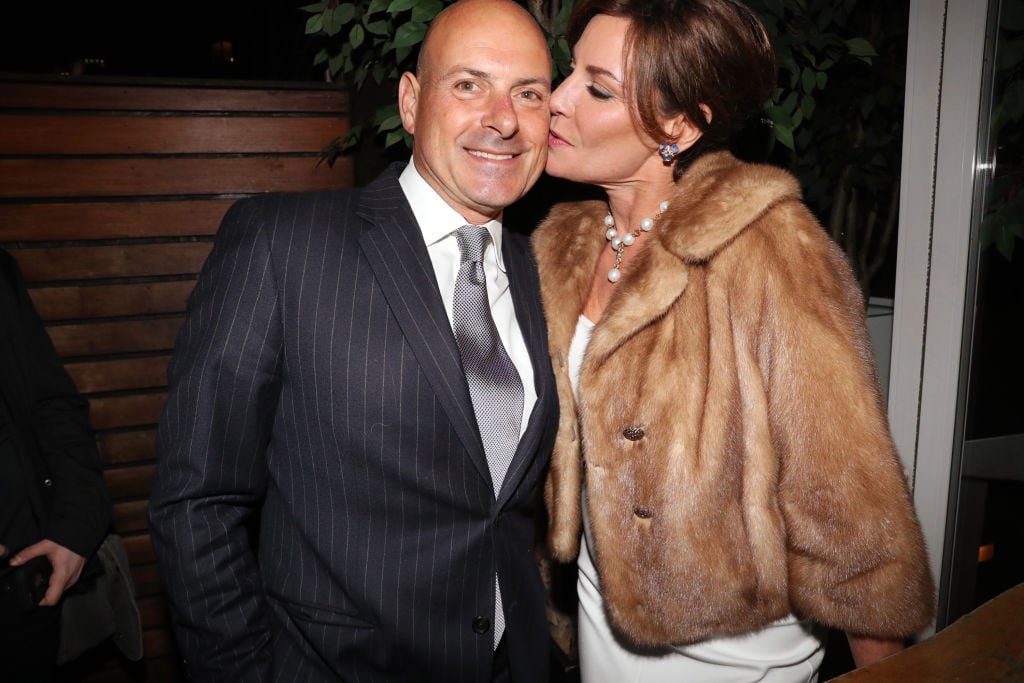 The couple announced they decided to divorce in August, months after their lavish New Year's Eve wedding in Palm Beach. "It's with great sadness that Tom & I agreed to divorce," de Lesseps tweeted in August, ENews reports. "We care for each other very much, hope you respect our privacy during this sad time!" The couple made their announcement weeks after a public fight.
Although some divorces can drag on for years, the couple settled quickly. "I can confirm for Tom that the case was amicably settled, D'Agostino's attorney told E News . "Uncontested divorce papers were submitted to the New York City Supreme Court on Sept. 18. Tom filed for divorce in early August." E News also confirmed through a source that the couple had a prenuptial agreement.
The couple had good reason to sign a prenup. Both de Lesseps and D'Agostino entered the marriage with significant wealth.
Luann de Lesseps is reportedly worth $25 million
According to Celebrity Net Worth, de Lesseps' net worth is around $25 million. De Lesseps may have gotten some spousal support from first husband Count Alexandre de Lesseps. But, she's also amassed a fortune through various projects and her career as a Housewife.
She reportedly requested to be paid $3.5 million for the current season of RHONY, Radar Online reports.
Beyond being an OG Housewife, de Lesseps has her Countess & Friends cabaret show. Plus she has a jewelry line, which is sold at her shows. Her shows were becoming extremely popular as her tour zigzagged across the country. Unfortunately, all tour dates are canceled through the summer. Some dates are being rescheduled for fall.
De Lesseps was arrested in Palm Beach shortly after her divorce. She was charged with battery, disorderly intoxication, and resisting arrest. She was ordered to complete probation. Plus she was instructed to attend Alcoholics Anonymous meetings. Although de Lesseps completed her probation, she had a few missteps along the way.
D'Agostino has double the net worth of de Lesseps
D'Agostino is reportedly worth $55 million. He is the CEO of Smart Source. The company is a "premier Brand Management BPO and Technology provider dedicated to delivering comprehensive communication and marketing solutions. We have category expertise in buying, managing and distributing print and promotional products.
His LinkedIn indicates he's been in the position for more than 16 years. The company is based in Palm Beach, Florida.
D'Agostino reflected on his short marriage to de Lesseps. I fell in love, got married quickly and am very sad that two people in love are not together," he shared with E News. "The publicized reasons for the divorce make for a great Reality TV story line. I wish Luann much happiness and love."
They've only bumped into each other once since the divorce
De Lesseps said she's ready to move on and put D'Agostino in her rear view mirror. She appeared on the Watch What Happens Live After Show and a caller asked if she's seen D'Agostino.
"You know what, I don't really see Tom," she replied. "Since we've split I've run into him literally once. If I were to see him, I'd be polite, but no we don't run into each other which is pretty amazing. But, before I met Tom, I'd never seen him before in my life. So it's not unusual I haven't run into him."
The Real Housewives of New York City is on Thursday at 9/8c on Bravo.
Source: Read Full Article