Megyn Kelly is a controversial media figure who rose to national attention as an on-air personality on Fox News. Whether you agree or disagree with Kelly, she's a force to be reckoned with. From her roots in Albany, New York, Kelly's transformation to a national media icon has been something to see.
Unlike many journalists, The New York Times noted that Kelly became part of a news story, often overshadowing the topics she was reporting. For example, in 2013, on her Fox News show "The Kelly File," she claimed that Santa Claus and Jesus were white. In 2015, the Fox News star broke out of the conservative media silo and became a household name because of a feud with then-presidential candidate Donald Trump.
The feud with Trump started when Kelly, known for her no holds barred interview style, asked the candidate about his history of denigrating women. Kelly's straightforward questions upset Trump, who began bullying the Fox News anchor on Twitter. The soon-to-be president said that Kelly "really bombed" the interview and that she seemed like she had "blood coming out of her wherever." Over the next year, Trump's attacks on Kelly got so bad that Fox News made a statement saying that the presidential candidate had an "extreme, sick obsession" with Kelly that was "beneath the dignity of a presidential candidate."
Kelly's career continued to rise after she feuded with Trump, and she has had an interesting life overall. Keep reading to learn more about Kelly's transformation.
After growing up in Albany, Megyn Kelly decided to become a lawyer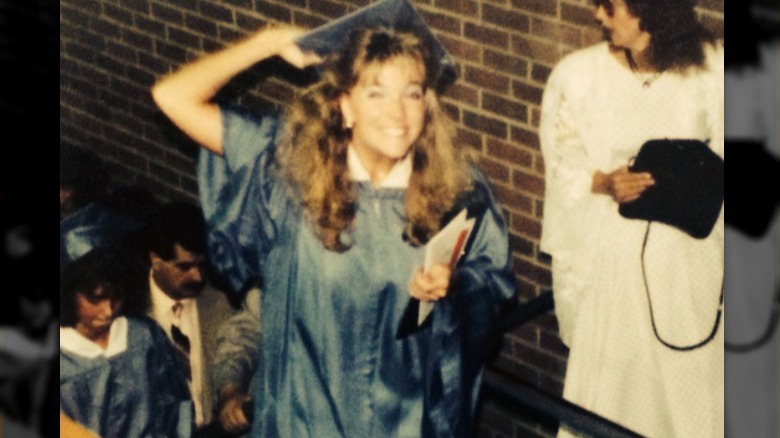 Megyn Kelly grew up in Albany, New York, the daughter of a nurse and college professor. When she graduated from high school in 1988, Kelly pursued her degree in political science at Syracuse University. Kelly ultimately decided to go to Albany Law School, becoming editor of the Albany Law Review before graduating in 1995.
Kelly practiced law for six years, working at two of the top firms in the country. But one day, she decided it was time for a change. In a 2010 interview with GQ, Kelly reflected on leaving law. Kelly said, "I knew it was time to get out one day — it was around my sixth year of practice — when I was driving home on the Kennedy in Chicago. It was 3 a.m. Tears were pouring down my face. I was so exhausted." She continued, "And I thought to myself, 'What if I just had a car accident where I broke a bone? I don't want to hurt myself, I don't want to die, but if I just broke my femur that would keep me out of work for a good three months.'"
After that drive, Kelly decided to make a career change — and it turned out to be a good (and lucrative) choice — all while finding love with her first husband, Dr. Dan Kendall.
Megyn Kelly went through many changes in the early 2000s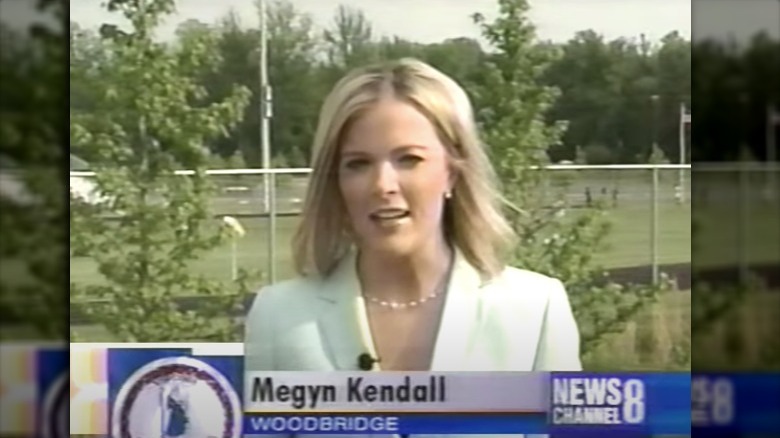 Dr. Dan Kendall and corporate attorney Megyn Kelly were together for eight years, including the four years they were married. According to Page Six, Kelly married Kendall in 2001 in Chicago. The Daily Mail reported that Kendall got offered a fellowship at Johns Hopkins Hospital in Baltimore, so the couple moved there in 2003, and Kelly landed a part-time job as a reporter with Channel 8, the ABC affiliate. The couple got a townhouse in Alexandria, Virginia, and in 2004, Kelly was offered a spot at Fox News.
The couple split in 2006, but it was very amicable. Kelly moved minutes away, and the former couple stayed in touch. In 2015, Kendall talked to the Daily Mail about his marriage to Kelly. Dr. Kendall was matter-of-fact in his interview with the British outlet, saying, "I wanted a wife, and she wanted a wife — we both needed someone to cook and clean and support us. She has very much a Type A personality. I couldn't imagine her staying at home. She needed more of a Type B husband. Sometimes with two professionals, it doesn't work out; we were both working extremely hard and excelling at what we did."
The early 2000s brought many changes for Kelly: a new career, a new husband, then a national reporting job, and a divorce. But life was about to get even busier for the up-and-coming TV reporter.
Megyn Kelly finds true love while her career rises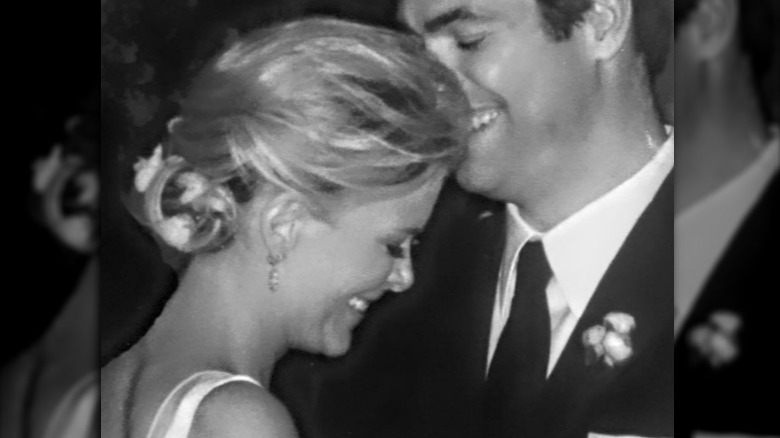 According to Page Six, Megyn Kelly began her Fox News journey in 2004, and after doing some legal stories, Kelly received her first solo segment called "Kelly's Court." When her new career was taking off, Kelly's love life took a turn for the better, too.
According to The New York Times, Kelly met Douglas Brunt on a blind date arranged by a friend in 2006. Brunt was CEO of the internet security company Authentium and divided his time between his homes in New York City and Florida, where the internet firm was based. The couple dated long-distance until Kelly was called up to Fox News headquarters in New York. After the rising Fox News star moved to New York City, the couple grew serious.
The New York Times reported that Brunt wanted to find the right engagement ring to propose to Kelly, but he could not wait, so Brunt got a fake ring at a costume store that looked like the gem from "Titanic." The fake ring did the job, and the two married in 2008.
Of course, 2008 was a big year for Kelly professionally, too. Page Six reported that Kelly was part of the network's coverage of the Republican National Convention that year. According to Closer Weekly, Kelly and Brunt welcomed their son Yates to the world in 2009. The couple added their daughter Yardley to the family in 2011, and in 2013, son Thatcher was born.
Megyn Kelly rises to the top at Fox News, then moves to NBC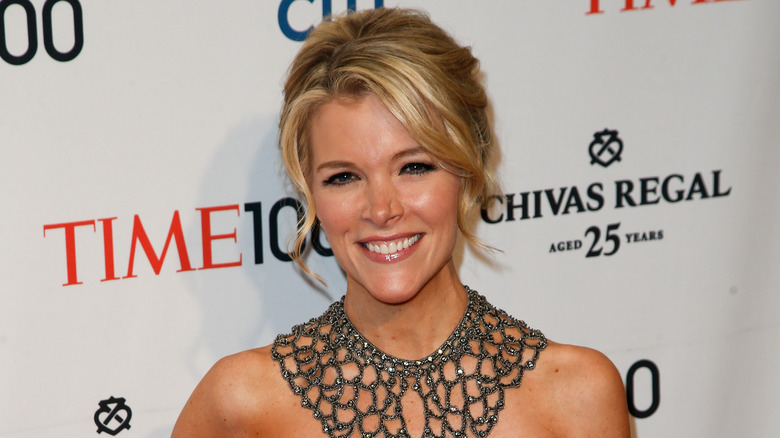 Megyn Kelly became one of the biggest stars on Fox News by doing things her way. In 2015, Variety did a cover story about Kelly and her "take-no-prisoners" interview style.  According to the outlet, Kelly hammered GOP heavy hitters like Rand Paul and Dick Chaney.
People were ultimately shocked, however, to find out Kelly was registered as an Independent. The Fox News star revealed she has voted for both Republican and Democratic candidates, which ruffled some feathers at the conservative cable news network. As mentioned earlier, Kelly's stardom at Fox News was attacked by presidential candidate Donald Trump. Kelly talked about Trump's attacks in the 2019 PBS documentary "America's Great Divide: From Obama to Trump." The Fox News anchor also talked to Frontline about her experiences with the former president.
Kelly told Frontline that Trump and his allies "tried to destroy me." After President Trump took office in 2017, Kelly decided to leave Fox News, moving to NBC for $69 million. The network made Kelly part of "TODAY" and gave her primetime specials.
But Kelly lasted only about a year at NBC before she was fired on October 23, 2018, According to the New Yorker, Kelly said wearing blackface for Halloween costumes was "fine" as long as you were "a character." The backlash gave NBC a reason to part ways with Kelly; CNN reported there was tension between Kelly and NBC. According to CNN, Kelly was paid all $69 million of her contract.
Megyn Kelly strikes work-life balance while growing her media empire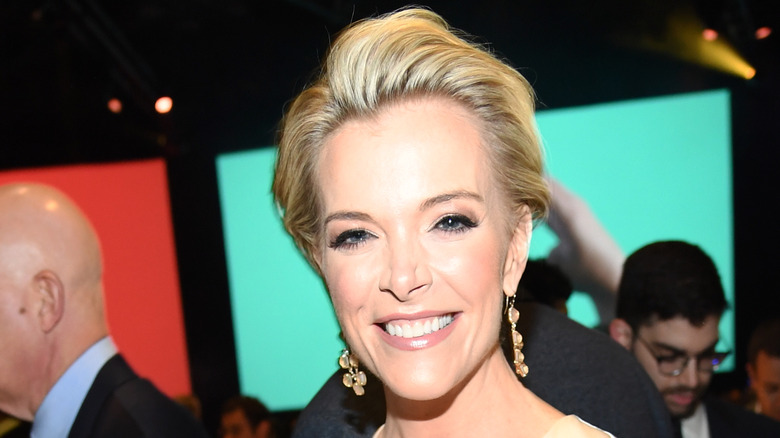 After leaving NBC, Megyn Kelly started building her own media empire and spending more time with her husband and family. Kelly wrote a book, "Settle For More." The former anchor also began podcasting, calling her show "The Megyn Kelly Show." The podcast looks like it's a bit of a throwback to her Fox News days. For example, recent podcast guests included House Speaker Kevin McCarthy and GOP Senator Joni Ernst. Kelly's new media empire is called "Devil May Care Media."
According to The Wall Street Journal, Kelly enjoys running her own company. The former Fox News and NBC host told the WSJ, "To not be doing anyone else's bidding, not having the pressure of corporate overlords over me, that means one has to be entrepreneurial."
A source close to Kelly spilled to Page Six, "There's no way she'd ever go back to a big corporate … legacy media [outlet]. She loves the authenticity and freedom of having her own direct channel." We'll be looking forward to seeing what Kelly does next!
Source: Read Full Article