"I have other interests, but none as all-consuming as this godawful job," a 22-year-old Reeves said in this previously unpublished interview
Reeves plays "Constantine's" titular exorcist bent on saving Earth from hell — even though his soul is already damned to be interred there — in the 2005 comic book adaptation which also starred Shia LaBeouf as a sidekick cab driver.Warner Bros.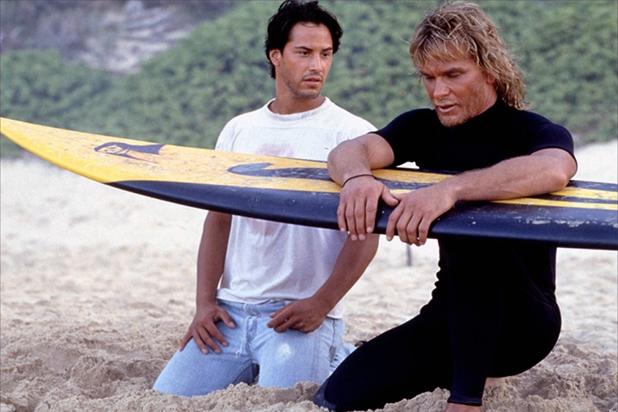 A burned out football player becomes an FBI agent who learns how to surf so he can infiltrate a gang of bank robbers dressed like ex-Presidents and head up by Patrick Swayze. No, seriously, that's "Point Break" (1991).

Twentieth Century Fox Film Corporation
Keanu stars with Sandra Bullock in "Speed," a movie that mostly takes place on a bus that will explode if it slows down below 55 mph. Bullock taking L.A. public transportation? Yeah, right. (1994)

Twentieth Century Fox Film Corporation
Keanu and Sandra reunited for "The Lake House," a film that saw the "Speed" co-stars falling in love through the mail and through time: Bullock writes to Reeves in 2006 while he is living in 2004. And they don't even use stamps.

Warner Bros.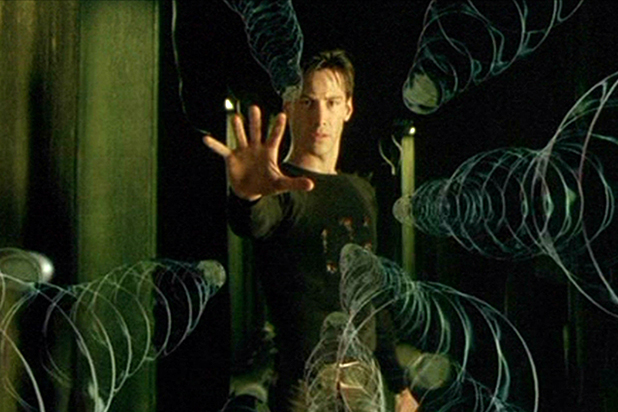 A computer hacker discovers humanity is enslaved by a sentient program in "The Matrix" (1999). Reeves soon unplugs himself, masters kung fu and learns to fly.

Warner Bros.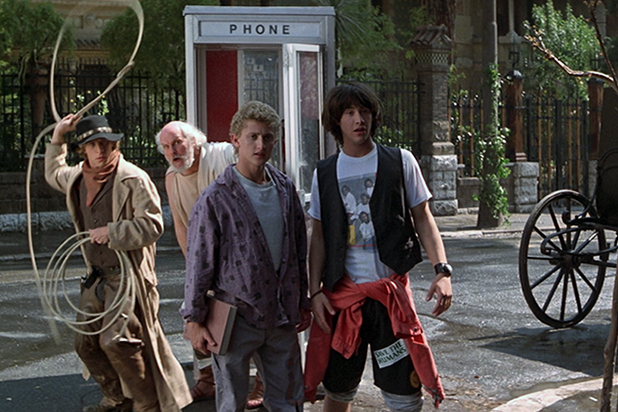 Ted (Reeves) plays a failing high school student who gets sent a time traveling phone booth from the future so that he and his buddy Bill (Alex Winter) can kidnap famous historic persons for their final class project. Turns out he's destined to become the messiah in "Bill & Ted's Excellent Adventure" (1989), too.

Orion Pictures
Johnny is a "mnemonic courier" from 2021 with a data storage device implanted in his brain, allowing him to discreetly carry information too sensitive to transfer across the Net, the virtual-reality equivalent of the Internet. Also, Ice Cube leads a rebellion that includes telekinetic dolphins (1995).

TriStar Pictures
Reeves playing a top-notch trial attorney in 1997's "The Devil's Advocate." If that's not wacky enough on it's own, he's also the son of the Devil (Al Pacino).

Warner Bros.
After discovering a dead stripper in his motel room, played by Cameron Diaz, Keanu assumes he's the murderer in "Feeling Minnesota" (1996). Don't worry, she's not dead and they live happily ever after in Vegas.

Fine Line Features
One of the most high-profile bombs in Hollywood history, "47 Ronin" saw Keanu playing Kai, a half-English, half-Japanese character created for the 2013 movie and not included in any previous "47 Ronin" films.

Universal Pictures
Reeves plays a scientist trying to solve the energy crisis in "Chain Reaction" (1996) by splitting up the water molecule, or something. Soon he's neck-deep in a government conspiracy and being framed for murder and treason.

Twentieth Century Fox Film Corporation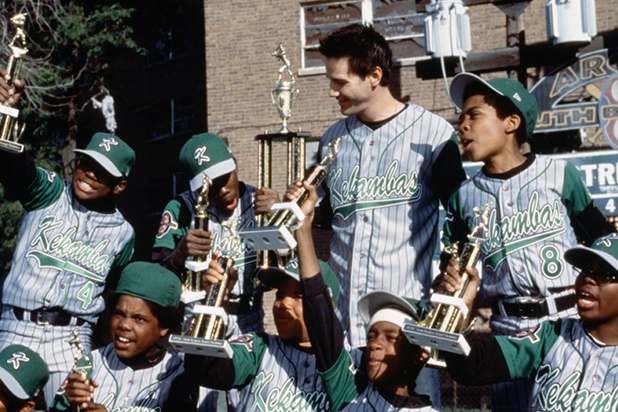 After gambling away six grand, Keanu repays his debts in "Hardball" by coaching an inner-city little league team for an outrageous sum of $500 a week. But the real payoff comes when he teaches the kids the importance of camaraderie, which leads to a successful season that no one saw possible (2001).

Paramount
In "John Wick" (2014), Reeves' latest offering, he plays a retired hitman who has no choice but to re-enter the seedy underworld after bad guys, wait for it… murder his beloved puppy. Womp, womp.

Summit Entertainment
The oft-jeered actor has appeared in several films with far-fetched plots, including "John Wick" which opens Oct. 24
Source: Read Full Article