Ask any RuPaul's Drag Race fan who the most influential queens from the show are and they'll probably say something like: Trixie Mattel, Alyssa Edwards, Bianca Del Rio, and of course Shangela. After three runs on the show and its All Stars spinoff, Shangela never walked away with a crown. She did, however, go on to act alongside Lady Gaga in A Star Is Born and now has her own HBO show with fellow Drag Race alums Eureka O'Hara and Bob the Drag Queen. So, like, she won. She won BIG.
Shangela's We're Here docuseries just premiered last night (catch it on YouTube here if you missed out), and the show follows the Texas native as she, Bob, and Eureka transform small town residents into drag queens for a one-night-only show. It might sound a little cheesy, but hey, we could all use a little bit of that right now. Plus, the show tackles serious issues and helps some residents confront their past homophobia, try to reunite their families, and become who they truly want to be.
Here, Shangela talks to Cosmopolitan about the moments of doubt in We're Here, the first time she saw the trailer on TV, and her upcoming Shangela Is Shook special about how All Stars 3 did her dirty.
Cosmopolitan: How are you doing? What has social distancing been like for you?
Shangela: I hate to see what's going on in the world and how our world is being affected by COVID-19. But as a diva on the go, being forced to take a little break is not something that's completely horrible. I'm spending my time with my family in my hometown of Paris, Texas. I have been quite happy and crafty, and I've been able to really connect with my fans a lot by doing more Instagram Lives and TikToks than in the past.

How can fans support drag queens right now?
Night life was hit so hard with the social distancing orders. The best way to support me is to keep the energy and the spirit of drag alive by really supporting local drag queens in their own communities.
If you've ever been to a drag bar or if you ever wanted to or see a queen, find a local queen in your community, find her Instagram, and find a way to tip her. Most likely, she's not making any money right now and can't support herself with the livelihood that she usually does. We'll get back to better days. I'm very optimistic and very hopeful. I don't know when that is, but in the meantime, you got to keep your spirits up.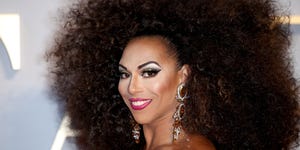 How would you describe We're Here?
We're focusing on small towns across America and LGBTQ stories that have this emotional journey. And through the power of drag, we're helping to equip our drag daughters with the tools to achieve whatever they want in this moment.
In addition to that, we have to program and produce a high-quality drag show—sometimes with bare minimum resources in the middle of nowhere. Try finding the right sequin fabric at the local thrift shop, okay? But we make it happen!
A few nights ago you posted that it was your first time seeing the trailer on TV. How did you feel seeing it pop?
I wanted to scream, but I couldn't because I'm in the house with my grandma and my mom and I didn't want to wake them up. It was right after I watched Homeland and Insecure. All of a sudden there's a promo, and I was like, *gasp.* I was sitting there in the living room by myself so I had no one to share it with until I posted on my Instagram. I started getting all of these messages from my friends who were also awake throughout the world. So I was like, 'Okay, cool. I'll just wait to tell my mom in the morning.'
What was your favorite moment during filming?
I think one of my favorite moments was in the first episode when everything was really raw. When my [drag] daughter Hunter committed and did his number on the stage and gave a speech afterwards, I was just so proud of him. You know, I'm Shangela. I don't have no kids. You can check the record—I don't have no kids that I know of. I just was overwhelmed with emotion. I was like a parent. A real parent. I was like, 'This is what it must feel like when your kid graduates high school and you're there like, 'whoop whoop whoop!' That's how I felt. I was like, 'Oh my God, look at my little baby.' It was really beautiful.
We could all use a little love right now. #WereHere premieres April 23. @itsshangela @eurekaohara @bobthedragqueen
A post shared by We're Here (@werehere) on
The queens are meant to be strong mentors the entire time, but were there any moments during taping that challenged you or made you feel especially vulnerable?
I think about having to reach out to Hunter's dad in the first episode. Hunter's dad was one of the nicest guys. He looks to have this tough exterior—he's a Harley rider and a Navy veteran, you know.
At first, connecting with him made me feel very uncomfortable because I didn't grow up in the house with a dad. My parents separated right when I was born. I've never known my dad, so to have to walk into Hunter's life and help him strengthen and their relationship—At one point I thought, 'Am I even equipped to do this because I don't know how to relate to a dad the way a son is supposed to?' But at the end of the day, I'm a person who knows how to connect with people. That's the biggest thing that I have to contribute to this show.
One of the themes of the show is that some people seem to be atoning for their past homophobic beliefs and actions and they want to be put in drag as a way to make amends in some way. Why do you think it's important for some people to actually take that step to feel like they're actually accepting of the community now?
I think that people have to go through a journey in order to heal. And if they felt that they've done wrong in the past to a specific community and wanted to make amends to them, this is a way they've chosen to try and heal themselves. It's just as much about accepting others as it is about accepting oneself. Sometimes they've got to figure out a way to let go of old baggage or to evolve as a person in order to be their best self. Sometimes that means apologizing for things or facing fears that they never had the confidence to face before.
What was it like working with Bob and Eureka on the show?
Girl, we don't know how we got any work done. I know that. They had to split us up to get the other stuff done because we just had so much fun together. Bob, Eureka and I are all from RuPaul's Drag Race family, so we had that background. We're also very hardworking drag queen who have toured the world and understand what it's like to put on a good fun show. And the powers that be said, 'We value your opinion' and made us consulting producers on the show. We had a seat at the table in programming a lot of these pieces, and I think that we've done our drag community, specifically, justice in how authentic this show is going to look and feel.
Speaking of Drag Race, have you been watching this season?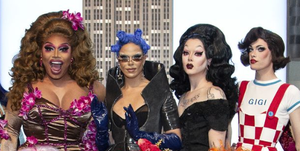 I always call myself a fan first and a contestant second. It's still early in the season for me, but obviously one of the front runners is Gigi Goode. She's just been stellar on the runway, which has been fantastic. Heidi N Closet has such a special place in my heart not only for her name, but also because he reminds me a lot of myself in that you're a little rough around the edges but you have a great heart and great personality for television. I love that for her. Then Jan Sport with those vocals, honey.
If you were to join the celebrity Drag Race spinoff, which celeb would you most want to put in drag?
Beyoncé! Can I say it faster? Beyoncé! People think women can't get in drag, but women can totally get in drag. I'm gonna find out a way for us to do a duet number. She would be my drag daughter, and you know she would win the pageant. And Rome Flynn from How to Get Away With Murder would be a beautiful, beautiful daughter.
What's up next for you?
I have recently put up a stand-up comedy show for free. It's a one hour stand-up comedy show called LaQuifa is HALLELOOSIN' IT on YouTube. It makes me happy to know that my efforts from inside these four walls where I am in Paris, Texas, is impacting someone else and seeing them watch and enjoy it.
In addition to that, I have a new stand-up comedy show that's all about the fallout from All Stars season three called Shangela Is Shook because, child, I was very shook [when I was eliminated]. It'll come out before All Stars season five premieres, and that's gonna be probably in late May.
You can watch the first episode of We're Here on YouTube for free. Catch new episodes on Thursdays at 9 p.m. ET on HBO.
Source: Read Full Article