Look, there's been a lot of drama, but Matt James' season of The Bachelor has some of the coolest, chicest, and most admirable contestants to ever come through this franchise—including 28-year-old model Chelsea Vaughn. Chelsea hasn't gotten nearly enough screen-time with Matt this season (hopefully she'll get a 1-on-1 soon!), so let's get to know her a little better, kay? Kay!
She's a Professional Model
As in, she's appeared in freakin' Vogue and has walked major fashion week runways. Chelsea actually left her corporate job to pursue a career in modeling in 2018, and says, "Since then, my dreams have literally come true, more than once! 💫 It was scary AF (and still is sometimes) but, I can't imagine doing anything else."
https://www.instagram.com/p/B1xMwApgL-J/?utm_source=ig_embed&utm_campaign=loading
A post shared by Chelsea Vaughn (@chelseavaughn_)
She Is THE Best-Dressed Person on Bachelor
Name a cooler Night One dress, I shall wait:
https://www.instagram.com/p/CJmpKtEjXbf/?utm_source=ig_embed&utm_campaign=loading
A post shared by Chelsea Vaughn (@chelseavaughn_)
Because I know you need it in your life immediately, Chelsea's gown is by 18-year-old designer A'kai Littlejohn. The exact dress is from the Spring 2021 collection, but there are other similar styles available if you feel like supporting an emerging designer AND getting an amazing new outfit.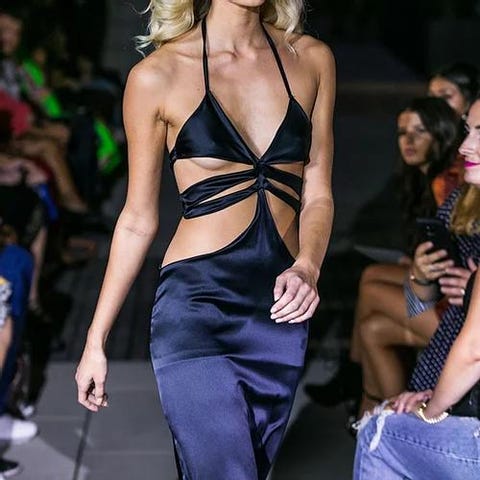 She's a Must-Follow on TikTok
Presenting the evidence:
😆 I love y'all #thebachelor #fyp #LiftandSnatchBrow
Daily reminder that women do not NEED long hair to be beautiful ✨ #fyp #transition #mybff
My rose ceremony 2 gown 🌹#bachelornation #thebachelor #fyp
Whats a girl gotta do to get a 1 on 1 around here? 😭 #thebachelor #bachelornation
Enter woman number 38… #thebachelor #bachelornation
She Had a TON of Milestones in 2020
2020 was a rough year, but Chelsea says quarantine made way for "opportunities that never would have been presented to me otherwise." Check out her video chronicling major 2020 milestones below—including appearing on a billboard in Times Square, walking in Paris fashion week, taking her first solo trip, "surviving a historical revolution and global pandemic," joining the Bachelor family, and shaving her head.
A post shared by Chelsea Vaughn (@chelseavaughn_)
Chelsea actually spoke to Matt about "the emotionally freeing" experience of shaving her head, and then opened up about their important conversation on The Bachelor Happy Hour podcast:
Her Last Relationship Was Pretty Serious

According to ABC, "Chelsea's dating life was pretty nonexistent until she was in college, and her only relationship ended a year and a half ago when, after five years of being together, she felt she had outgrown him." She's since spent some time "playing the field" and "has a clearer idea of what she wants out of a relationship."
Ahem, "Chelsea loves a man who will go the extra mile to show how they really feel and really appreciates it when someone can be vulnerable and an open communicator. Her dream man will join her as she wines and dines throughout the city; and while she doesn't need it, a man who loves to spoil her from time to time is always a plus."
Hear that Matt?
You love all the deets on Bachelor Nation. So do we. Let's overanalyze them together. ✔️
Source: Read Full Article