Hello @ FBI, please do your next round of recruiting from the Bachelor Nation fan base because their sleuthing powers have become truly next level. In case you missed it, Reality Steve just revealed that Chris Soules and Victoria Fuller are a) dating, and b) quarantining together in Iowa. Behold:
(EXCLUSIVE): One of the more random Bachelor "couples" that I can't say I ever would've guessed. I don't know how long this has been going on or how serious it is, but I can confirm that Victoria Fuller is currently together in Iowa for the week with Chris Soules. Discuss.
An Us Weekly source claims that, "Chris slid into Victoria's DMs" that "he apparently DMs a lot of people," but there isn't any actual *proof* that any of this is happening. Like…until now.
Exhibit A? This photo of Chris chilling on his couch, which, please note, he captioned "It feels SOO good to finally be home!"
Exhibit B? Natasha Parker's Instagram Stories. A few days ago, Natasha hopped on a video chat with a few of her fellow Bachelorette contestants including Victoria, and then posted a screen shot to Insta Stories. See the pillows and couch behind Victoria? Yeah, they're the exact same as the ones in Chris' home.
Meanwhile, if you're wondering who spilled the tea that Chris and Victoria are dating to Reality Steve, fans are convinced it's someone who was on this call, aka Lexi, Natasha, Sydney, or Victoria P.
👀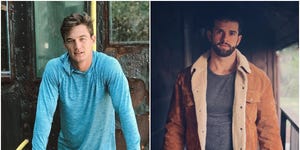 Source: Read Full Article