Responding to a fan who finds a framed photo of Meredith Grey at a doctor's office, the 'Station 19' actress says that they'd better 'get the hell out of there.'
AceShowbiz –Ellen Pompeo has shared a hilarious reaction after a fan spotted her "Grey's Anatomy" character displayed on a clinic wall. After seeing a New York urgent care clinic having Dr. Meredith Grey's photo framed and hanged in the doctor's office, the actress went on to advise them to run immediately.
The hilarious discovery was unveiled by a fan who posted a framed picture of the well-known character on the series on the examination room wall on Saturday, June 5. The snap later caught the "Station 19" actress' attention. Responding to the fan's post, the 51-year-old actress hilariously replied, "Grab your stuff and get the hell out of there." She also included two laughing with tears of joy emojis.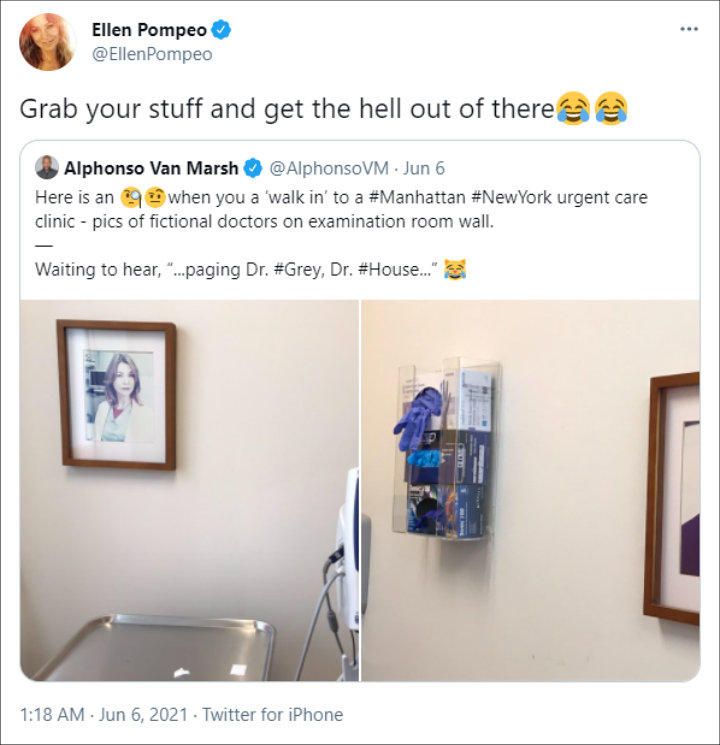 Ellen Pompeo shared her hilarious response via Twitter.
The initial tweet was captioned, "Here is a [look] when you a 'walk in' to a #Manhattan #NewYork urgent care clinic – pics of fictional doctors on the examination room wall." Referencing the medical series, the fan added further, "Waiting to hear, '…paging Dr. #Grey, Dr. #House…' " Aside from Meredith's picture, the fan also spotted a photo of Dr. House from the "House M.D." show hanging on the wall.
"Grey's Anatomy" is currently in its 17th season, which has featured a lot of shocking twists. There were Meredith's season-long COVID journey, Andrew DeLuca's heartbreaking murder, the highly-anticipated Jackson Avery and April Kepner reunion as well as Jo Wilson's growing love for premature baby Luna whose mother died due to complications.
"We all know 2020 has been a really long, ugly road," Ellen explained of the show back in November. "And we were so happy just to be able to film these scenes and know how much joy it was gonna bring people…we definitely had a ball."
The hit medical drama was finally renewed for another season last month after fans were worried that the series would be canceled after season 17, especially after some major returns and speculations. Ellen herself has reportedly signed a contract extension to portray Meredith on the series for at least another year.
Source: Read Full Article