Jenna MacGillivray from Below Deck Sailing Yacht told Showbiz Cheat Sheet that her relationship with chef Adam Glick was "complicated." After the latest episode, now viewers can see exactly why.
Glick gleefully jumps at the chance to be the first boyfriend to give MacGillivray flowers. But when she doesn't seem overwhelmed with emotion upon receiving the flowers, he becomes silently sullen. While he doesn't express his disappointment, he's stewing inside.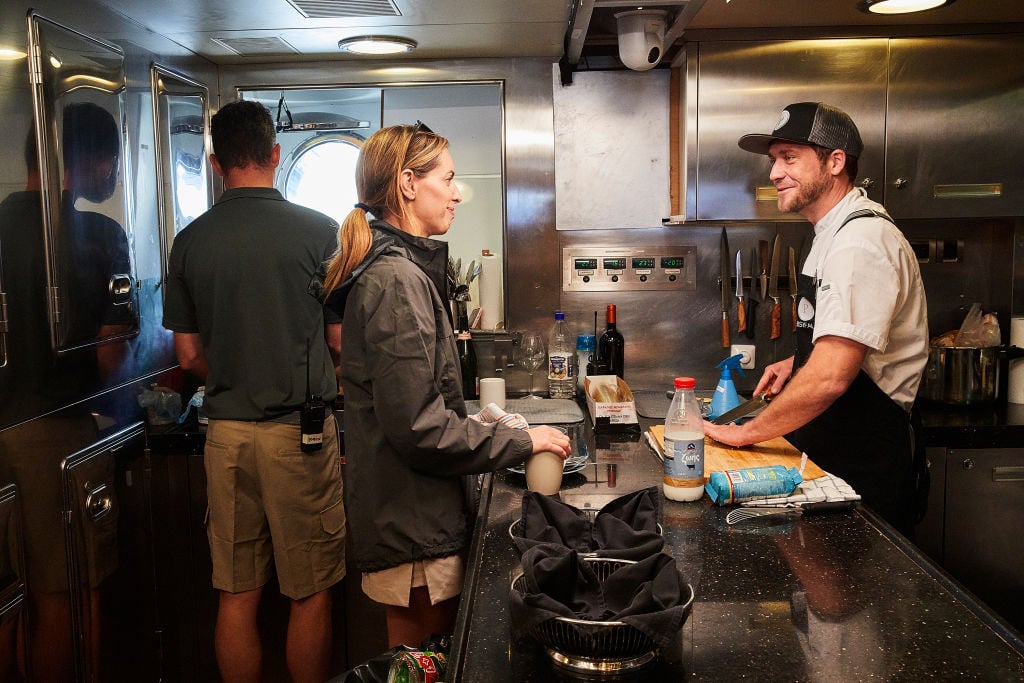 Later, after dinner and drinks on the town, MacGillivray and Glick return to the master cabin for a romantic interlude. But after the encounter, MacGillivray tells him she can tell something is wrong, which sets him off and he becomes angry.
MacGillivray tells Glick she loves him
Audio captures the exchange behind closed doors. Glick is heard saying, "Holy f**k that felt really good."
But then MacGillivray replies with, "I feel like you're holding back or something." Her response doesn't sit well with Glick. "Why do you always say something after we have a great moment?" he questions. But she responds by saying, "I feel like … I f**king love this person. I've never felt like this before in my life."
Glick now sounds triggered. "Okay well, I'm not going to tell someone I love them in a matter of three weeks." Although he remains calm, MacGillivray wonders why he responded in that manner. "What are you doing right now," she questions.
They end the night with a bang and an explosion
Her comment sets him off. "You're crazy right now," Glick says to MacGillivray. But, MacGillivray continues to question him. "Adam, like are you aware of what you're doing?" Unfortunately, he doesn't understand what she's talking about, insisting she just ruined the moment.
"We just had incredible sex and you immediately bring up something bullsh*t," Glick says. "You have to, have to, have to say something stupid and ruin the moment." She now asks him to stop verbally attacking her.
But he's clearly seeing red. "I will attack you right now," he continues in a calm voice. She asks if he's serious. "Yeah I'm serious," he says. "Dead f**king serious. Up to now, I've showered you with compliments."
It's all about the flowers
The remark likely turns on a lightbulb in MacGillivray's head about her lowkey reaction to the flowers. "Yeah, and if I don't react properly you get upset," she responds.
But at this point, Glick is at the point of no return. "Then quit f**king bitching. All I've done is f**king tell you how pretty you are, how beautiful you are, how cool you are, how funny you are." And here's the real problem: "I pick you f**king flowers and you don't give a flying f**k."
"You gave me the flowers and I reacted in a way you didn't like," she realizes aloud. But no it was worse. "No, you reacted like a corpse," Glick shoots back. She says this impasse seems like a hurdle they need to get passed. "Where you're not actually pushing me away or pushing somebody away," MacGillivray says. At this point, they argue over who started the fight but ends with, "Give me my pillow I'm f**king out of here," Glick says. She begs him not to leave as he seems determined to run.
Below Deck Sailing Yacht is on Monday at 9/8c on Bravo.
Source: Read Full Article