Most Below Deck captains fire crew in between charters in order to avoid disrupting service. But chef Hindrigo "Kiko" Lorran from Below Deck Mediterranean may have tipped Captain Sandy Yawn's hand, telling her he would leave after the "Vegas" night disaster.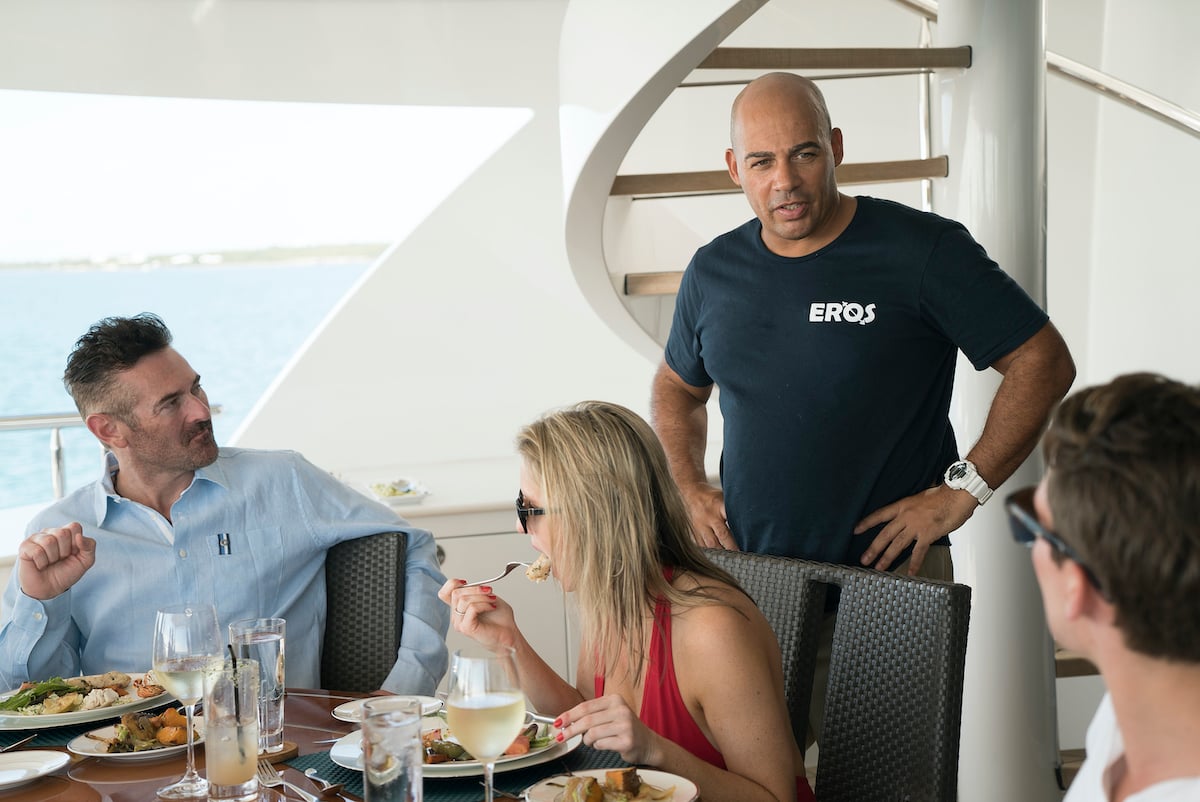 She tried to avoid telling him he was fired after he said she could fire him. "Let's just get through this charter," she said looking exhausted. But he pressed her, telling if he leaves, he leaves. "And I leave," he said to her. She responds by nodding affirmatively.
This is likely not how Yawn (or Lorran) wanted the charter to play out. Lorran appears to stay on the boat to cook at least one more dinner as the guests are seeing giving Lorran a rave review. Viewers will have to wait to see if he completes the entire charter, but has a chef ever been fired mid-charter and stayed?
Chef Leon Walker left the crew high and dry
The only other chefs to be fired on the series were chef Leon Walker from Below Deck season 3 and chef Mila Kolomeitseva from Below Deck Med season 4. Kolomeitseva was fired after a few charters and was quickly replaced with third stew Anastasia Surmava. Later, chef Ben Robinson took over to finish the season.
Walker, however, was fired mid-charter and under different circumstances than Lorran. Unlike Lorran, Walker had an extremely bristly relationship with chief stew Kate Chastain. He was ultimately held accountable for a late-night kitchen fire because his oven was so dirty. Rosbach fired him, thinking Walker would remain on board and finish out the charter, but no such luck. Walker left immediately and dinner needed to be served.
The crew scrambled and allowed third stew Raquel "Rocky" Dakota to step in after she said she had culinary training. She managed to help the crew finish the charter before, once again, Robinson came to save the day.
Captain Lee says he always tries to wait to fire crew members after the charter is over
Captains wait to dismiss crew members until the charter is over for obvious reasons. Working with a man down places additional stress and strain on the rest of the crew. But also having a fired crew member still working onboard could be dicey for the service level if the crew member is angry.
However, Rosbach shared on Bravo's The Daily Dish podcast that once he is ready to fire the crew member there's no turning back. "For me it happens really quick," he said. "You know, it's like somebody flips a light switch. I've had enough. It's time to go."
"But usually, I think, usually we wait until, like, after the charter's over, because if you let them know, like, mid-charter, we're out at sea, like, you want to wait 'til you're at the dock and they can pack their stuff," Chastain added.
"If you can," Rosbach said. "Uh, sometimes I know it and I'll put off letting them know that I know it, until we, you know, like you said, get back to the dock." This may be why Yawn tried to avoid telling Lorran he was fired in the middle of charter and likely hoped to have a conversation with him after the guests departed.
Will Lorran stay on for the remainder of the charter? Below Deck Mediterranean is on Monday at 9/8c on Bravo.
Source: Read Full Article