The people on 90 Day Fiance: Before the 90 Days are rarely lucky in the love department. But one of arguably the saddest storylines on the show was Caesar Mack's. He worked overtime in a nail salon to send his Ukrainian girlfriend money over the course of their five-year relationship and she never even met him during the season.
But now, Mack has moved on from Maria and has a new love interest. Unfortunately, fans don't think this relationship is real either.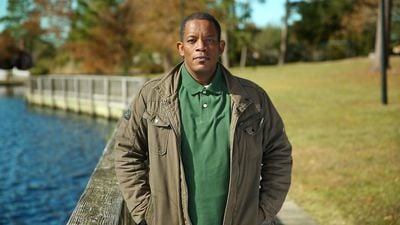 Caesar and Maria's relationship
Mack claimed to have spent over $40,000 on Maria during the course of their relationship though she always found a reason not to meet up with him. He asked her if he could visit her in her home country but Maria suggested they meet in Mexico instead. When Mack went to Mexico, Maria decided not to come.
"Even though Maria broke my heart since I've been home, we've been talking again. I'm not going to give up on her," Mack said on the show.
They soon picked up right where they had left off.
"You know, it's just that I love her so much, so I just decided to keep trying to help her out," he said. "I really don't think that she's using me. She's just… I think that she just needs a little help. Just hoping everything will work this time."
TLC was able to find Maria and interview her though she refused to meet Mack in person. She claimed that Mack had only given her around $5,000 over the course of their relationship instead of the $40,000 that he had claimed.
During the reunion, the two called it quits.
Caeser gets closure
On the May 4 episode of 90 Day Fiance: Self-Quarantined, Mack revealed that he eventually did meet Maria. After the show ended, Maria stopped answering his texts and emails so he flew to Ukraine. While there, Maria met up with him and he got the closure that he needed.
"Now we're over. That's it," he said. "It was hard for me to get over Maria, but now I've met someone new. Moving on was hard, but it was the best thing for me."
Caesar's new girlfriend
On the show, Mack revealed that he had a new lady in his life. A 21-year-old model from New Orleans named Aya. Fans were immediately skeptical of this new girl due to Mack's dating past.
"We actually started talking through Facebook," he said. "We're going to do a virtual date."
Mack and Aya's virtual date consisted of him "feeding" her strawberries covered in whipped cream and her presenting him with a chocolate cake with a heart and his name on it.
"She's beautiful and she has a really good personality," he said.
Fans doubt Aya
Fans were quick to question the relationship between Aya and Mack.
"He 100% cash app this girl some money to do this for him on tv," one person tweeted. "I would be shocked if this was actually legit."
"Who else thinks he paid a hooker from NOLA to pretend to be his gf?" another person said. "And have a video date with him so he won't seem so pathetic bc of his last relationship."
Some even commented on Aya's Instagram.
"Another girl who found a way to build her following but will never actually be with Caeser," one person wrote under one of Aya's recent photos. "Get them follows girl!!!!!
Others took to 90 Day Fiance fan pages to surmise the legitimacy of Aya.
"Totally paid," one fan said. "She reminded me of Larissa for a min."
"She got to be getting paid to date him or tryna get sorta famously noticed," another commented.
"SURE, she's LEGIT, just as LEGIT as his UKRAINIAN girlfriend, Maria!" another said. "Whatever gets the poor guy off, not for me to judge, but it IS for me to LAUGH MY A*S OFF at!"
Source: Read Full Article