You don't need to know the difference between a three-card and a Celtic cross spread to get the most out of a tarot card reading. All you need: your Sun sign! Here's what I do: shuffle my tarot deck and pull out the cards in order from Aries to Pisces plus one general card for everyone so that you can get specific advice around your personality. Let's go!
A GENERAL CARD FOR EVERYONE: TWO OF COINS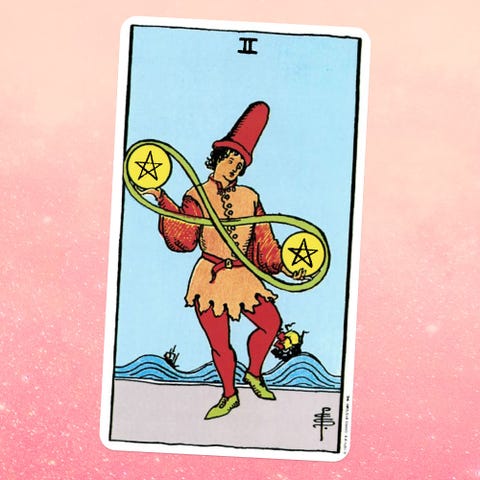 Variety and multi-tasking are where it's at this week. Life has slowed down recently, but that doesn't mean there's no new information, people, activities, or opportunities. Make the effort to broaden your horizons—start a new activity, or try out a different approach to a project you're already working on. The Two of Coins hints that the more you do, the more likely you are to find something worth sticking with. Go discover something different, and bring it into your world. It's time to get busy.
ARIES: QUEEN OF SWORDS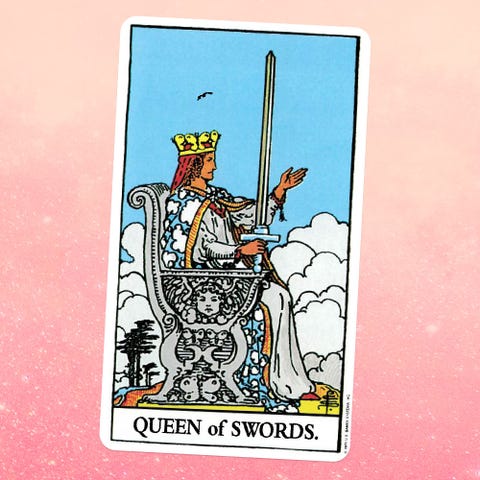 You feel like going it alone this week. Credit to you, Aries—if you're prepared to ~own it~, then you should do whatever the hell you like! The Queen of Swords brings you the confidence to pull it off. Do it your way.
TAURUS: QUEEN OF WANDS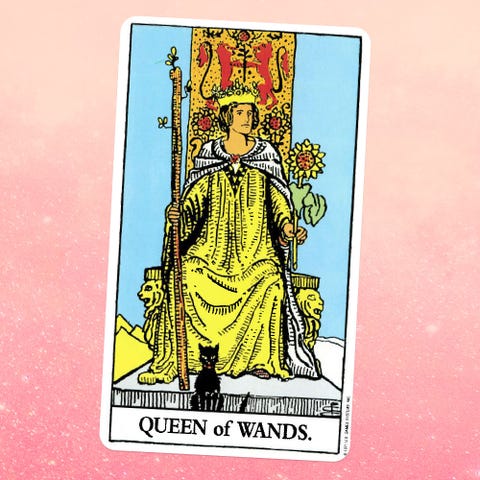 As cozy as your home is, it's starting to get stale. The Queen of Wands sees you waking up, sitting up, and trying out some different scenes this week. Do whatever you can to embrace change while staying safe—call some friends you haven't seen in a while, walk your dog along a new route, check out some new online forums. You need to shake things up a bit, because you're starting to get bored. Not good.
GEMINI: TEN OF CUPS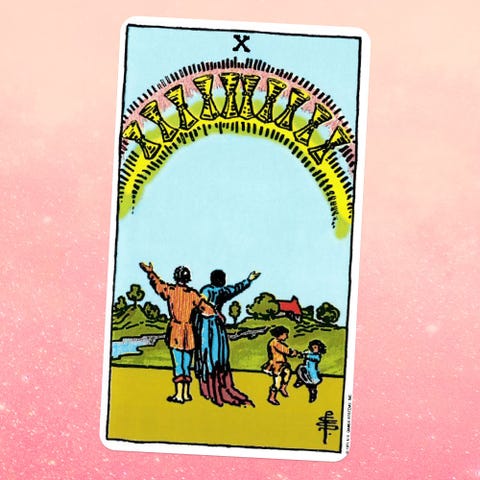 Romance is a major theme in your world this week, Gem. The Ten of Cups is a happily-ever-after card—it's all about long-lasting love, the type of relationship that can withstand anything and make you into the ~best version~ of yourself. Look to your partner and build them up. If you're single, go ahead and text your crush. Whatever you do, Cupid is on hand to make it go well. Don't waste this positive energy.
CANCER: THREE OF CUPS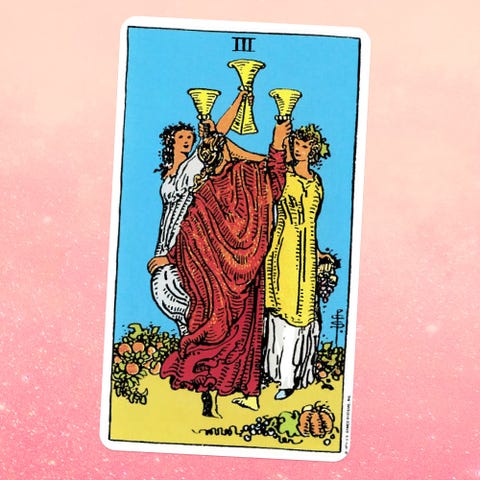 The world is full of amazing things—we'd be fools not to take joy and pleasure when we find it. The Three of Cups asks you to appreciate what you have right now, even if it's not what you were hoping for. Savor the small moments and acknowledge the good stuff. If you lift your face to the sun, not the shadows, you'll be filled with light and warmth.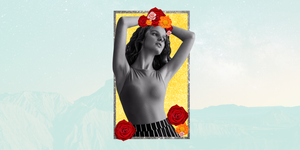 LEO: THE SUN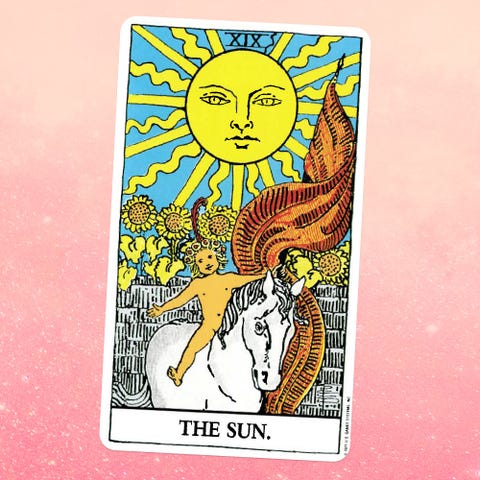 The Sun is your sign's totem tarot card, so this is an important week for you, in a good way. Start working towards your goals—you might get further than you thought possible. You can make real progress in surprising ways, so just jump in. Be confident, bold, and hopeful.
VIRGO: ACE OF WANDS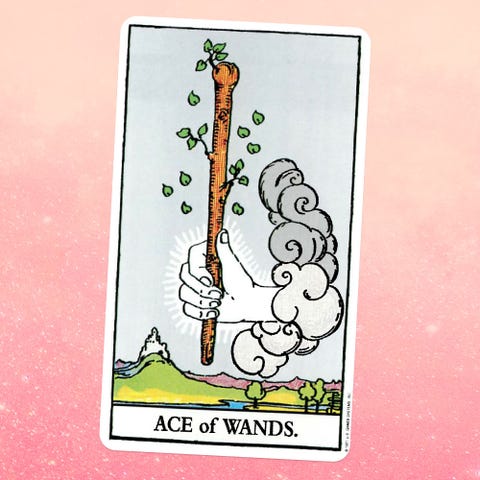 The Ace of Wands nudges you to bring something from the paat back into your life. This is a good time to resurrect any hobbies that you loved in the past but had to set aside because you just didn't have the time or energy for them. You've got lots of interests, Virgo. Give this some thought and pick the thing you REALLY want to do.
LIBRA: PAGE OF CUPS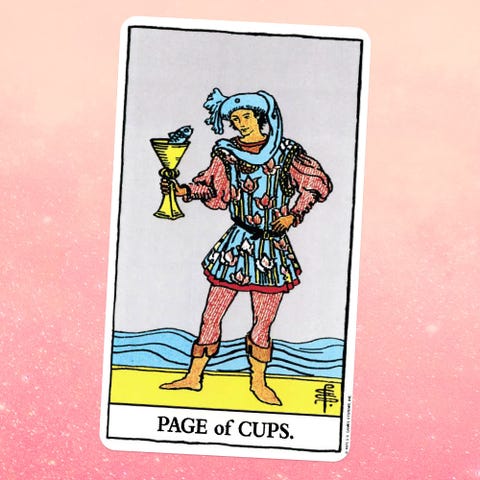 You're an incredibly artistic person, and the Page of Cups hints that you've got some creative projects in mind. Be it learning a new skill, decorating your pad, beautifying your garden, pampering yourself, or making over your wardrobe for summer—whatever it is, throw yourself into it. Enjoy making your world feel a little bit more gorgeous. You deserve this.
SCORPIO: JUSTICE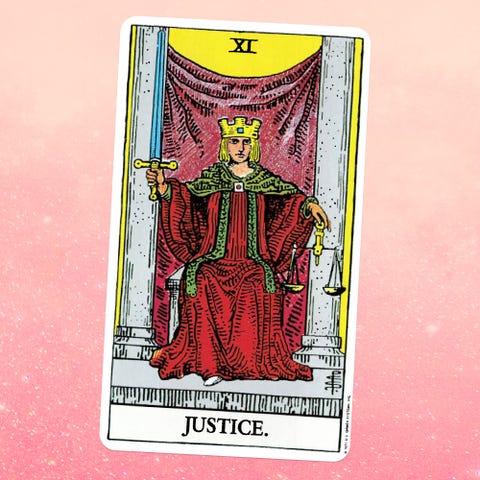 Revenge is a dish best served cold… or hot. You don't mind, you just like serving it! Now Scorpio, please play nice this week, because Justice hints that without ANY further action or prodding from yours truly, you WILL be vindicated and proven right. Look after your own business and let karma clear up the rest. Put those ~revenge fantasies~ firmly back in the knife drawer. No meddling, please.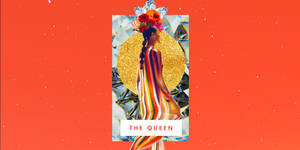 SAGITTARIUS: THE WORLD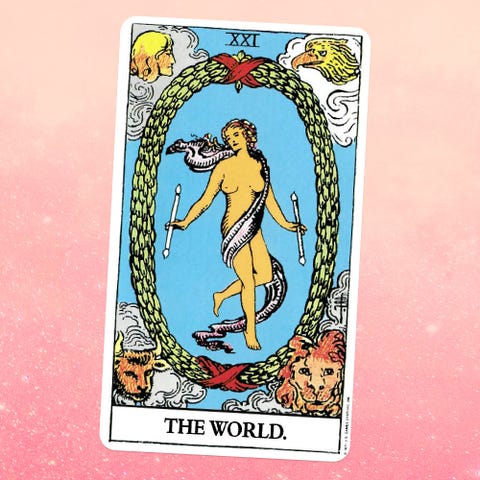 The World is the tarot's final card, and it appears when we're in the process of completing a long journey and preparing for a new chapter. Life is a never-ending cycle of beginnings and endings, and you're recognizing this pattern in your own life. As you prepare to draw something to a close, start to imagine where you'll head next. A new chapter is emerging, and it starts in your imagination.
CAPRICORN: QUEEN OF CUPS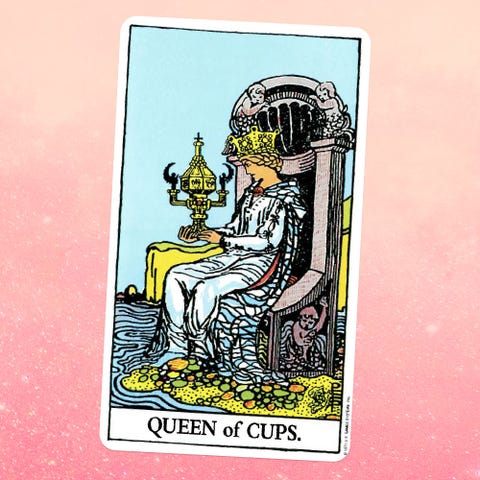 There's a warm and fuzzy vibe around you this week, Cap. The Queen of Cups sees you feeling very in touch with your emotions and even, dare I say it, in the mood to share them. You're usually very guarded, but you want to talk this week. Good! We all need to let it out sometimes, even you. Find a confidant and tell them everything. You'll be surprised how empathetic your listener is.
AQUARIUS: FIVE OF WANDS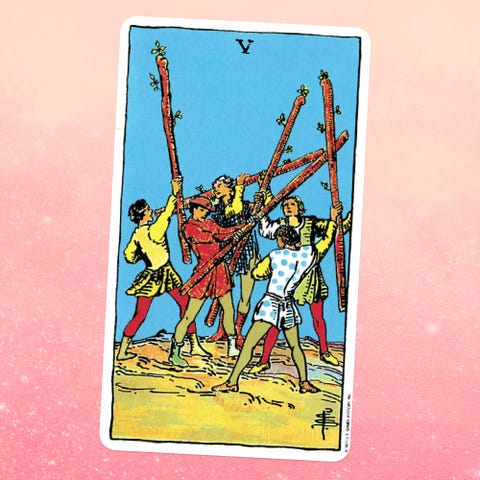 You look at the world through a logical lens, which lets you untangle tough issues more easily than most people. The Five of Wands asks you to help someone else who is struggling solve a problem in their life that they've gotten ~stuck~ over. You can see the way forward, so go show them the next steps. They won't forget your help.
PISCES: TEN OF WANDS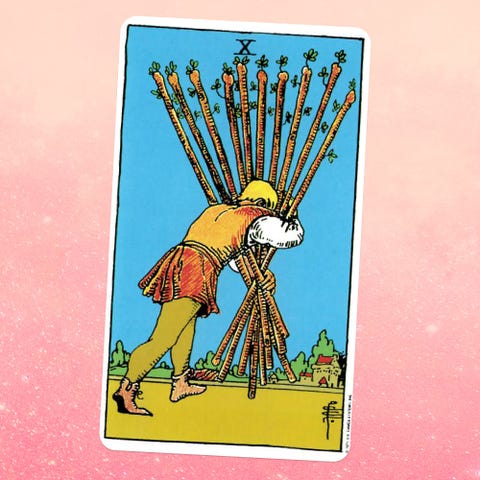 The Ten of Wands is a tough card—it's about taking on too much, overthinking everything, and feeling overwhelmed. Pisces, you absorb other people's vibes, as well as feeling your own intense feelings. This week, focus on lessening the load you're carrying. Don't watch the news so much, turn off your social media, and stop obsessing over what you cannot control. Relax, scale back your workload, and increase your ~quiet time~. You need a break. Take one.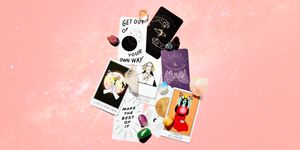 Source: Read Full Article