During this year's televised Eurovision Song Contest, audiences around the globe were immediately intrigued by the introduction of Måneskin. The band is from Italy, consisting of members Damiano David, Thomas Raggi, Victoria De Angelis, and Ethan Torchio. They officially formed as high schoolers in 2016, naming the band Måneskin after the Danish word for moonlight. Eventually, the four members were selected to represent Italy at Eurovision, bringing the country its third win — the country's first since 1990, per NPR.
Although Måneskin initially gained attention with their rock performance of "Zitti e buoni" in the competition, it's the band's cover of "Beggin'" that has skyrocketed them to viral success. The track was originally released by The Four Seasons in 1967, with the Italian musicians covering it on a 2017 EP release. Following their celebratory and record-breaking Eurovision win, Måneskin has managed to give "Beggin'" new life through the popular social media app TikTok. 
So, without further ado, here's a breakdown of the song's original and re-interpreted meaning.
How Måneskin reignited "Beggin'"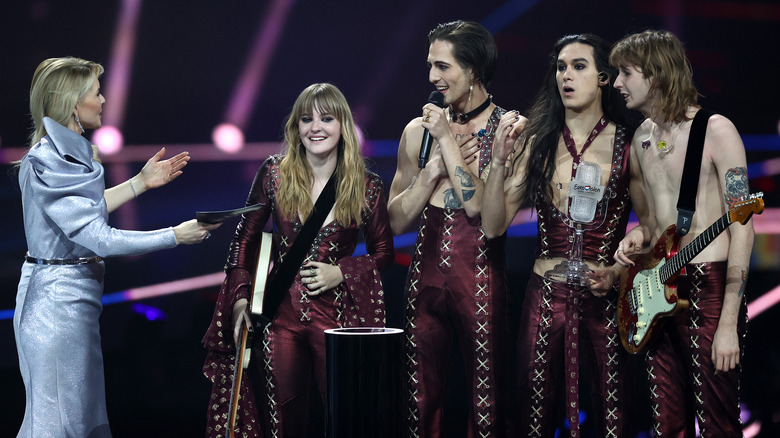 The original recording of "Beggin'" was performed by The Four Seasons, which today's listeners might know from the Broadway musical "Jersey Boys." The song itself got written by songwriters Bob Gaudio and Peggy Farina, and their version provides the perspective of a man being alone without his lover and hoping to win her back. "So why every time I lead you let me go? Every time I reach, you get me low," says one verse. Instrumentally, it's also a lot slower with a 1960s disco-pop influence, making it reminiscent of the era it was created.
Like traditional song covers, Måneskin kept the words of The Four Seasons — but to update the vibe, they infused a refreshing rock sound. The band also kept lyrics from Madcon's 2007 cover of the song, which steps further into the darkness with lyrics like, "An empty shell, I used to be / The shadow of my life was hangin' over me."
In a 2021 interview with Clash Magazine, Måneskin's Damiano David spoke about their new interpretation. "I think maybe people were tired of the usual pop song everyone assumes they have to play, but (rock) is very important to us — this is what we believe in," he stated. "It shows you don't have to always conform to what is appreciated by everyone or on the radio or whatever, but that you can be yourself and people will like you if they like the music." He added, "People are bored of others pretending; they want something real."
Source: Read Full Article