Demi Lovato celebrated her 28th birthday on Thursday, Aug. 20, and her fiancé Max Ehrich marked the special occasion with a sweet message.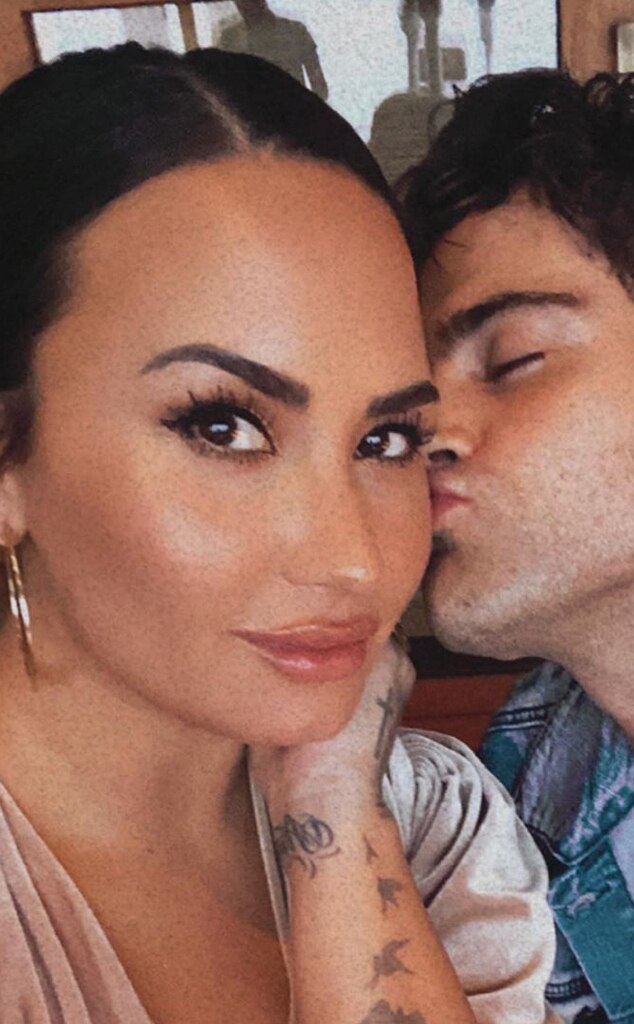 Max Ehrich's birthday message for Demi Lovato will make you believe in love again.
To celebrate the singer turning 28 years old on Thursday, Aug. 20, the 29-year-old actor took to Instagram and shared a sweet shout-out.
"Words fall short baby," The Young and the Restless star wrote alongside a series of photos of the couple on Instagram. "You light up this world & I am the luckiest man alive to call you my fiancé."
Ehrich then wrote about how he keeps "falling more in love" with Lovato and her "pure heart & soul every moment."
"Can't wait to make endless memories with u & forever cherish you with all my heart," he concluded. "Happy 28th, my angel @ddlovato."
The dynamic duo has certainly had a lot to celebrate lately. Earlier this month, Lovato and Ehrich marked their five-month anniversary. The milestone came about two weeks after Ehrich popped the question with a diamond sparkler during a beachside proposal. In addition, they celebrated Ehrich's birthday in June.
Lovato also reflected on her journey over the past few years on her "miracle day." Looking back at how she was hospitalized for an accidental overdose two years ago, Lovato wrote about how the day represents how the doctors at Cedars-Sinai "saved" her life and how her life has changed beyond her "wildest dreams."
"Only 2 years after that terrible day, I'm engaged to the love of my life, and I can genuinely say I feel free of my demons. Each and every one," she wrote in part of her July post. "I never thought this feeling was possible. And it's not just because I fell in love (although that didn't hurt), but because over the past 2 years, I've done more work on myself than I have my entire life."
In honor of Lovato's big day and Ehrich's special post, here's a look back at their love story.
Trending Stories
The Crown Season 4 Premiere Date Revealed: Watch the Trailer
31 Shocking Saved By the Bell Secrets Revealed
KUWTK Preview: Tristan Thompson Tries to Charm Khloe Kardashian
"When you begin to actually process your evening and realize that you're ENGAGED…TO YOUR SOULMATE!!!!" Lovato wrote on Instagram Stories underneath a photo of her sparkler.
"Oh man this might be my favorite pic of us so far," the artist caption this July 4 snapshot. "Thank you for making me the happiest. I love yew soooo much @maxehrich."
"BAAAYYBEEE—I have so much fun with you and there's so many things I want to say right now but I want to be present and spend this bday with you so I'll be quick:
Being with you makes life SO MUCH FUN. We literally act like hooligans on the daily and don't give a F–K if we're embarrassing ourselves if others are around!!" Lovato wrote on The Young and the Restless star's birthday back in June. "I spend my days with you, barefaced and in a bathing suit. I feel unconditionally loved and accepted by you in a way that I've never felt before. I can't explain it or you. You're indescribable, you beautiful, man. Inside and out you are jaw-droppingly gorgeous. You're also such a positive lil beam of light in my life, and I can't wait to make more birthday memories together. Here's to the future baby. I love you @maxehrich."
"Had an amazing weekend in the magical desert of Joshua Tree with my love @maxehrich," the bride-to-be wrote on Instagram in June. "I went to work on a project, but it was so nice to get away for a couple days. Thank you for making me so happy my dear. I love going on adventures with you."
In 2011, Ehrich tweeted, "All I wanted for Christmas was Demi Lovato. #CantAlwaysGetWhatYouWant." Lovato resurfaced the tweet in May and wrote, "We love a little manifestation."
Lovato and Ehrich were among the many celebrities to appear in Justin Bieber and Ariana Grande's "Stuck With U" music video in May.
"Happy to be a part of something so special right now," Lovato wrote alongside a clip of the couple dancing and kissing in the video. "Like really REALLY happy if you can't tell…  #stuckwithu."
In April, the duo sparked engagement rumors. While a proposal hadn't happened just yet, a source told E! News "Demi and Max are falling in love and [are] so happy together."
"This time has been very special because they have been one-on-one with no distractions or stress from outside life," the insider continued. "They've really gotten to know each other on a different level. He hasn't left, and it's just the two of them. She is feeling great and loves being with him. He supports her sobriety and is very understanding. It's going great, and they both see it moving in a serious direction. She has loved having him at her house and trying out living together. So far it's working very well."
In March, Lovato accidentally crashed Ehrich's Instagram Live video, fueling the dating rumors.
Reports about the couple's budding romance started spreading in March 2020.
"Max is very into music and health, and he doesn't like to party," a source told E! News at the time. "He is a good influence on Demi, and they have a lot in common. They have a few mutual friends in common, but Demi has been introducing Max to her closest friends via FaceTime since being quarantined. It's very new but they are definitely hanging out and seeing where it leads."
Source: Read Full Article