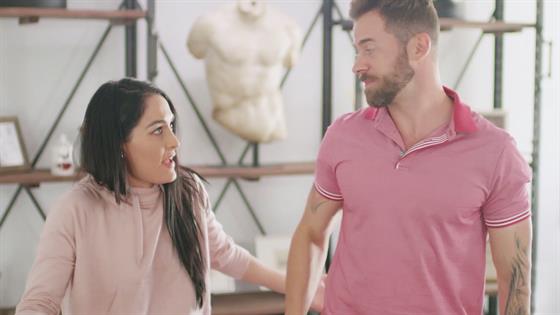 A change of heart.
Tonight's all-new Total Bellas began with Nikki Bella celebrating a negative pregnancy test, but after awhile, the former WWE star began questioning whether or not she should be feeling so relieved. Her boyfriend Artem Chigvintsevcertainly wasn't excited to see her dismiss the idea of starting a family together, but in a confessional, Nikki explained that until the pregnancy scare, she simply hadn't considered what it would mean to become parents at this stage in their relationship.
"I love Artem to death, but why would I want to be pregnant?" Nikki said. "My companies need my attention 24/7, which is already difficult. And then podcasts, the YouTube channel and a wine tour—like, there's a lot of things I need to check off my list."
She continued, "By the way, I don't even know what Artem's beliefs are with kids. That would freak me out—all of a sudden I'm gonna have a baby with this guy and I don't even know his values on raising a kid?"
After expressing her relief about the pregnancy test, Nikki tried to reassure a clearly upset Artem that they were good as-is: "We've only been dating for what, not even a year? I like our time alone together."
Artem brushed off the remark, sarcastically replying, "Cool, well, you're not pregnant. So congratulations."
Throughout the episode, Nikki seemed to be slowly changing her way of thinking. At a photoshoot with twin sister Brie Bella, she even made it clear that she does want children with Artem.
"I'm about to be 36, so everyone has kids except for me. I mean, everyone's on like number two or three," Nikki said. "And I really want a kid. And I feel like lately I've had a little bit of baby fever, but then I just freak out…like, I just really love my career. That's my baby."
Speaking to Brie, Nikki continued to express worries about her age.
"I just wish there wasn't a time on it," she said. "I wish we could get pregnant, like in a healthy way, at any age."
At one point, Brie asked Bryan if they need to train themselves "how to be alone again." In her own confessional, she expressed how she missed going on dates and being spontaneous with her husband.
"But Bryan and I kind of are in this weird part in our marriage where we're just kind of coasting with what we're doing," Brie explained. "But I'm a little nervous that it's gonna be like this forever and we're gonna really start to drift away from each other and disconnect."
Things seemed to be looking up for the couple, though—Bryan surprised Brie with a romantic weekend getaway just for the two of them.
Watch the full episode of Total Bellas here!
Watch a brand new episode of Total Bellas Thursday at 9 p.m., only on E!
Source: Read Full Article