In case you haven't noticed, the Kardashians are rich. And while Kylie Jenner is out here being a literal billionaire and buying up all the land in Los Angeles, the entire family's wealth comes down to one person. This gal:
Kim's crazy fame in the early aughts is the reason the Kardashians are even relevant today, so it's hardly a shock that her net worth is still ginormous in 2020. Let's get into it, and I'd like to issue advanced apologies to my bank account, because it's feeling very attacked right now.
KKW Beauty Is by Far Kim's Biggest Money-Maker
According to Forbes, KKW Beauty is Kim's most profitable venture yet. As of summer 2018, the business had earned $100 million in revenue, and Kim owns 100% of it.
FYI, Kim launched KKW Beauty with Creme Contour Kits priced at $48, and she sold around 300,000 units within just two hours. Honestly, I can't even bring myself to do the math because it makes me too sad for myself. (JK, I did the math. She made over $14 million in two hours. Bye.)
Don't Forget About Her Mobile Game!
Kim Kardashian: Hollywood is definitely not as big of a ~thing~ as it once was, but back in 2016, it earned Kim so much money that she ended up on the cover of Forbes.
At the time, the magazine reported that Kim's game had been downloaded 45 million times and made $160 million in revenue. Yes, that's more money than KKW Beauty has made—but the key difference is that Kim owns 100 percent of her beauty biz, while she "only" took home $45 million of that $160 mil.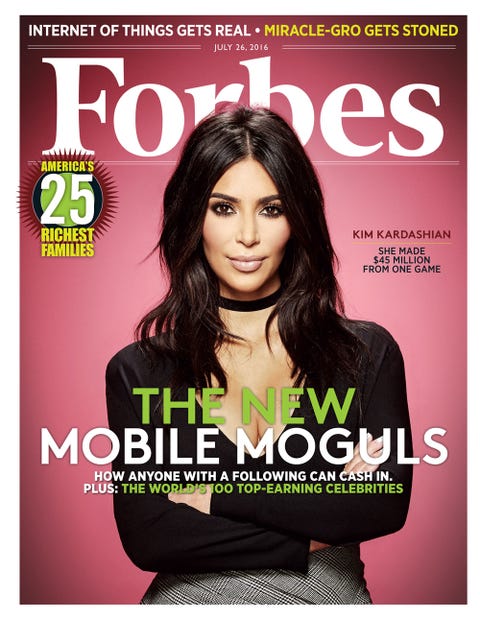 Skims Is Already Making Millions
Skims is Kim's latest business venture and her products tend to sell out within, like, seconds. No, literally, according to TMZ, her initial launch made $2 million in just a few minutes. Cool-cool-cool.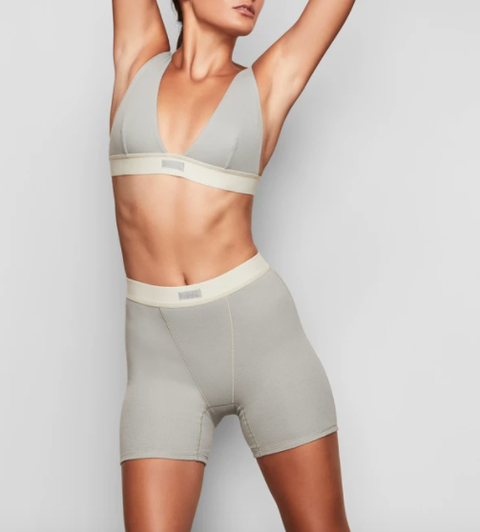 She Makes SO MUCH from 'Keeping Up with the Kardashians'
Keeping Up with the Kardashians has been on since ye olden days of 2007, and it has made Kim a lot a lot a lot a lot A LOT of money. Before we get to Kim's specific slice of the pie, here's a quick run-down on how much the fam's contract is worth: In 2015, E! agreed to an $80 million deal to keep the show on the air, and then they agreed to another "below $100 million" deal in 2017. That amounts to $180 million total in just 4 years, which is just…wow.
So, how much does Kim get? While Kris Jenner tried to claim that "everybody gets paid pretty much equally," TMZ reports that Kim is splitting about 50-60% of the family's current contract with Khloé and Kourtney, while the rest of the fam gets the leftovers. If this is true, Kim's currently getting 20 percent of around $100 million for KUWTK, or $20 million.
She's Flipped Millions Worth of Real Estate
It might not be their day job, but Kim and Kanye West have made a ton of money flipping properties. Back in 2017, the couple sold their Bel-Air mansion (which they bought for $9 million) for $17.8 million, earning $8.8 million in the process. According to TMZ, "the sale stands as the most expensive sale ever in the exclusive Bel-Air Crest community."
Nowadays, Kim and Kanye live in Hidden Hills, and get this: they bought their place for $20 million and now it's worth $60 million. GUYS, THAT'S A $40 MILLION PROFIT.
WOW wrong again!!!!! Their house is $60 MIL https://t.co/sIDG3FbSoP
And Then There Are Her Endorsements
Kimmy has worked with many brands over the years, even appearing in Super Bowl commercials:
But nowadays Kim mostly does Instagram endorsements, hawking celeb-faves like SugarBearHair and random morning sickness pills:
If you want an idea of how much Kim gets paid per IG, she seemingly admitted that she was offered (and turned down) a $1 million deal with Fashion Nova to post just one picture.
So, What's Her Total Net Worth?
According to Forbes, that would be $350 million, while Celebrity Net Worth says she brings in about $80 million per year. Welp. Much like Ariana Grande, I have no tears left to cry.
Source: Read Full Article