It was the rumble in the quarantine sound jungle that R&B fans were waiting for: Teddy Riley versus Babyface. The do-over was just as anticipated as the first go 'round, and after the two OGs handled some Instagram housekeeping, the party began.
Saturday night's glitch did not discourage music lovers from witnessing what turned out to be a gentlemen's tourney, and at one point, the virtual event clocked in more than 500,000 listeners. If this were a stadium show, the place would have been packed.
Once again, Babyface and Riley drew fans from all walks of life. '80s and '90s babies were in the building, as were the artists' musical friends such as Robert "Kool" Bell of Kool & The Gang, Mariah Carey, Snoop Dogg, D-Nice, Damion Hall of Guy, Missy Elliott, Kandi Burruss, Tank, Swizz Beatz, Lil Kim, and Queen Latifah.
Even Michelle Obama stopped by for the festivities and to remind everyone to vote.
Maybe you caught the show, maybe you didn't, but if you wantto know which tracks each legend played for the night, here's a rundown.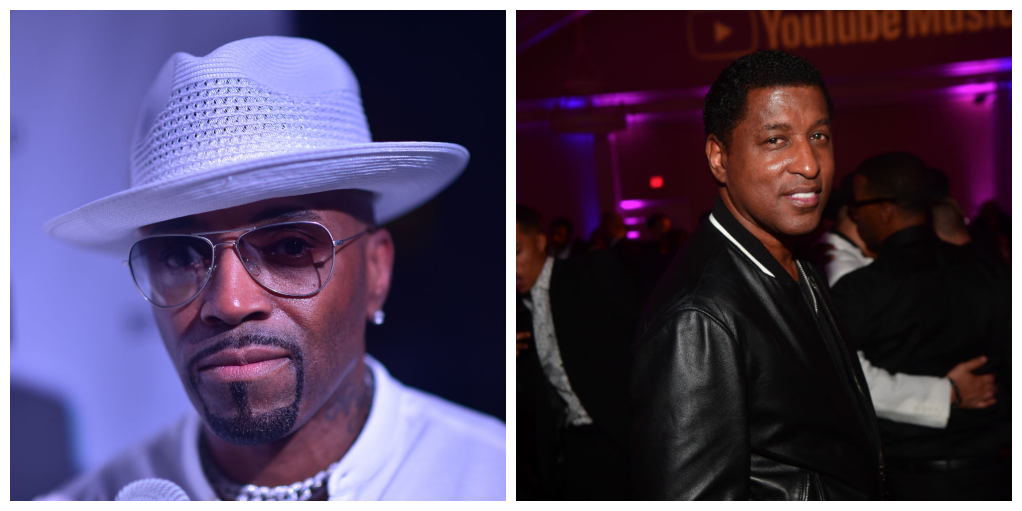 Teddy Riley played it fast and slow
This time, both musicians were seated in chairs in confined studio spaces, ready to go. Riley welcomed everyone with a "Let's get to the music, it's good to see you again," and started things off.
"Right Here" by SWV
"Make It Last Forever" by Keith Sweat
"Just Got Paid" by Johnny Kemp
"Get Me Home" Foxy Brown feat. Blackstreet. Some fans pointedout that this was produced by the Trackmasters
"Piece of My Love" by Guy
"I Like the Way" by Hi-Five
"I Want Her" by Keith Sweat
"I Like" by Guy
"Is It Good to You" by Heavy D & The Boyz
"The Show" Doug E Fresh and Slick Rick
"City is Mine" by Jay-Z
"Keep It in the Closet" by Michael Jackson
"Before I Let You Go" Blackstreet
"Let's Chill" by Guy
"Deep" by Blackstreet
"I Get Lonely" remix from JanetJackson feat. Blackstreet
"Jam" by Michael Jackson
"Rump Shaker" by Wreckx n Effect
"Dangerous" by Michael Jackson
Babyface rolled out all the big ballads
Before playing his first track, Babyface told a story about Michael Jackson calling and asking him to set up a date with Halle Berry. So, he called Halle's manager on Jackson's behalf, and the guy was surprised.  
Babyface joked he imagined her response went something like … and launched into "Love Should've Brought You Home Last Night" by Toni Braxton. Fun fact: The song was on the Boomerang soundtrack, a movie starring Berry and Eddie Murphy. Here's what else he played.
"Soon As I Get Home"by Babyface
"Rock Steady" by The Whispers
"Every Time I Close My Eyes" by Babyface
"Ready or Not" by After 7
"Every Little Step" by Bobby Brown
"Can We Talk" by Tevin Campbell
"The Way You Love Me" by Karyn White
"I'm Ready" by Tevin Campbell, which was apparently written whenBabyface was in high school.
"Two Occasions" by The Deele
"Rock Wit'cha" by Bobby Brown
"On Our Own" by Bobby Brown (Ghostbusters IIsoundtrack)
"When Can I See You Again" by Babyface
"Whip Appeal" Babyface
"My, My, My" by Johnny Gill
"Red Light Special" by TLC
"Superwoman" by Karyn White
"You're Makin' Me High" by Toni Braxton
"I'll Make Love to You" by Boyz II Men
"Count on Me" by Whitney Houston and CeCe Winans
"When You Believe" by Whitney Houston and Mariah Carey
This was a musical celebration
With a turnout that exceeded Saturday night's attendance and only a few minor technical glitches, this event was deemed a success. Toward the end, things were cut short because of problems with Instagram, but a good time was had by all.
Fans loved it and thanked both Riley and Babyface for their musical gifts. Now, you can add these songs to your playlist and relive the moment on your good speakers.
Source: Read Full Article