Since entering the White House in 2017, Donald Trump's five children — Ivanka, Don Jr., Eric, Tiffany, and Barron Trump — were thrust into the spotlight. Or rather, it was Ivanka, Don Jr., and Eric who dominated media headlines, while Tiffany and Barron were mostly relegated to the back burner. Barron's youth might explain his tendency to shy away from the limelight, but in Tiffany's case, it was clear that this distinction was because she differed from her half-siblings. In his 2020 book, "Disloyal: A Memoir," former U.S. Attorney Michael Cohen documented the ways in which Tiffany was ostracized, even within her own family. In addition to being raised on the West Coast by her mother Marla Maples, Tiffany is reported to have a complicated relationship with Donald, who compared her (usually unfavorably) to her older sister Ivanka (per Mercury News).
"I also really felt for Tiffany and the way she was treated," Cohen wrote. He continued, "The pecking order of the kids was painfully apparent. Trump was very specific about his views on the importance of female beauty in measuring the value of women, including inside his own family." Perhaps Tiffany's role as something of a black sheep in the Trump family could explain why she might not be set to inherit as much money as you think — despite Donald's wealth! Here's what we really know about her inheritance.
Did Ivanka and Don Jr. try to cut Tiffany Trump from their dad's will?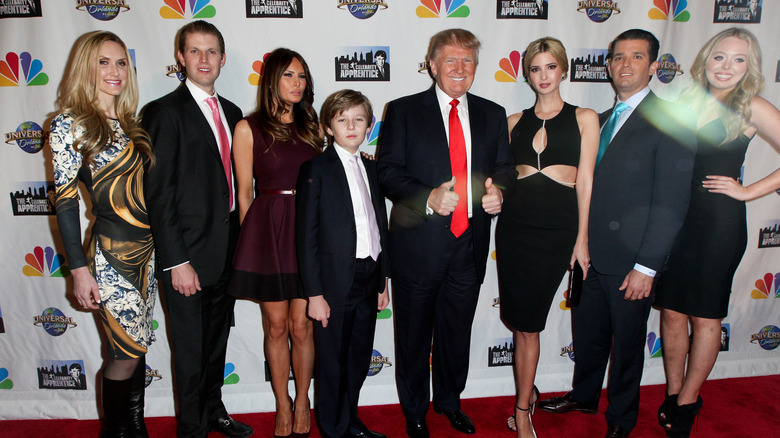 While it's not certain how much money the Trump children are set to inherit, the figure decreases with every child that Donald Trump continues to have — much to Ivanka, Don Jr. and Eric Trump's dismay. In a 2005 interview with "The Howard Stern Show," Donald hedged the question when asked by Stern's co-host as to whether his "older children get nervous every time he has another child" (via Newsweek). "I have a friend who is a very rich guy," the ex-president indirectly answered. "And he said how his children hate the new children coming along and everything else; I said, 'Yeah, because every time you have a child, it's 20 percent less [money for the others]."
Additionally, when asked whether Don Jr. and Ivanka were attempting to "bump off the other child" (aka Tiffany) by cutting her out of the will, Donald merely said, "Tiffany is great. I have a great child. And Tiffany, I have great children."
Tiffany Trump might not inherit as much as you think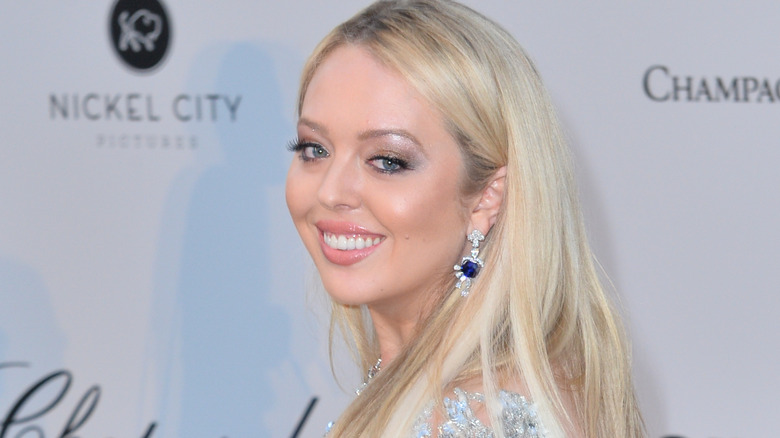 Judging by the Howard Stern interview, Tiffany Trump's financial future is not secure, nor does she currently receive much from her famous father. Despite Donald Trump's insistence that he has been "very generous" with Tiffany and ex-wife Marla Maples, he "paid for [Tiffany's] college and gave her an apartment, but she did not get any allowance," a source told People in 2017. "She did ask her sister to talk to him about changing that though." In fact, despite appearances, Tiffany does not live in the lap of luxury. "People assumed she was rich because of who her father was, but she always lived a very modest lifestyle. School was always covered, but that was pretty much it," the insider told People.
Furthermore, Donald's youngest daughter isn't sure how much money she will receive from her business mogul father upon his death, according to People. "She says she is not guaranteed anything, which is one of the reasons Tiffany and Marla have been so respectful of her dad and tiptoed around so much," the source dished. Hopefully, each of the five children will receive a fair and equal portion of the family inheritance when the time is (eventually) right.
Source: Read Full Article