The following article includes mentions of mental health struggles and sexual abuse.
Aly Raisman is a two-time U.S. Olympic gymnast with six medals to her name. Three of her medals are gold, including two in the team event and one individual gold medal for the floor exercise event (via Team USA). Having begun competing at a senior level in 2010, according to NBC Sports, she is a rare example of a gymnast who not only chose to compete in two Olympic games, but who is also a leader among her fellow gymnasts, having served as captain of the women's Olympic team for both the 2012 Summer Games in London, England and the 2016 Olympics in Rio de Janeiro, Brazil.
But Raisman is known as a trailblazer in gymnastics both in the gym and behind the scenes for another important reason — which we will detail below, as she has sadly devoted much of her adult life so far to a sport whose national association has allegedly enabled people to cause her trauma. That's why in her January 2020 retirement announcement on Instagram, Raisman said that her passion for gymnastics led her to work toward changing its culture: "… It is this love that now inspires me to do everything I can to make [U.S. gymnastics] safer for the many wonderful people in the sport and all the little 8-year-olds out there who will be watching the gymnasts in Tokyo, dreaming of one day making it to the Olympics themselves."
Let's look at the tragic details about Aly Raisman's life, many of which inspired her new purpose.
Aly Raisman was sexually abused by Larry Nassar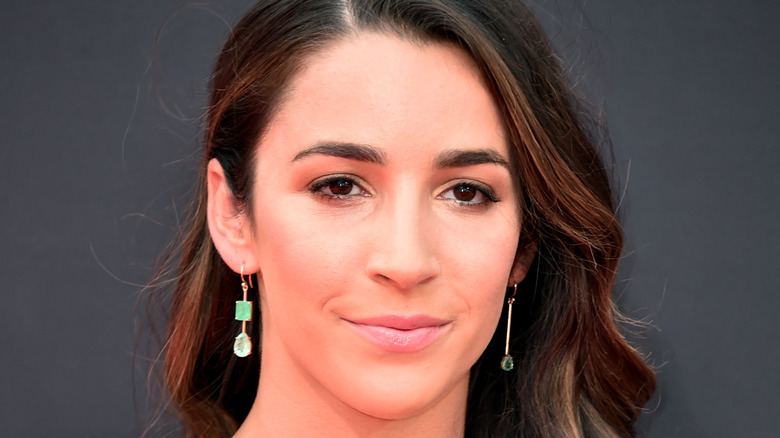 In November 2017, Aly Raisman spoke to "60 Minutes" about the sexual abuse she suffered at the hands of the U.S. Olympic team's doctor, Larry Nassar. "I was in denial," she said about the violations, which began when she was just 15 and continued through the 2012 London Olympics (via Time). "… You don't want to let yourself believe, 'I am a victim of sexual abuse.' Like, it's really not an easy thing to let yourself believe that." 
New to the senior level of gymnastics at the time, Raisman said she wasn't "taught" to question abusive behavior or the fact that she was examined alone by Nassar. However, Raisman noted that Nassar gained her trust by grooming her: "He would always bring me desserts or gifts, he would buy me little things, so I really thought he was a nice person, I really thought he was looking out for me. … I want people to know, just because someone is nice to you … it does not make it okay for them to ever make you uncomfortable."
The gymnast didn't go into further detail about Nassar's abuse. However, per Time's reporting on the experiences of Raisman and other gymnasts, Nassar "rarely used gloves" during appointments and the sexual abuse was performed under the guise of fake medical treatments. Raisman decided to go public with her story to help create change for future gymnasts.
If you or anyone you know has been a victim of sexual assault, help is available. Visit the Rape, Abuse & Incest National Network website or contact RAINN's National Helpline at 1-800-656-HOPE (4673).
She felt 'sick' after testifying against Larry Nassar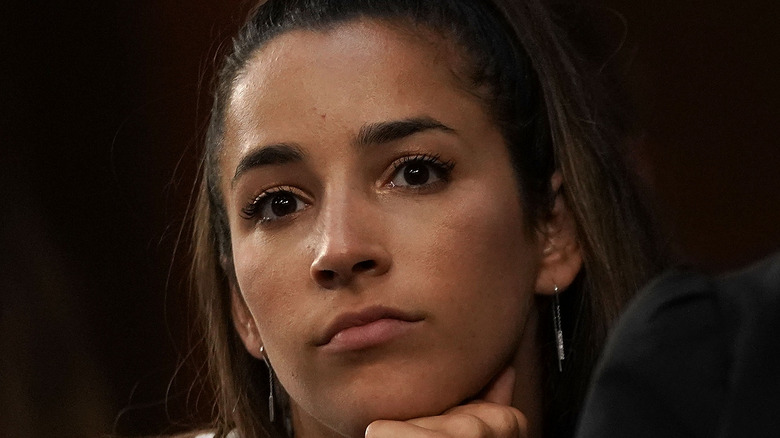 Larry Nassar was sentenced to 40-175 years in prison for criminal sexual conduct on January 24, 2018. At the sentencing hearing, Judge Rosemarie Aquilina allowed any of the 100+ athletes who had accused Nassar of abuse over the years to address him and the court, if they desired. Aly Raisman elected to speak, but she struggled with the decision — noting that it was only watching the testimony of fellow "brave survivors" (via Time) that made her realize she needed to address Nassar, too.
"Larry, you do realize now that we, this group of women you so heartlessly abused over such a long period of time, are now a force and you are nothing," Raisman's powerful remarks began. Calling Nassar a "monster" who took advantage of everyone's trust, she said, "I am also here to tell you to your face, Larry, that you have not taken gymnastics away from me." A large portion of her statement admonished the USA Gymnastics organization and the U.S. Olympic committee for allegedly enabling Nassar's abuse for years after women came forward with allegations. She asked for change within a sport that was "rotting from the inside" and requested that Nassar be punished to the fullest extent of the law.
Raisman's statement was comprehensive and strong, but she later told "Today" that she "blocked out everything" and treated testifying as if it were a competitive meet in order to get through it. Afterward, Raisman admitted, "I was sick, I almost passed out. I had the worst headache for hours."
If you or anyone you know has been a victim of sexual assault, help is available. Visit the Rape, Abuse & Incest National Network website or contact RAINN's National Helpline at 1-800-656-HOPE (4673).
The Olympic gymnast also allegedly trained in horrible conditions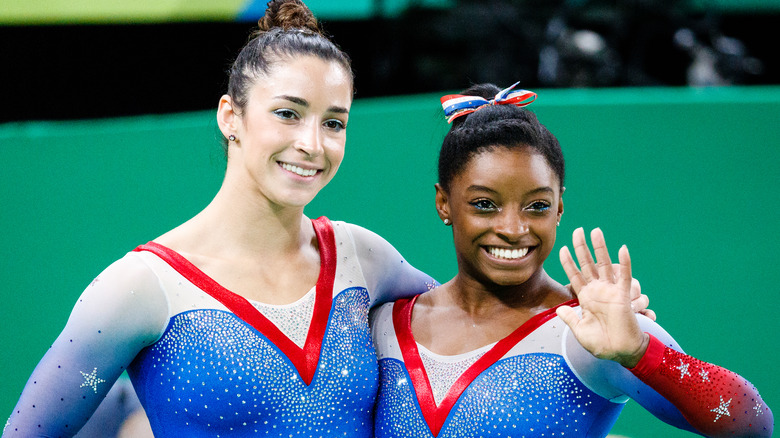 Aly Raisman has been vocal about the fact that organizations like U.S. Gymnastics and the U.S. Olympic committee allegedly enabled Larry Nassar's crimes — in part by forcing senior gymnasts to train for the Olympics in subpar and unsafe conditions at the Texas ranch owned by former famed coaches, Bela and Marta Karolyi. 
Speaking with The Washington Post, Raisman claimed that gymnasts were forced to sleep in bunk beds that had "stained blankets and [were] sometimes crawling with bugs." She also alleged that they were given cheap food to eat like powdered eggs for breakfast, they were not given bottled water to drink, and they were sometimes forced to shower without soap. Raisman said the girls did not ask for what they needed for fear of being reprimanded, adding, "Now that I'm away from the sport it makes me so angry that we were that afraid to ask for soap."
From athletic trainers to fellow gymnasts, several people have confirmed Raisman's claims of unsafe training conditions, while she also alleged that these same conditions made it easy for Nassar to be alone with young women and abuse them, sometimes in their beds. Raisman's former teammate, Simon Biles, confirmed she had been abused by Nassar at the ranch, per Reuters.
USA Gymnastics no longer uses Karolyi ranch for training, as of January 2018. Meanwhile, the couple claims they were unaware of Nassar's abusive behavior (via "Today"). 
If you or anyone you know has been a victim of sexual assault, help is available. Visit the Rape, Abuse & Incest National Network website or contact RAINN's National Helpline at 1-800-656-HOPE (4673).
Aly Raisman claims that USA Gymnastics is not fully 'cooperating' with investigations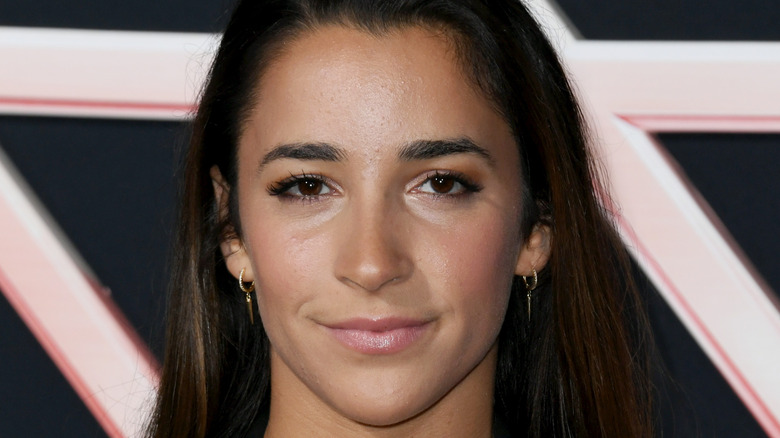 Former U.S. Olympic gymnastics coach John Geddert, who advised the 2012 London team and was suspended by USA Gymnastics in 2018, died by suicide in February 2021 (via CNN). His arraignment on several charges for crimes allegedly committed between 2008 and 2016 was imminent. "It is alleged that … Geddert used force, fraud, and coercion against the young athletes … for financial benefit to him," Michigan Attorney General Dana Nessel stated. "The victims suffer from disordered eating including bulimia and anorexia, suicide attempts and self-harm, excessive physical conditioning, repeatedly being forced to perform even when injured, extreme emotional abuse and physical abuse including sexual assault."
It's unknown if Aly Raisman is a direct victim of Geddert's, as he wasn't her personal coach, but his death is partly why she keeps fighting for an independent investigation into USA Gymnastics and the U.S. Olympic committee. "I was obviously really triggered," Raisman told CNN's "New Day." Noting that Larry Nassar "worked at" pal Geddart's former famed gym, Twistars Gymnastics Club, she claimed that many powerful men within the U.S. Gymnastics were enabling each other: "Monsters don't thrive for decades without the help of people. And we need to understand what happened, how this happened … We really need a fully independent investigation … And there has not been one." 
While USA gymnastics claimed they have been cooperative with six independent investigations, Raisman alleged they were withholding information. "The scope of the investigation matters," she said. "… I don't know why USA Gymnastics is saying they're cooperating."
If you or anyone you know has been a victim of sexual assault, help is available. Visit the Rape, Abuse & Incest National Network website or contact RAINN's National Helpline at 1-800-656-HOPE (4673).
She lives with anxiety and PTSD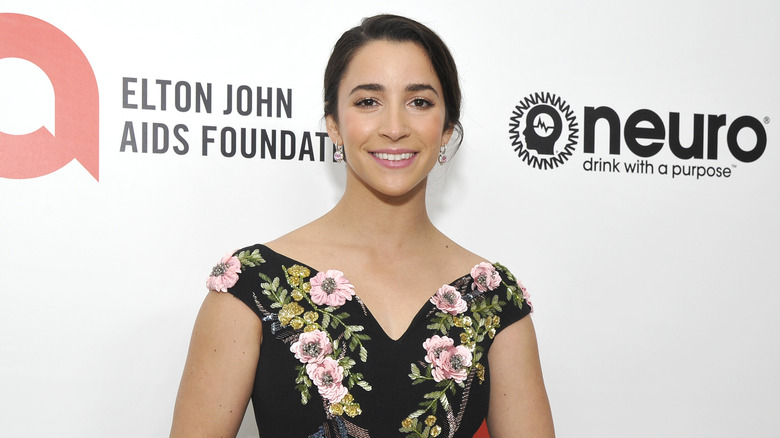 While speaking with "Today" in 2020, Aly Raisman revealed that she deals with PTSD related to the sexual abuse and allegedly poor training conditions she lived through while she was a member of USA Gymnastics. "It's translated into different parts of my life," she said. "… One of the things I've struggled with the most from coming to terms with the sexual abuse is struggling to really trust my gut and really believing myself when I feel like something is wrong." Noting that she has to ask others for confirmation often when she feels like a situation is uncomfortable, Raisman revealed that she is working through this in therapy. 
Having become an advocate for mental health care and awareness, Raisman even partnered with Sanvello, an app that provides people with mental health support. "I know I have been outspoken, I know I have done a lot of interviews about the abuse, but … it doesn't mean that it gets easier every time I speak about it," she previously told Shape. "I think when dealing with anxiety, it's important to talk about it even though it's uncomfortable." 
Speaking about her book, "Fierce: How Competing For Myself Changed Everything," which came out in 2017, Raisman added to Shape, "I felt like if I was going to write a book, it was important to include [abuse stories] because although it was horrific what I and so many others went through, I think that together we're creating an army." 
If you or someone you know is struggling with mental health, please contact the Crisis Text Line by texting HOME to 741741, call the National Alliance on Mental Illness helpline at 1-800-950-NAMI (6264), or visit the National Institute of Mental Health website.
The former Olympian has been body-shamed in public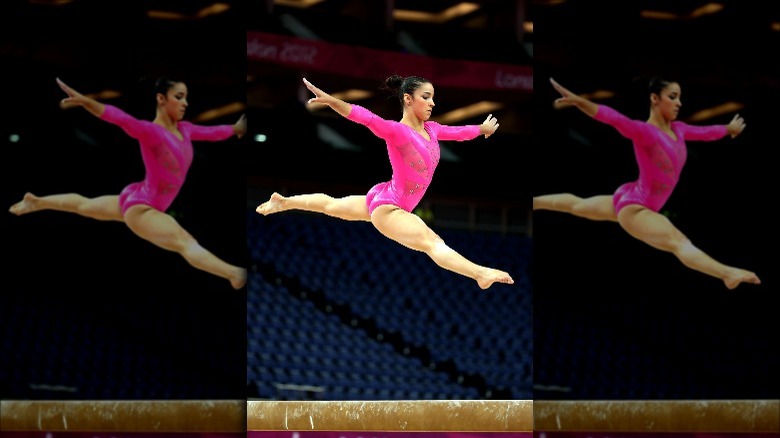 As previously mentioned, Aly Raisman is a two-time Olympic gymnast and a three-time gold medalist, who spent much of her life in the gym working toward making her dreams come true despite the allegedly dirty and unhealthy conditions provided by USA Gymnastics, per The Washington Post. Yet, even after having to deal with alleged scrutiny from officials in her sport, because she is a public figure, Raisman has also had to deal with body-shaming from strangers in public places, too.
Back in 2017, the former gymnast shared an incident that happened at an airport on Twitter. "…Man at TSA: 'I don't see any muscles' & continues 2 stare at me How rude & uncomfortable," Raisman shared, after explaining that a female TSA agent realized she was a gymnast because of her biceps. "I work very hard to be healthy & fit. The fact that a man thinks he judge my arms pisses me off I am so sick of this judgmental generation," Raisman continued. 
Raisman later shared with Shape that even Olympic gymnasts feel insecure sometimes: "Everyone struggles with some insecurity. I know sometimes people act like they don't, but I think it's really important to remember that everyone struggles with it no matter who you are." This is absolutely true — but most of us don't also have to deal with being triggered by strangers at the airport. 
Aly Raisman's dog went missing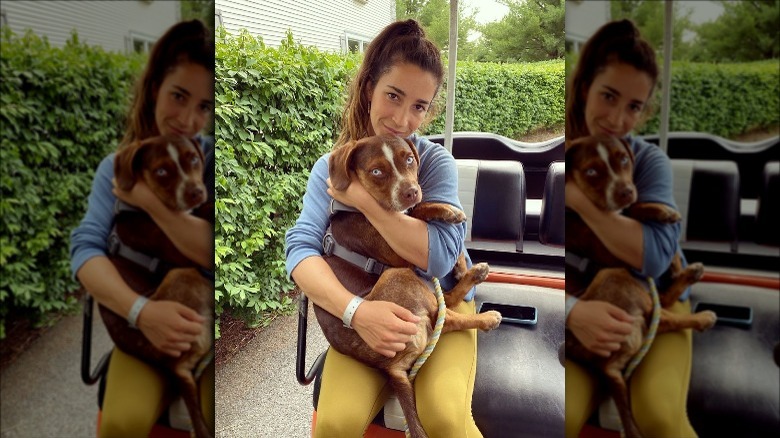 Aly Raisman's dog, Mylo, was scared of fireworks on the Fourth of July holiday weekend and ran away on July 3, 2021, leading the former Olympian to share now-deleted pleas on Twitter in hopes that fellow Boston residents would help her find him. "To my followers in the seaport/Boston area…my dog Mylo was terrified of fireworks and ran off. He has a tag on and a leash. Please let me know if you see him. Thank you," she wrote (via ESPN). Raisman even asked people to put flyers up and at one point offered a reward for his safe return. "…I'm devastated. Mylo is my everything. I feel like a piece of me is missing," she tweeted in response to a reply from a follower while still searching for him. 
Thankfully, there is a happy ending to this story. "HEROES!!!! MYLO IS SAFE. I HAVE HIM," Raisman tweeted on July 9, thanking the good Samaritans who found Mylo and returned him to her. "Will share more soon… but for now going to snuggle with my everything." A week later, the former gymnast celebrated Mylo's first birthday on Instagram, writing alongside a white heart emoji, "Happy 1st birthday to my favorite. Thankful for you every single day."
We are so happy to be able to report on this reunion, because every pet owner knows that Raisman probably experienced a very difficult few days when Mylo was missing.
Source: Read Full Article