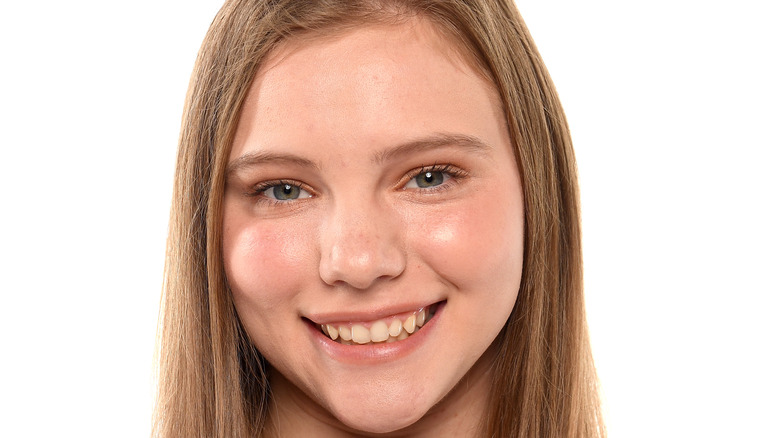 All eyes are on the United States women's Olympic gymnastics team, who are heavily favored to win the team gold medal and bring home a slew of individual medals. The team has arrived in Tokyo and will begin competing on Saturday, July 24.
This year is a little different in terms of the team's makeup. Per NBC Olympics, the United States Gymnastics Association selected six gymnasts to represent America, but only four women will compete in the team final: Simone Biles, Sunisa Lee, Jordan Chiles, and Grace McCallum. There are also two individual competitors, who can compete in every individual event but not the team final. These two athletes are MyKayla Skinner and 21-year-old Jade Carey.
Carey, who resides in Phoenix, Arizona and is trained by her dad, Brian Carey (via USA Gymnastics), is extremely strong on floor and vault so you'll want to keep a close eye on her during the qualifying round because she has a strong chance of competing for a medal in both events.
Carey may not be the biggest name in gymnastics right now, but that all could change when the world sees her work her magic in Tokyo. Here's the untold truth of Jade Carey.
Jade Carey was the very first person to secure a spot on the Olympic gymnastics team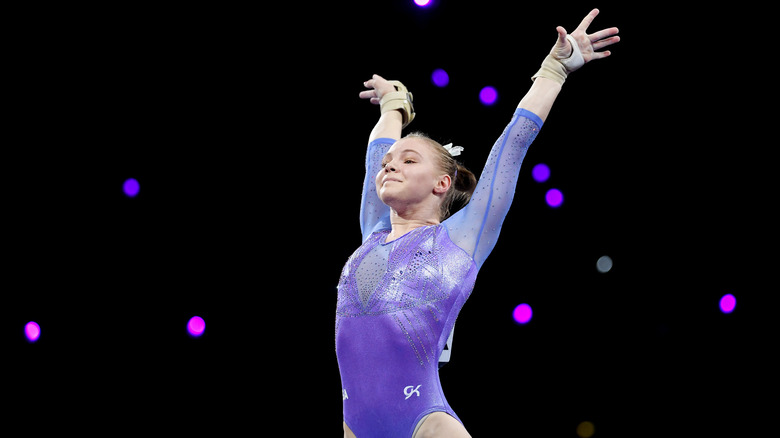 The U.S. women's gymnastics team was officially named on June 27 after the Olympic trials (via Time). Jade Carey competed in the trials, but she had already secured her individual spot months prior, which is a first in the history of U.S. gymnastics, as reported by Teen Vogue.
Due to the new "individual competitor" slots, Carey opted to pursue one of those spots. In order to qualify as an individual, she competed in four apparatus world cups in Germany, Azerbaijan, Qatar, and Australia. Per Teen Vogue, Carey won the gold medal on both vault and floor at three of the four competitions, which mathematically secured her a spot as an individual specialist on the Olympic team.
Carey was still eligible to compete for a spot on the four-person team that's expected to bring home a gold medal, but it would mean that, if chosen for the team at Olympic trials, the U.S. would only be able to send one individual specialist (via CBS8).
Rumors swirled about what would happen if Carey qualified for the "main" team. Prior to the Olympic trials, Carey shared an Instagram post to clear up any confusion: "I have every intention to accept the individual spot that I worked very hard to earn," she wrote. "My focus right now is preparing to compete at the Olympic Games in Tokyo and being able to contribute to Team USA in any way possible."
Jade Carey may get a crazy difficult skill named after her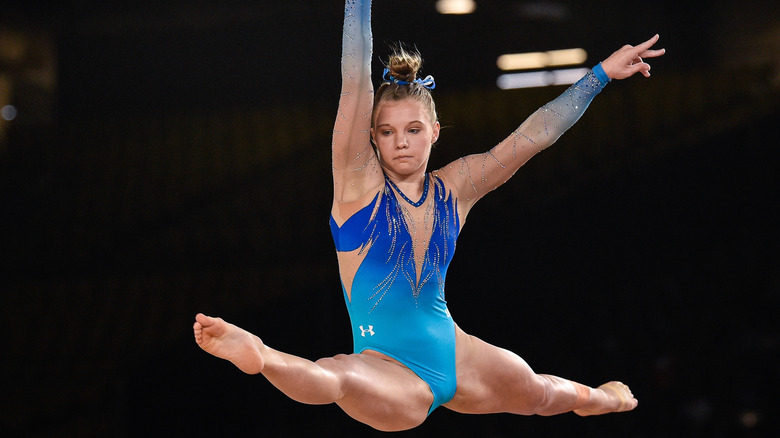 In order to get a gymnastics skill named after you, a gymnast must submit it for evaluation and then perform and successfully execute it at either the World Championships or the Olympics, per Mental Floss.
Carey has the potential to get a floor movement named after her if she performs and successfully executes it at the Olympics. According to PopSugar, Carey successfully executed a triple-twisting double back layout (three twists and two flips in a laid-out position) during a training session at the 2021 U.S. National Championships. Emily Chan, a judge with the International Gymnastics Federation, told the outlet that the skill performed by Carey is the most difficult floor tumbling pass being performed by any woman gymnast right now (yes, that includes Simone Biles!).
If Carey chooses to perform this skill at the Olympics and executes it correctly, it will be named after her in the Code of Points. This wouldn't be the first time Carey has had a skill named after her. "The Carey" is in the Junior Olympics Code of Points and it's a skill she executed on the vault at the 2016 Junior Olympics.
Jade Carey helped out fellow gymnast Riley McCusker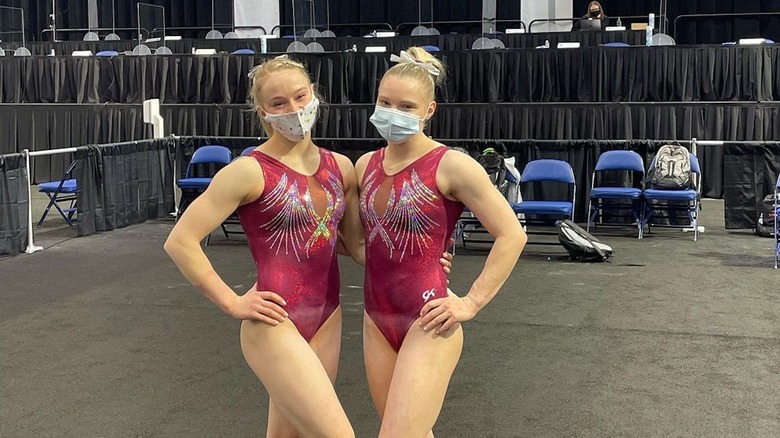 Riley McCusker, a fellow member of the U.S. National Team, was trained in New Jersey by Maggie Haney for most of her career. But in 2020, disturbing allegations of emotional and verbal abuse and unsafe training practices emerged, as reported by NJ.com. Haney was suspended from coaching and McCusker, a 2021 Olympic hopeful, filed a lawsuit against her former coach. Olympic gold medalist Laurie Hernandez also testified that Haney had abused her. The timing left McCusker without a gym or coach at a key point in training for the Olympics. She was already good friends with Carey, so Carey invited McCusker to come train with her at her dad's gym in Arizona, per Olympics.com. 
McCusker said the positive training environment made a world of difference. "I love gymnastics again," she said. "I am so happy in the gym every day, doing what I love. I'm really actually thankful that I got an extra year out here training in Arizona. I'm just so happy and I love the sport. I think that's the biggest difference."
"I love having Riley in the gym!" Carey told Inside Gymnastics. "We really push each other to be better and help each other in every way we can. It's nice to have a training partner that knows exactly what you're going through."
Unfortunately McCusker didn't make the Olympic team, but in a heartfelt Instagram post she thanked Brian Carey for giving her the opportunity to train in a healthy environment.
Jade Carey has been taking university classes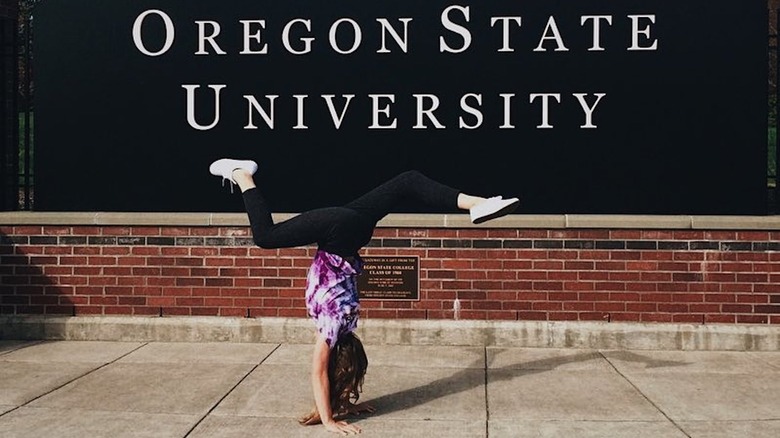 In 2017, Carey signed a letter of intent with Oregon State University. Her plan was to defer so she could train for the 2020 Olympics and then head to Oregon to compete at the NCAA level, per The Daily Barometer. Of course, her plans to switch from elite to NCAA were pushed back a year due to COVID-19, but Carey has already begun academics at Oregon State. She began taking online classes with the university in 2020.
"I'm sad I won't be able to be up in Oregon this year but I've been in touch with the coaches a lot and they've been great helping me set a new plan," Carey told Inside Gymnastics. "I'm going to start some classes so that I will have some classes done before I get there."
According to Oregon State University's website, Carey will be a member of the gymnastics team in time for the 2022 season. Her biography also notes that she chose the university "because of the positive team environment and the amazing coaching staff. I also fell in love with the gorgeous campus."
Jade Carey certainly has a lot to look forward to, both in Tokyo and as she embarks on her next chapter as a student and NCAA athlete.
Source: Read Full Article