The 'Keeping Up with the Kardashians' star's daughter looks cute as she wears a light blue pajama top lined in pink while helping her mom pull out pink Barbie-colored high-end heels from gray dust bags.
AceShowbiz –Kylie Jenner has shared a cute moment with Stormi Webster. In a clip the "Keeping Up with the Kardashians" star uploaded on her social media page, her 3-year-old daughter was seen adorably guessing her new Balenciaga pumps' color as she took the heels out from the box.
On Monday, June 7, the CEO of Kylie Cosmetics took to her Instagram account to share Stories showing her daughter helped her unbox her new high-end heels from two individual gray velvet dust bags. "What do you think it is?" the 23-year-old asked her little girl, who first said that she "can't get the shoe out."
Right after Stormi succeeded to pull out the shoe, Kylie exclaimed, "New pumps!" The little girl, whom she shares with Travis Scott (II), then rested her cheek on the heel and chimed in, "I wanna try if the other one is pink or blue … I think it's gonna be purple."
"So cool. Stormi you know these are 3D printed?" Kylie asked her daughter. The toddler then sweetly replied, "Yeah!" Stormi looked cute while wearing a light blue pajama top lined in pink with graphics of headphones, flip flops, airplanes and more in the videos. She also put on matching bottoms and little hoop earrings in her ears.
As for Kylie's new hot pink Barbie-colored Balenciaga heels, they feature an engraving of her name on them. In the following Story, the reality TV star also posted a snap of a note the shoe brand inserted in the package. The card from the brand read, "Dear Kylie, These 3D pumps are entirely 3D printed, an innovation in the use of this technology in fashion. These are one of a kind, in flexible wearable rubber made especially for you with personalized engraving. Enjoy!"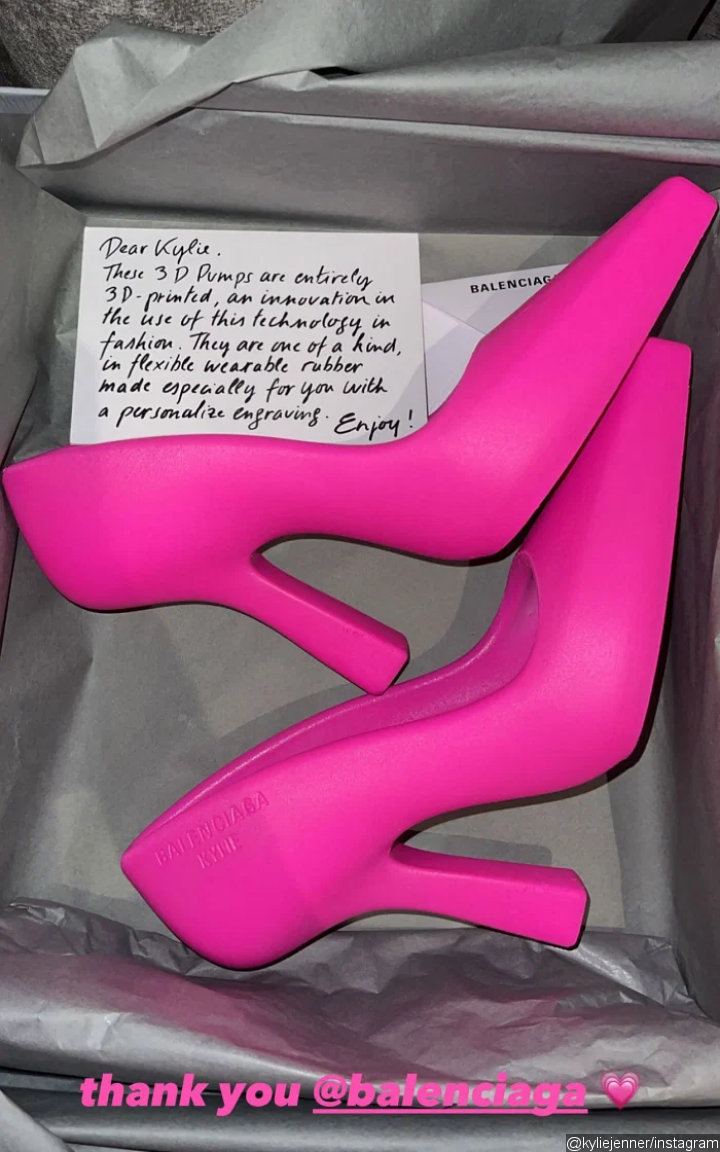 Kylie Jenner shared a glimpse of her new Balenciaga pumps.
The cute unboxing mother-daughter moment came a little over a week after Kylie, Stormi and Travis celebrated Memorial Day with a playful water balloon fight. At the time, a source informed PEOPLE that they commemorate the special day at the rapper's house in Houston "Kylie and Travis continue to spend a lot of quality family time together," the inside source further spilled. The insider added, "Kylie and Travis have worked hard to create a great family situation."
Source: Read Full Article