Marshmello has been showing up literally ev-er-y-where these past few weeks—most recently at the 2021 Billboard Music Awards where he played with the Jonas Brothers, and at the UEFA (UCL) Champions League final opening ceremony where he played with Selena Gomez and Khalid. And naturally everyone's been frantically Googling the age-old question: What does Marshmello look like IRL? You know, under his giant smiling marshmallow mask?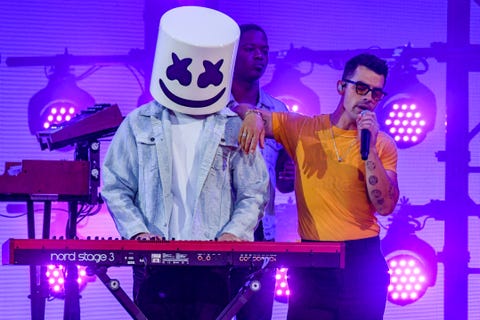 We went ahead and did a deep dive and found *drumroll pls* THE ANSWERS YOU SEEK. Just note: Marshmello hasn't technically confirmed his identity himself—though it's 99.9% obvious who he is—so take this all with the teensiest grain of salt.
Marshmello Is *Probably* Dotcom (aka Chris Comstock)
Marshmello's identity was kept top top TOPPPPPP secret for a while there, but he was revealed to be DJ Christopher Comstock (who also goes by Dotcom) back in 2017. The ~UNMASKING~ actually happened in part thanks to Skrillex, who posted a video celebrating Marshmello's birthday on May 19, 2016. Which, uh, happens to be the same day as Christopher's B-day.
Then on November 14, 2017, Forbes declared they were ready to "conclusively report that they are the same person," citing Marshmello being on Dotcom/Christopher Comstock's management roster and the fact that the manager listed on Marshmello's holding company is Christopher Comstock. The outlet also talked to anonymous sources who confirmed that Chris Comstock = Dotcom = Marshmello.
Impressive detective work, but TBH hints were also there as early as 2015, when Katie Couric interviewed Skrillex and he got a phone call mid-way through. Katie mused, "It's Chris," to which Skrillex responded "Oh, Marshmello."
ANYWAY, assuming Marshmello is Dotcom/Chris Comstock, it's not that hard to find pics thanks to Dotcom not wearing a mask and having an official Insta…
https://www.instagram.com/p/CNJKpkMHEoZ/?utm_source=ig_embed&utm_campaign=loading
A post shared by chris comstock (@dotcommusic)
He Loves Trolling People
Marshmello's done a ton of fake reveals over the years, but my personal fave was him getting Shawn Mendes to pretend to be him at the 2018 iHeartRadio Much Music Video Awards.
Don't Expect Him to Take Off the Mask
Marshmello isn't about to confirm or deny who he is, no matter how convinced the internet is. As he put it on Twitter, "I don't take my helmet off because I don't want or need fame. I'm genuinely trying to create something positive for people to connect with… The helmet makes me marshmello and also makes you marshmello…we are all marshmello."
Source: Read Full Article