To be quite honest, the differences between Hailey Bieber and America's favorite doll Barbie are kiiiiinda hard to detect—both girls are blonde, spend a good chunk of their time modeling, and have a significant other that people wish they could be with. But when Hailey stepped out for a night on the town in Los Angeles over the weekend, it was as if she literally invoked the spirit of Barbie with her outfit of choice!
Hailey wore a head to toe, hot pink ensemble by Bottega Veneta consisting of a tweed mini dress, matching jacket, and bag. Even the shoes were the same shade of hot pink because our girl Hailey adores shade consistency. To complete the look, Hailey opted for a fresh face with rose colored blush and gloss to match. Not sure where her dream house is, but I am assuming that's exactly where she went after concluding her night on the town!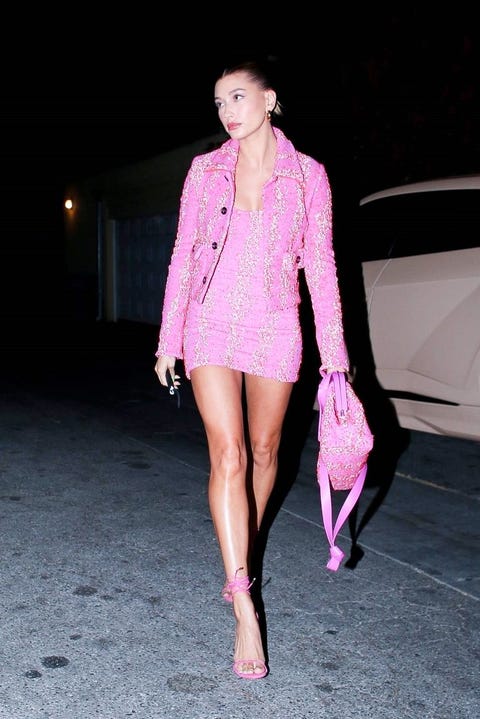 Hailey's Ken doll—yes, that means her husband, Justin Bieber—didn't seem to tag along for the night out, but did provide some insight on what the first year of their marriage was like recently in an interview with GQ. "The first year of marriage was really tough because there was a lot going back to the trauma. There was just a lack of trust," Justin told the mag. "There was all these things that you don't want to admit to the person that you're with, because it's scary. You don't want to scare them off by saying, 'I'm scared.'"
Justin's comments doesn't mean trouble in paradise for him and Hailey—they've worked on their relationship since then and are focusing on "creating these moments for us as a couple, as a family, that we're building these memories."
You love all the deets on celebs. So do we! Let's overanalyze them together.
Source: Read Full Article