In case you hadn't noticed, every single news outlet on the internet has decided that Kim Kardashian and Kanye West are getting divorced right in time for the premiere of Keeping Up with the Kardashians. And while Kimye haven't commented on their relationship status, there have been approximately 1 million chatty sources, several Instagram clues, and some pretty obvious signs that Kanye has packed up his stuff (stuff = 500 pairs of sneakers) and moved out of their Calabasas "modern monastery." Honestly, there's a lot going on and new news breaks every day, so we went ahead and put it all in one place for ya: this timeline.
Quick note though—this is in reverse chronological order so that you get the most hot-off-the-press info first! If you want to start from Day 1, go back, back to the beginning, and scroll right tf down.
February 3, 2021
Page Six reveals that Kanye's moved his personal items out of his and Kim's Calabasas home—including 500 pairs of sneakers. He made sure to move his belongings while Kim was on vacation because "they both felt it would be less dramatic without both of them in the house."
That same day, People reports that Kim and Kanye "have no contact," and get this: their source reveals that "her issues with Kanye are a big part of the final season of Keeping Up With the Kardashians," and she will likely "file for divorce when the season has aired."
Just gonna…drop…this…here: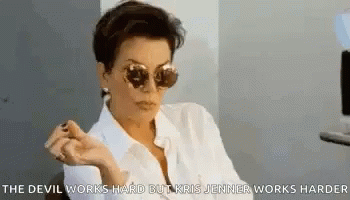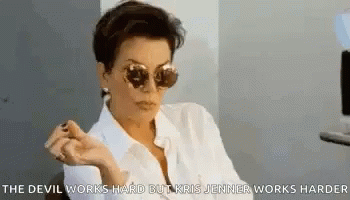 Anyway, not to be outdone, Entertainment Tonight also drops a new report, with a source saying "Neither Kim nor Kanye are interested in dating anyone at this time."
February 2, 2021
Fans notice that Kim's brand new Skims showroom is literally Kanye West's old closet, which he showed David Letterman during a Netflix special. So yeah, looks like his stuff is officially gone: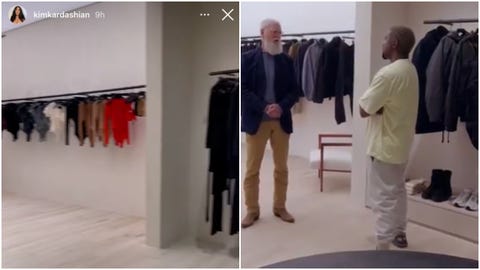 February 1, 2021
Kim drops a bikini pic from vacation that features a pair of Yeezys, making a pretty clear statement that she and Kanye are on good terms:
https://www.instagram.com/p/CKuzl-hgWJR/?utm_source=ig_embed&utm_campaign=loading
A post shared by Kim Kardashian West (@kimkardashian)
January 27, 2021
Us Weekly reports that Kim has been working with "her financial advisers to figure out an exit plan that would be best for her whole family." Here's what the source said:
January 19, 2021
Page Six answers the question on everyone's mind: yep, Kimye's divorce will be on KUWTK. Straight from ~a~ source:
Meanwhile, Kanye apparently "understands Kim's side has to spin that she is sick of him. In reality, he's been sick of being involved with [the] Kardashians for a long while. Especially her mother, who looms large in all big decisions she makes."
Truly !!!! but there's even more: Kanye also "is quite familiar with what the Kardashian public relations machine is capable of and thinks it's funny that her team is blaming his presidential run on the marriage disintegration."
January 18, 2021
People reports that Kimye have "completely" stopped their counseling sessions, and that Kanye "is talking to divorce lawyers this week."
January 14, 2021
E! News reports that "Kim and Kanye have no bad blood and they are very cordial. He's focusing on his world and she is focusing on her world." The source also says that "Kim wants to feel at peace going into this new chapter of her life and is focused on herself and her children." In terms of how the rest of the family feels, the source says "All of the sisters are aware of the situation and are very supportive. They all love Kanye like a brother but agree it's best they part ways."
January 8, 2021
Fans notice that Kim deleted a photo of herself sans ring that was initially posted on January 5. Since the internet never forgets, here ya go!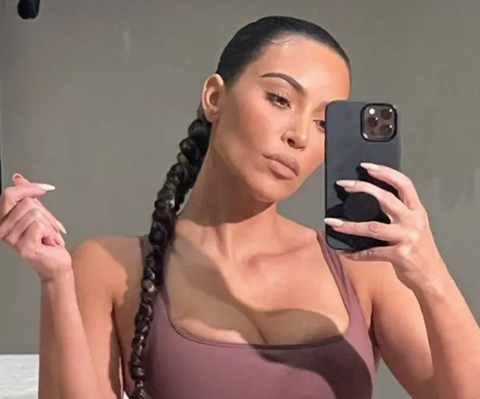 January 6, 2021
In an attempt to shed light on what's happening, even, an Us Weekly source says "Kanye is jealous of the amount of time Kim has dedicated to prison reform and the kids. Kanye wanted the family to move to Wyoming full-time. It's where he sees this direction of his life going. Kim just doesn't see their lives full-time in Wyoming."
The source also says that Kimye have been in marriage counseling but "haven't had a joint session together in a while."
January 5, 2021
The day it all goes down! Page Six comes outta left field and drops a lengthy report that Kim and Kanye are getting divorced, with multiple sources confirming "divorce is imminent" and that Kim had hired attorney Laura Wasser. A source also claims that Kanye "is completely over the entire family," and finds KUWTK "unbearable." Okay!!!!!
After several breathless hours, an E! (home of KUWTK) source confirms that yep, Kimye are done—Kim just hasn't filed yet.
Meanwhile, a bunch of other sources start doing the most, with People's insider confirming Kanye is "sad but okay," and someone telling Us Weekly that Kimye "had a big fight in early December."
December 22, 2020
Kim posts a picture of herself on vacation in Lake Tahoe. Go ahead and zoom in 'cause her engagement ring? Missing.
https://www.instagram.com/p/CJGyyxagn5h/?utm_source=ig_embed&utm_campaign=loading
A post shared by Kim Kardashian West (@kimkardashian)
You love all the nitty-gritty deets on celeb gossip. So do we. Let's overanalyze them together. ✔️
Source: Read Full Article