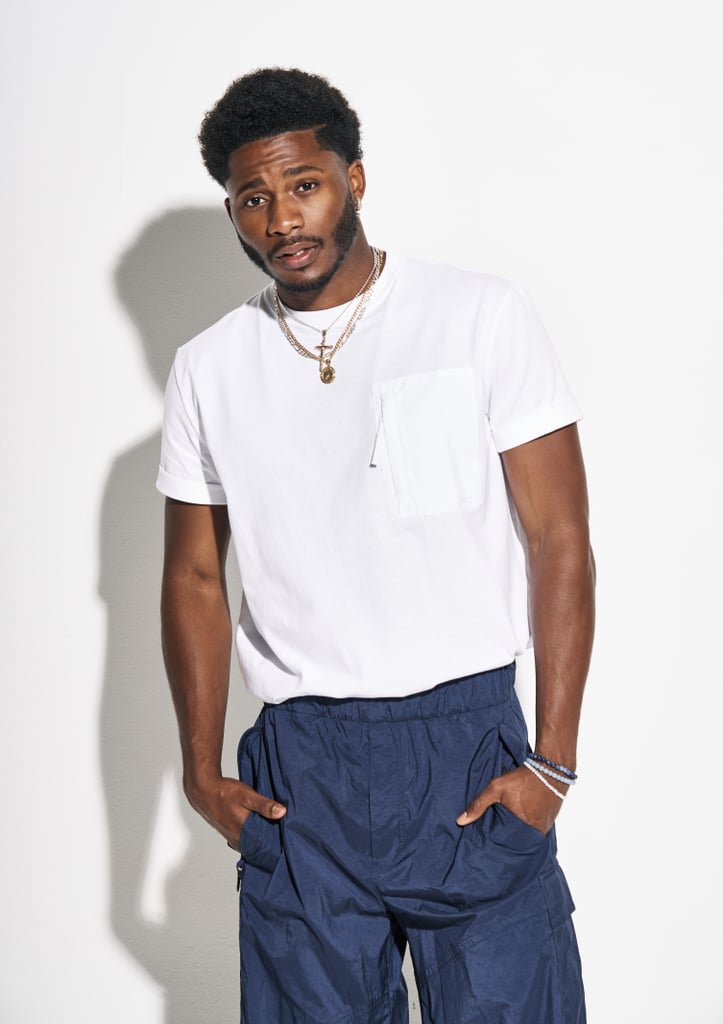 Image Source: The Riker Brothers
In our Q&A series POPSUGAR Crush, we get to know some of our favorite celebs' more intimate details — from their first celebrity crush to the best love advice they've ever received. This month, we're crushing on BMF star Da'Vinchi.
Da'Vinchi is at the top of his game with two lead roles in his pocket. In the last few years, the 26-year-old actor has popped up in a few of our favorite shows — from Grown-ish to Jessica Jones to All-American — but his Broadway debut and latest role on Starz's new hit series BMF has him on a hot streak.
In BMF — the 1980s set crime drama that tells the true story of Detroit brothers Demetrius "Big Meech" and Terry "Southwest T" Flenory — Da'Vinchi portrays Terry as the level-headed brother who's always about his business and his family. The young actor can also be seen in one of the newest plays to hit Broadway, Thoughts of a Colored Man — a drama that shares the journeys of seven Black men — where he plays the role of Lust. Though Da'Vinchi couldn't say much about what to expect of him from the play, he did warn us to "bring some tissues when you see it."
Great Hollywood success has found Da'Vinchi so early on in his career, and right now he seems to have everything going for him. Yet in the midst of these incredible moments, the BMF star can't even begin to describe how life is feeling for him. "Honestly, when you're doing it and you're so into it, you're not feeling the magnitude or the weight of how much you're doing," he told POPSUGAR. It's worth noting that only a handful of stars like Da'Vinchi can say they've reached this pinnacle at such a young age. And like him, many of them get so caught up in the hustle and grind that they don't even get a chance to stop and reflect on the extent of their work. "I just feel like I'm just working," Da'Vinchi said. "But people on the outside looking in, they're like, 'Oh my God, you don't realize you're doing [these] two really great projects at the same time right now, both [making] history in their own way.' I know it's great, I'm grateful and I'm thankful, but I don't feel any different yet. I know it's going to hit me after this year's over and I'll look back like, 'Damn, I was doing a lot this time.'"
Both BMF and Thoughts of a Colored Man came into Da'Vinchi's world shortly after one another. He knew nothing about BMF until this time last year, and he certainly couldn't have predicted the splash it would make, with the show already getting picked up for a second season. "I knew nothing about that show," he says. "I didn't even know it was a show that was in the making. I tend to live life in my own little bubble so I don't even know a lot that's going on, but that was a project that was kept [quiet]."
While he was busy filming the Starz series in Atlanta, he got the call for Broadway, too. And get this, he almost turned it down because he was so focused on BMF! But even with these two great projects on his plate right now, Da'Vinchi is still holding out for his dream role that he hopes to land one day: he wants to play a superhero. And before you ask, yes, he plans to become a part of the Marvel universe.
BMF airs every Sunday on Starz and Thoughts of a Colored Man can be seen on Broadway now until March 2022. But in the meantime, read ahead for Da'Vinchi's thoughts on love, dating, and more in our POPSUGAR Crush interview.
Source: Read Full Article