After reports emerge that Durk's older brother OTF DThang was shot and killed over the weekend, the 'TROLLZ' MC posts disrespectful messages on his Instagram Story and in the comments of Durk's post.
AceShowbiz –6ix9ine a.k.a. Tekashi69 shows no sympathy to Lil Durk despite a recent family tragedy that hit the latter. After learning of news that the Chicago rapper's brother DThang was killed in alleged shooting, the New York City native wasted no time to troll his nemesis.
The "GUMMO" spitter took to Instagram Story on Sunday, June 6 to taunt Durk, calling for the latter to avenge his brother's death. "WHEN WILL YOU SLIDEEEEEERE," so he wrote. "I know 'excuses.' 'The feds watchin.' 'You Tranna get n***as caught up.' "
As he continued to rub salt into the wound, Tekashi, whose real name is Daniel Hernandez, added, "YOUR BROTHER JUST GOT A BULLET IN HIS HEAD…GOOOOO SLIDEEEE."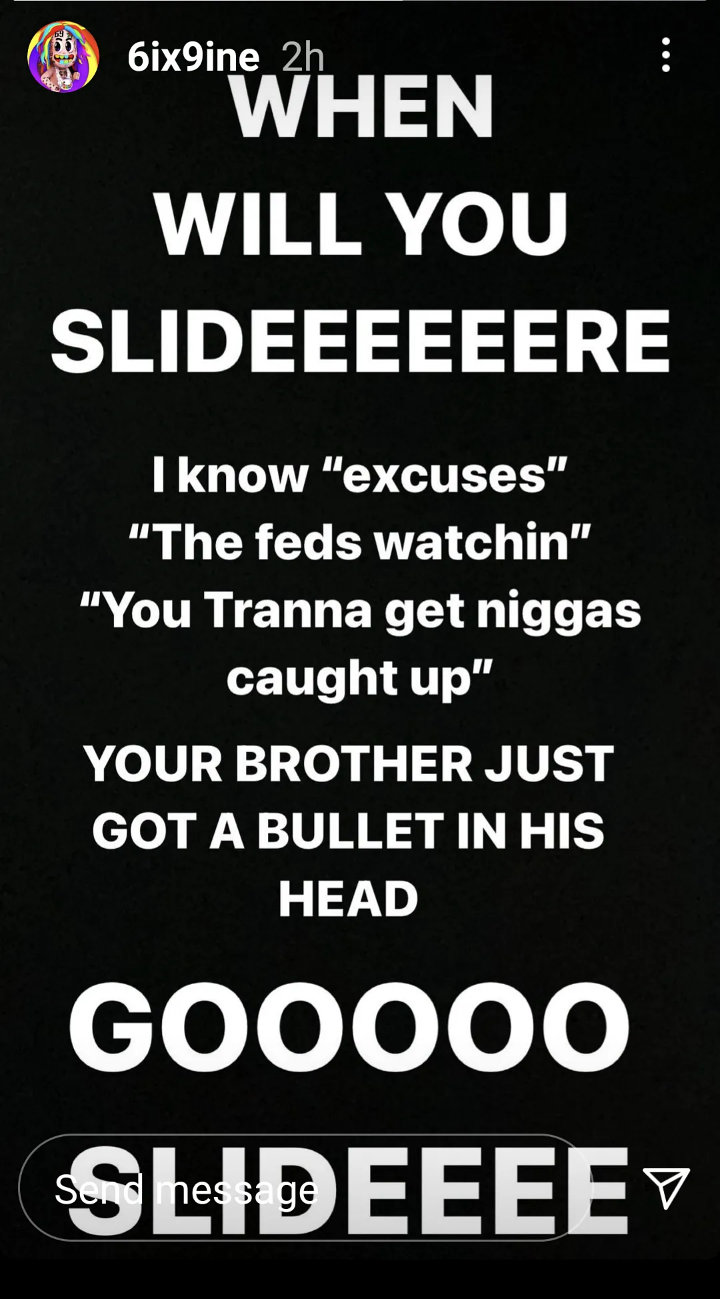 6ix9ine called for Lil Durk to avenge his brother's death.
He didn't stop there as he continued to mock Durk over his brother's death in the comments of the latter's Instagram post, in which the Only the Family record founder promoted 4TF merchandise. "Your brother just died and you want to sell sweaters [rolling on the floor laughing emojis]," Tekashi wrote.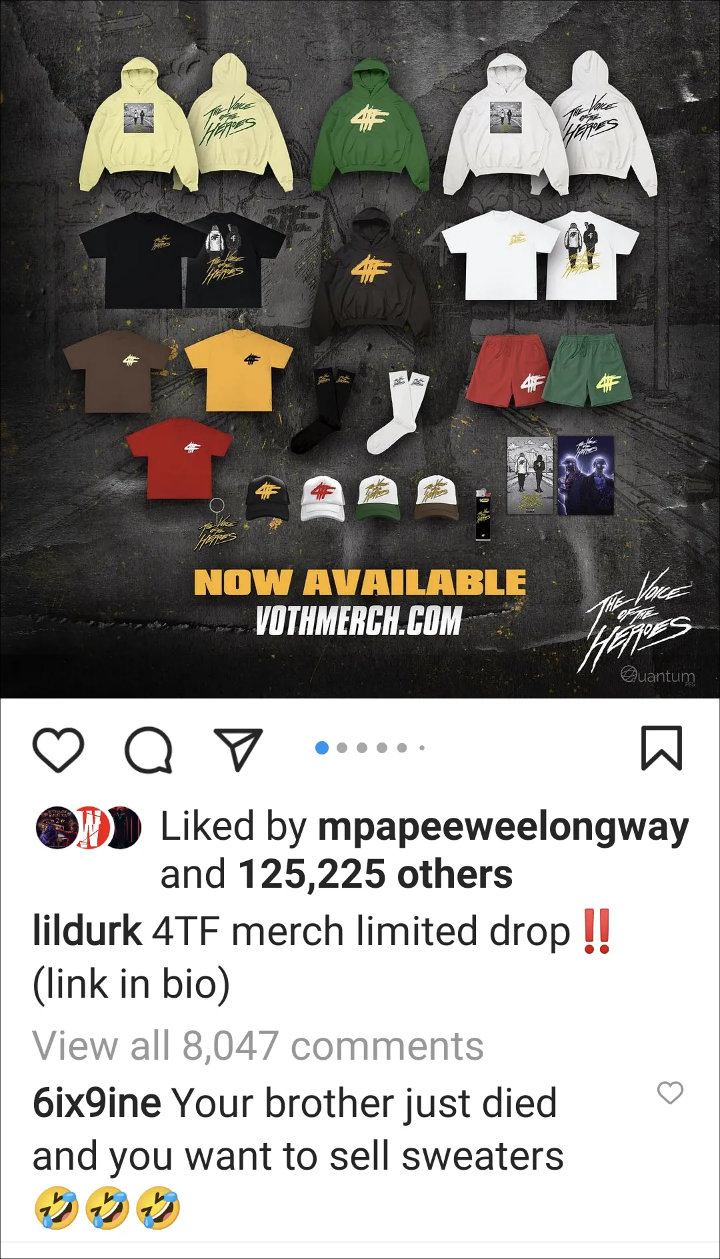 6ix9ine continued to taunt Lil Durk over DThang's death.
As reported before by TMZ, Durk's older brother DThang was found dead on the 7900 block of S. Loomis Blvd. in Chicago over the weekend. Cook County officials confirmed it, but the cause of death remains unclear as an autopsy has to be performed to determine the cause.
However, reports say that DThang, who was also a rapper, was shot in the head outside of a nightclub. Alleged witnesses reportedly saw as the shooting went down and said that DThang died on the spot. He was 32 years old.
Durk himself has not spoken up on his brother's death. Meanwhile, condolences have poured in from the hip-hop community, including producer Murda Beatz, Dreezy and Chicago rapper Calboy.
The 28-year-old, who has collaborated with the likes of Future, 21 Savage, A Boogie wit da Hoodie and Meek Mill among others, mourned the death of his label mate King Von, who was shot by one of Quando Rondo's associates in November 2020.
Source: Read Full Article