Every fashion brand worth its salt knows that most clothing collaborations aren't moneymakers. Sure, really desirable drops bring in decent returns by clearing out the available stock, but, then again, that stock is usually so limited that profitability is finite. The real worth of apparel partnerships is that ever-covetable cultural cache, a sense of authenticity and "cool" that can't be bought. Or can it? VF Corp may soon enjoy the best of both worlds, as the quiet conglomerate made international headlines on November 9 by announcing its forthcoming acquisition of streetwear juggernaut Supreme.
Although the Denver-based corporation is far from a household name, even the fashion agnostic have heard of the companies that VF owns: its portfolio includes cultural touchstones like The North Face, Vans, Timberland and Dickies, most of which have enjoyed lengthy partnerships with Supreme. In fact, VF's 2004 purchase of Vans coincided with a pair of collaborative Supreme sneakers that launched the same year.
1 of 3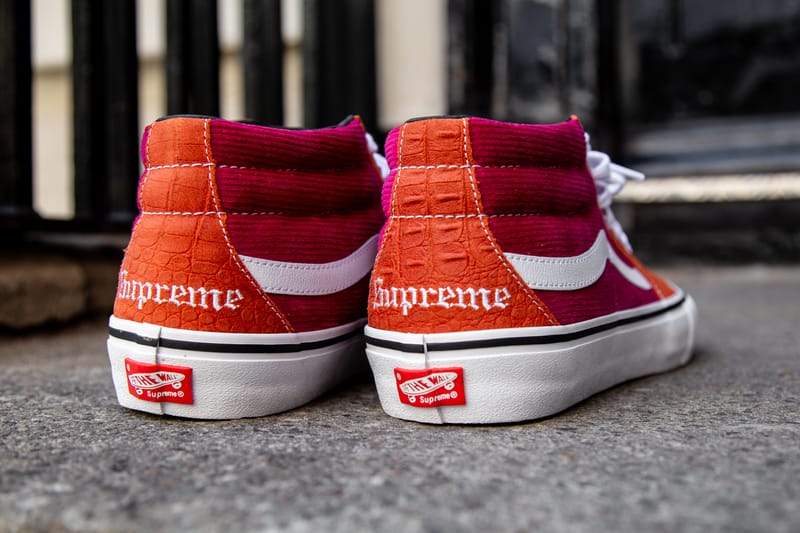 Ben Awin/Hypebeast2 of 3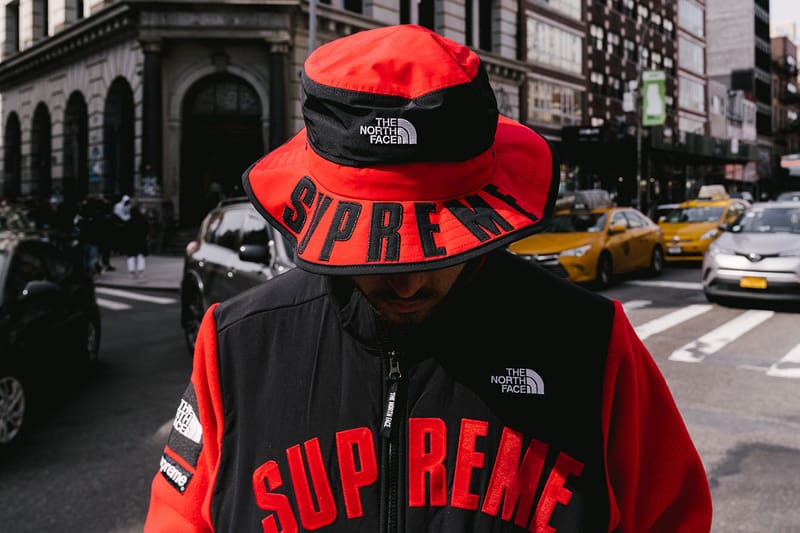 Eddie Lee/Hypebeast3 of 3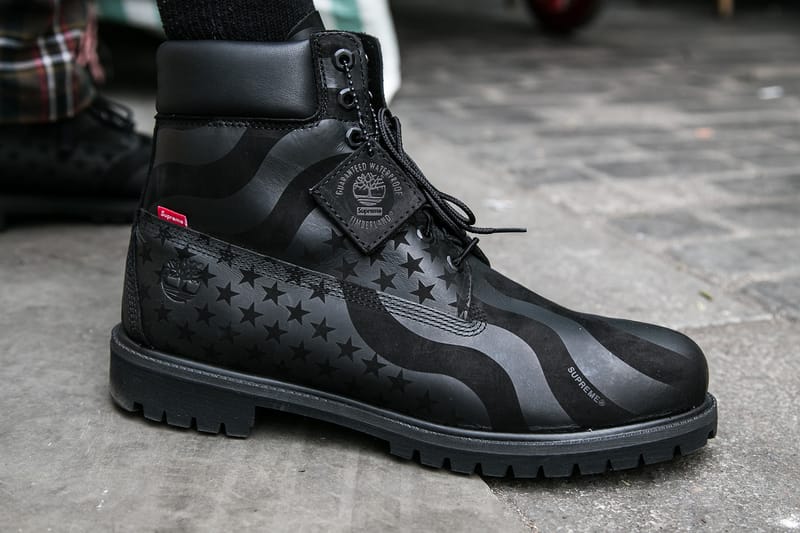 Ben Awin/Hypebeast
Despite turbulent finances resulting from the ongoing coronavirus pandemic, VF snapped up Supreme in its entirety in a deal valuated at $2.1 billion USD, nearly twice what the streetwear label was valued at in the wake of the Carlyle Group's 2017 investment. Furthermore, VF is confident in its ability to properly oversee the future of Supreme.
"This will take time," VF chairman Steve Rendle told WWD. "We talk about a light-touch integration with this business because it's very successful, operating at a very high level today. We'll take our time to get to know each other. This brand will continue to operate as it always has, we do not look to come in and make any changes. We're here to help, support and enable," explaining that VF has "a good understanding of this customer."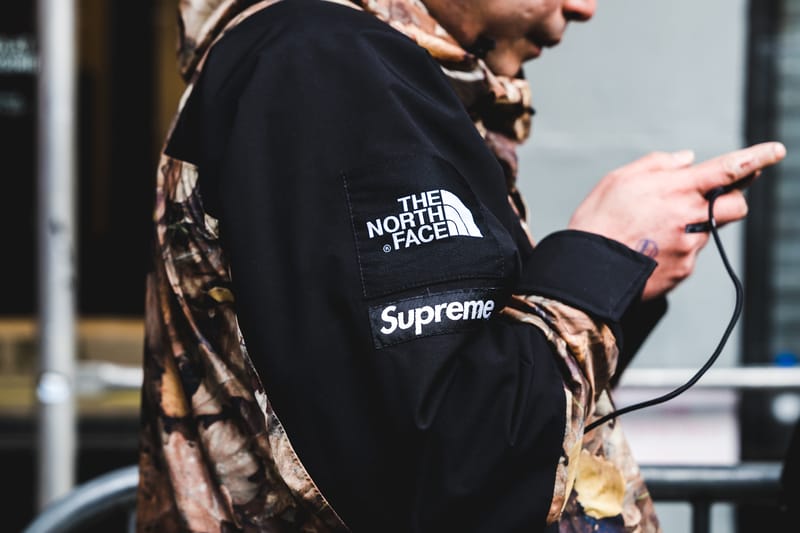 Eddie Lee/Hypebeast
"We're not coming in with a new plan or approach, because frankly [Supreme's] pretty darn good at it," continued Scott Roe, VF's executive vice president and chief financial officer. "When stores closed, their online business was robust and through the COVID period they've actually grown their business at a high-single digit rate year-to-date and even accelerated recently." HYPEBEAST has reached out to VF Corp for further comment.
Supreme began working with some of the affiliated brands even before VF acquired them, dropping a trio of Vans collabs in the '90s and a 2006 Timberland joint effort (VF acquired Timberland in 2011). Under VF's guidance, the yearly partnerships multiplied, often launching every season; for instance, The North Face — which VF has owned since 2000 — originally linked with Supreme in 2007, then 2008. By 2010, however, VF had taken notice of Supreme's unstoppable influence and began pushing for more expansive and frequent TNF collaborations to inject its outdoor brand with a shot of cool. This yielded the first of many outerwear and accessory-packed collections, which continue to this day.1 of 29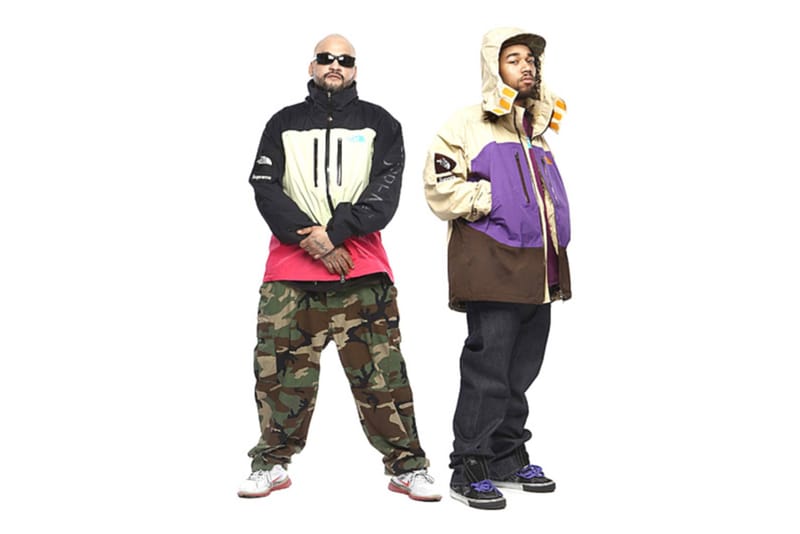 Supreme2 of 29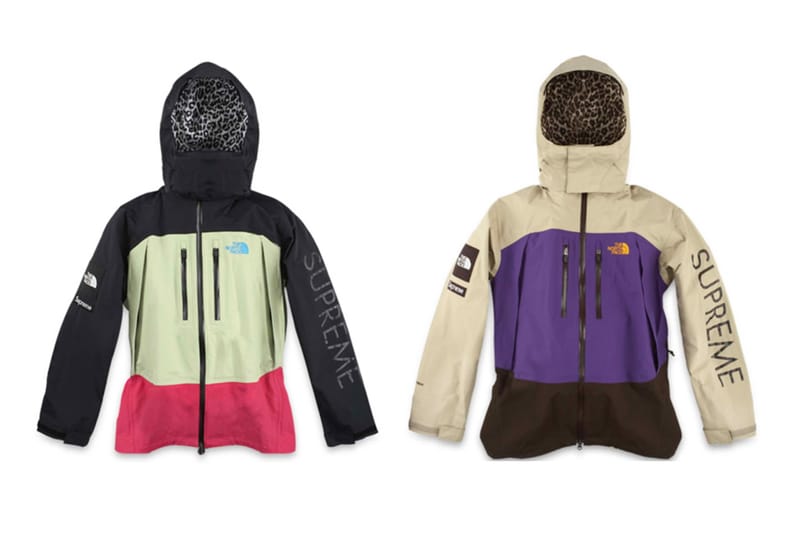 Supreme x The North Face Summit Jacket, 2007Supreme3 of 29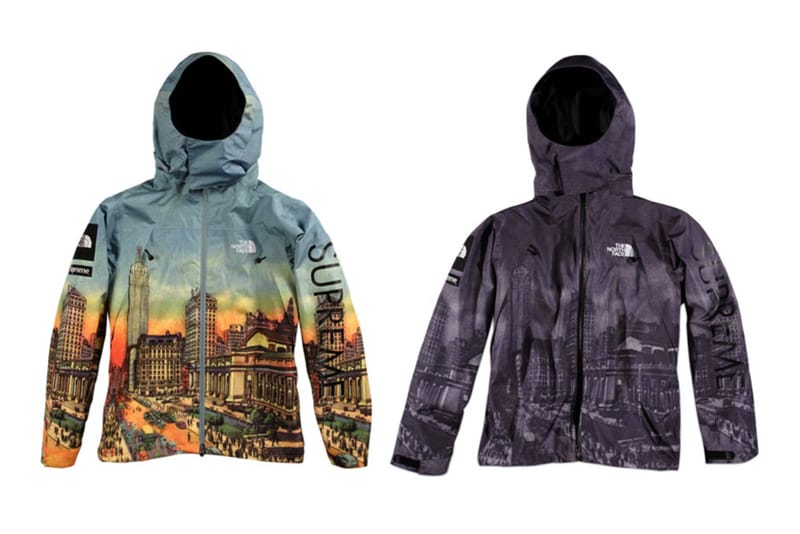 Summit Jacket, 2008Supreme4 of 29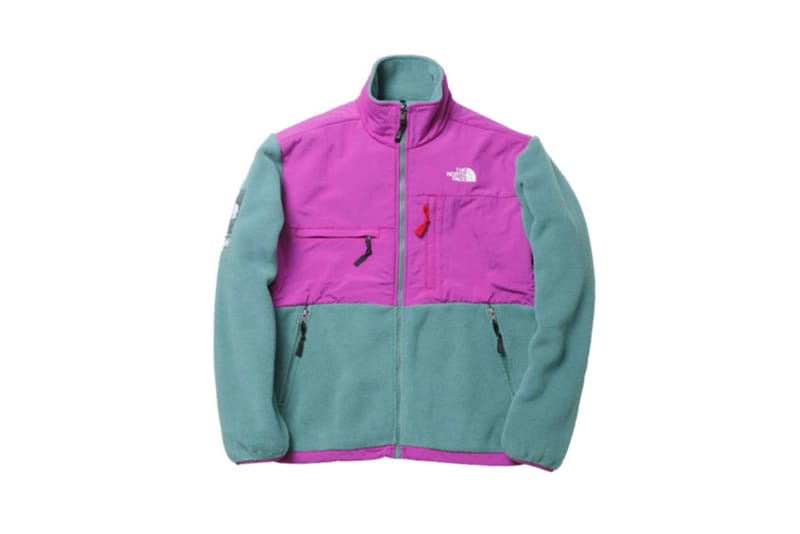 Denali Jacket, 2008Supreme5 of 29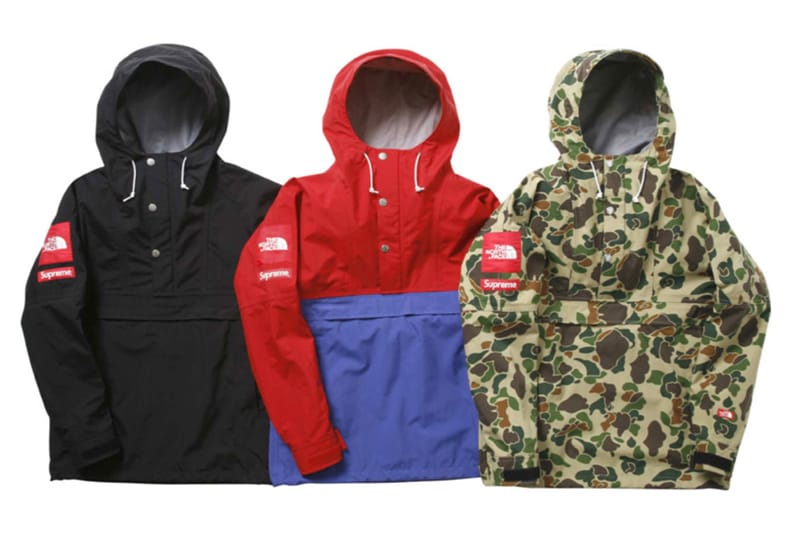 Expedition Pullover, 2010Supreme6 of 29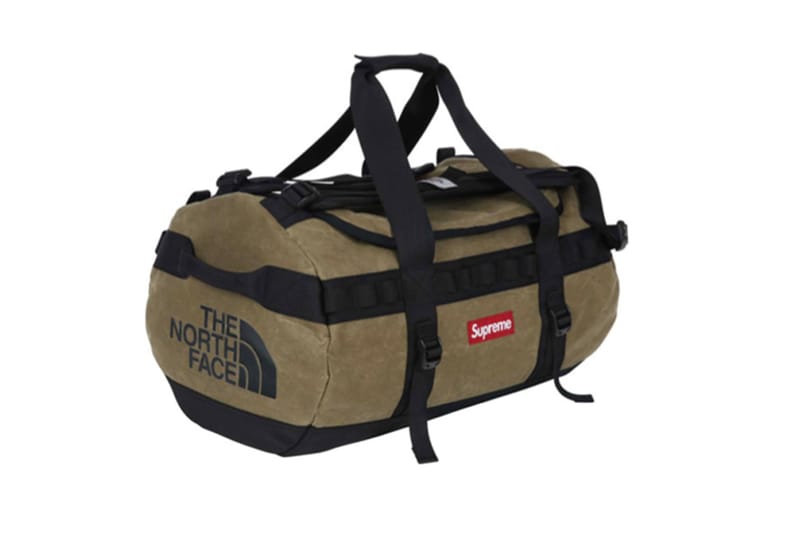 Waxed Duffle, 2010Supreme7 of 29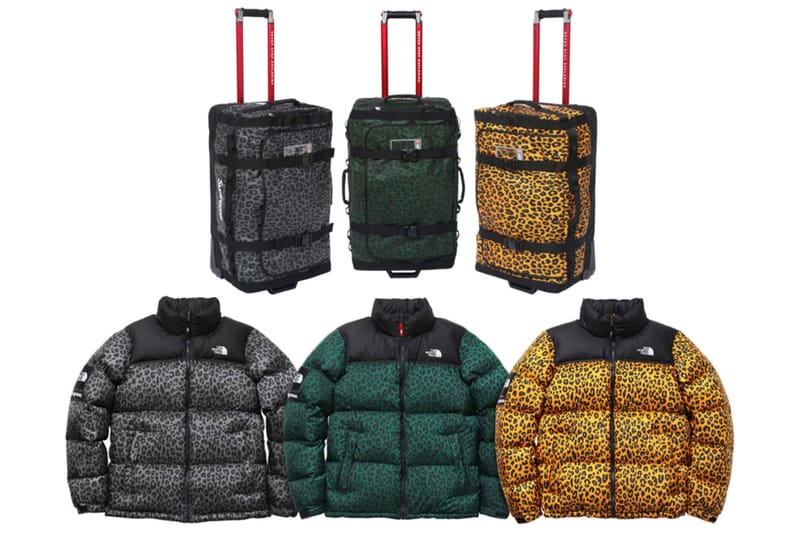 Leopard Print Nuptse Down Jacket and Rolling Thunder Bag, 2011Supreme8 of 29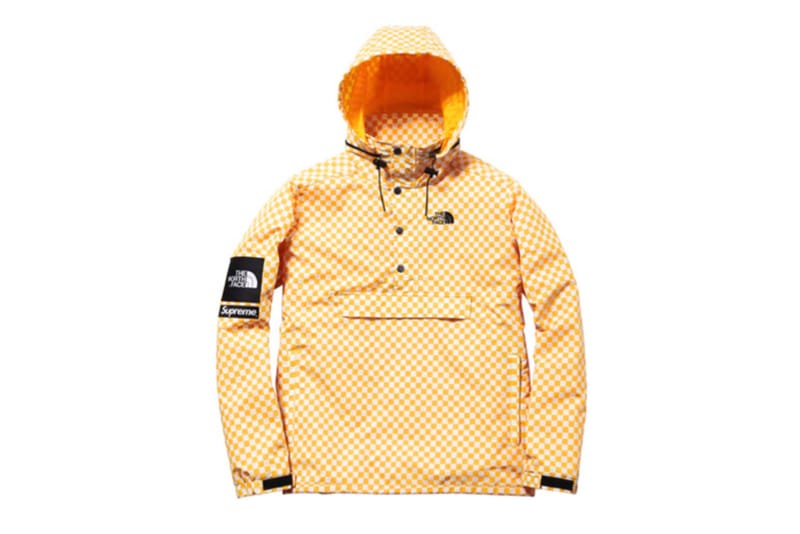 Windbreaker Pullover, 2011Supreme9 of 29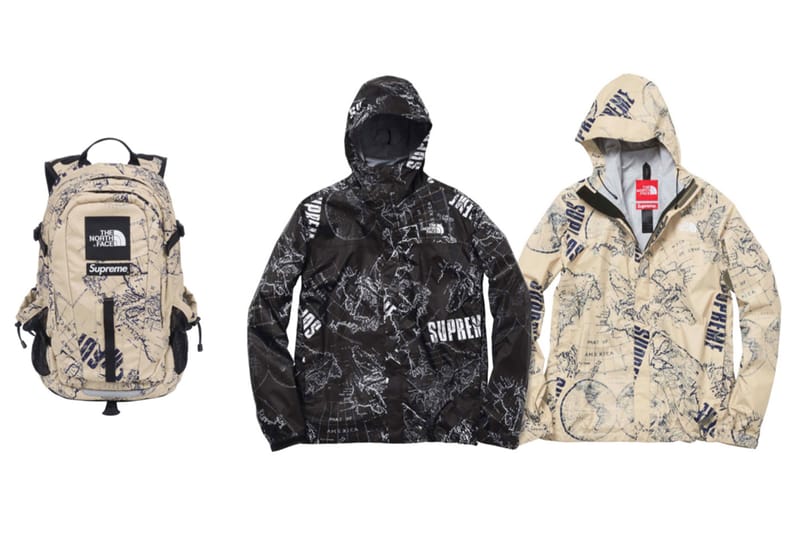 Venture Jacket and Hot Shot Backpack, 2012Supreme10 of 29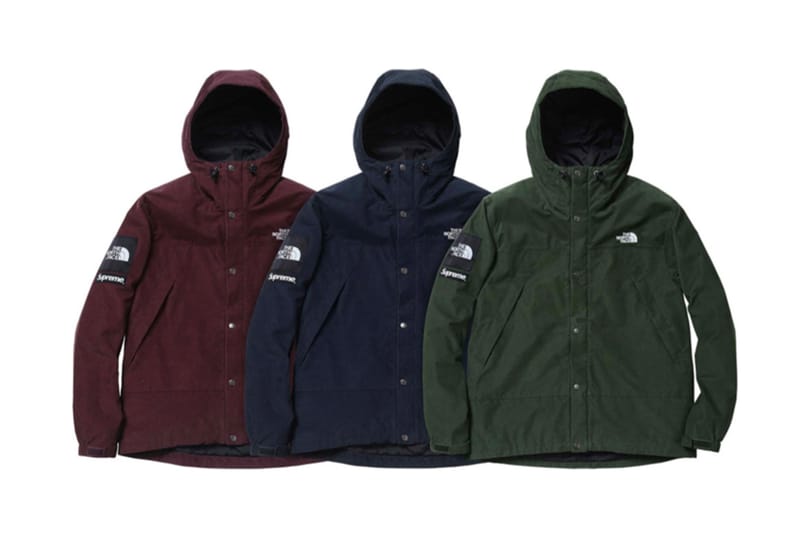 Mountain Shell, 2012Supreme11 of 29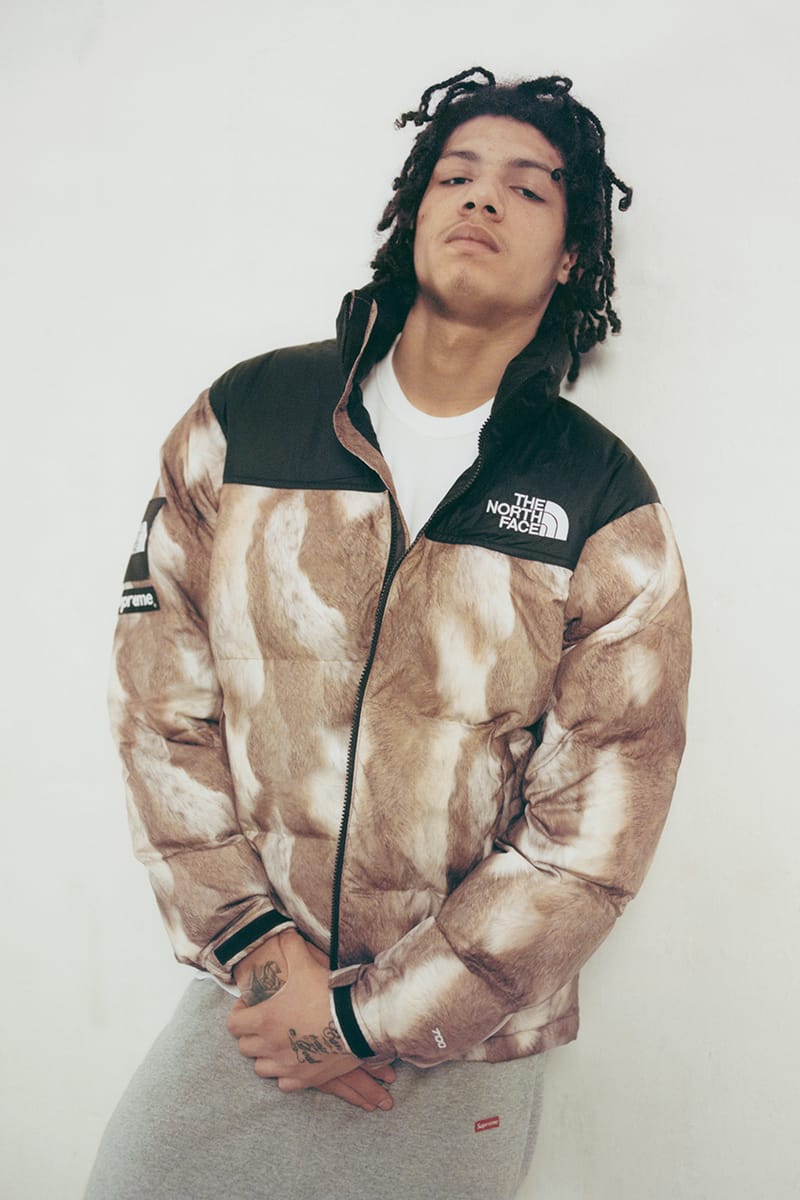 Faux Fur Nuptse Down Jacket, 2013Supreme12 of 29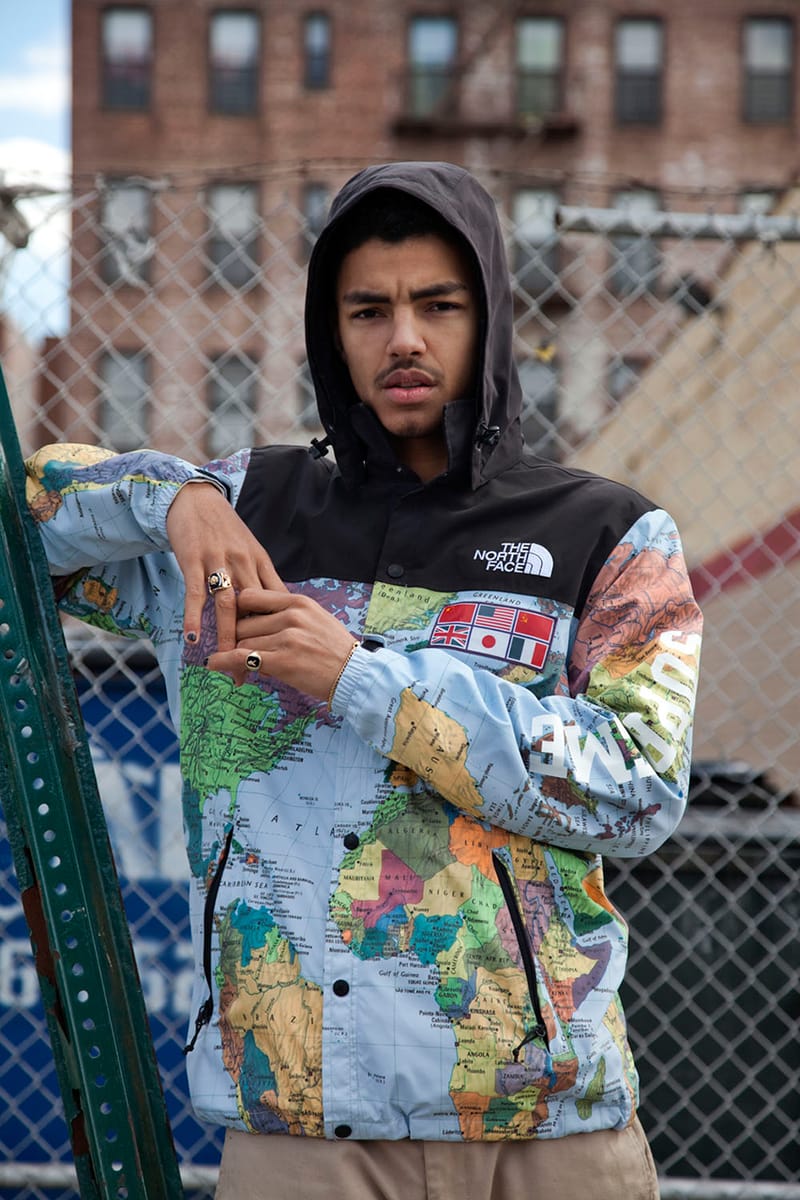 Expedition Jacket, 2014Supreme13 of 29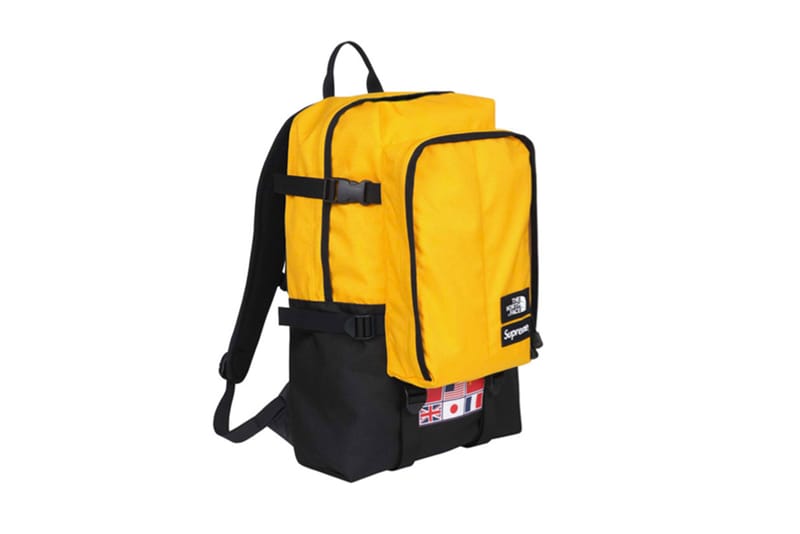 Expedition Medium Day Pack, 2014Supreme14 of 29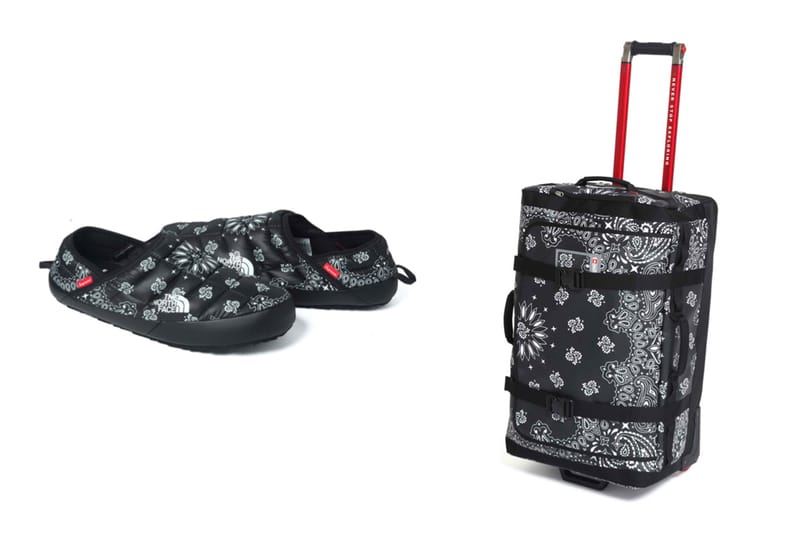 Paisley ThermoBall Traction Mule and Rolling Thunder Bag, 2014Supreme15 of 29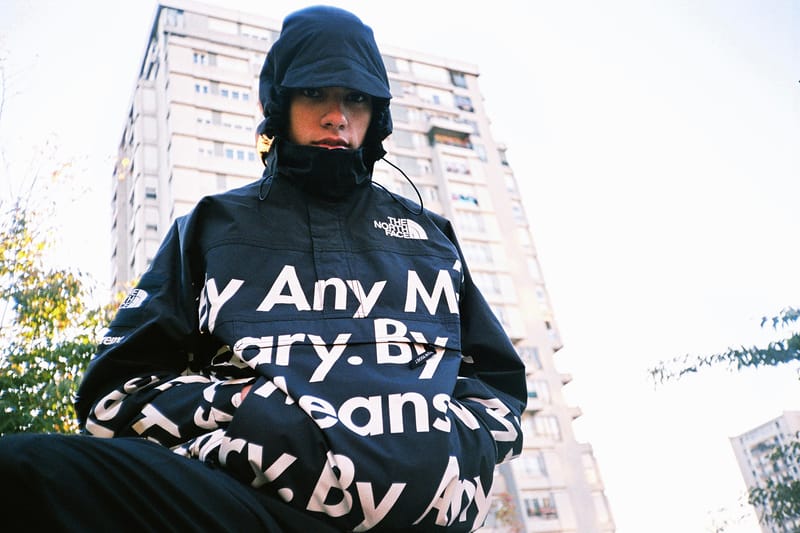 "By Any Means" Mountain Pullover, 2015Supreme16 of 29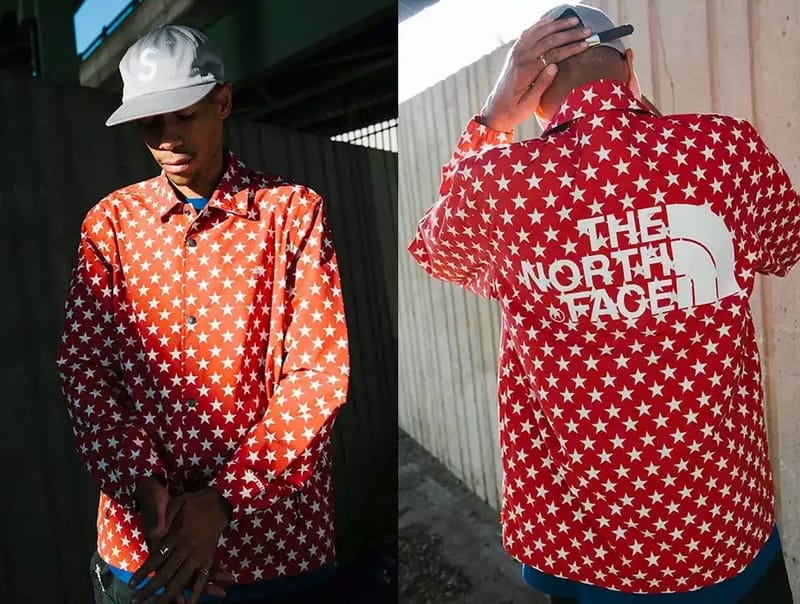 Packable Coaches Jacket, 2015Supreme17 of 29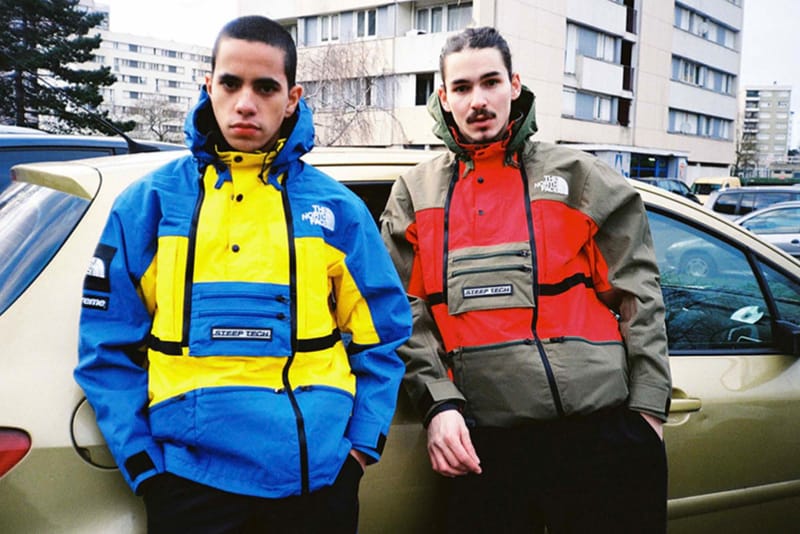 Steep Tech Hooded Jacket, 2016Supreme18 of 29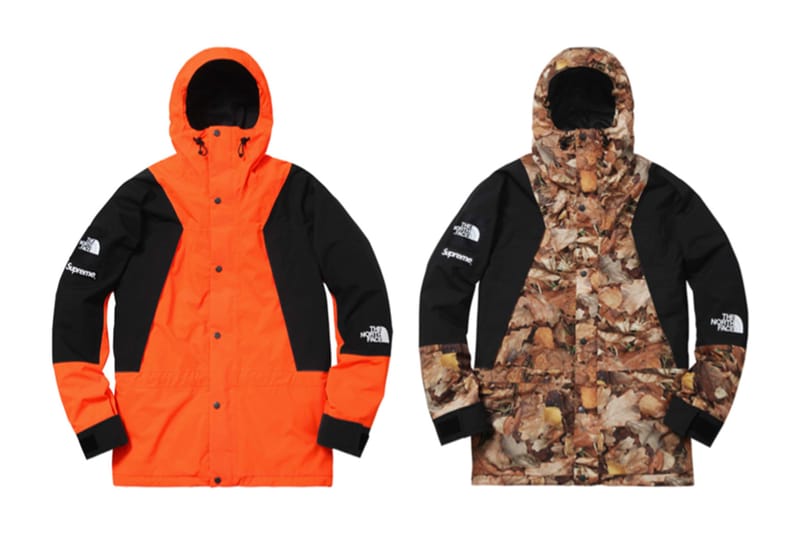 Mountain Light Jacket, 2016Supreme19 of 29
Nuptse Down Jacket, 2016Supreme20 of 29
Trans Antarctica Expedition Pullover and Pant, 2017Supreme21 of 29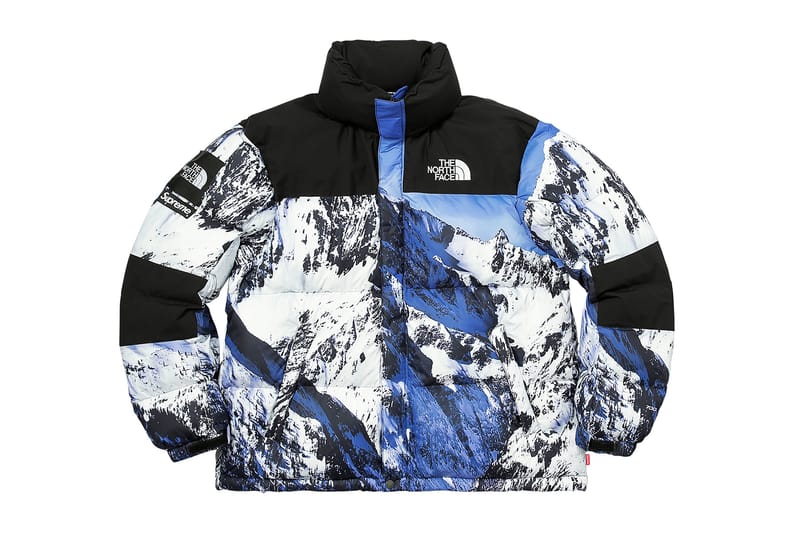 Baltoro Jacket, 2017Supreme22 of 29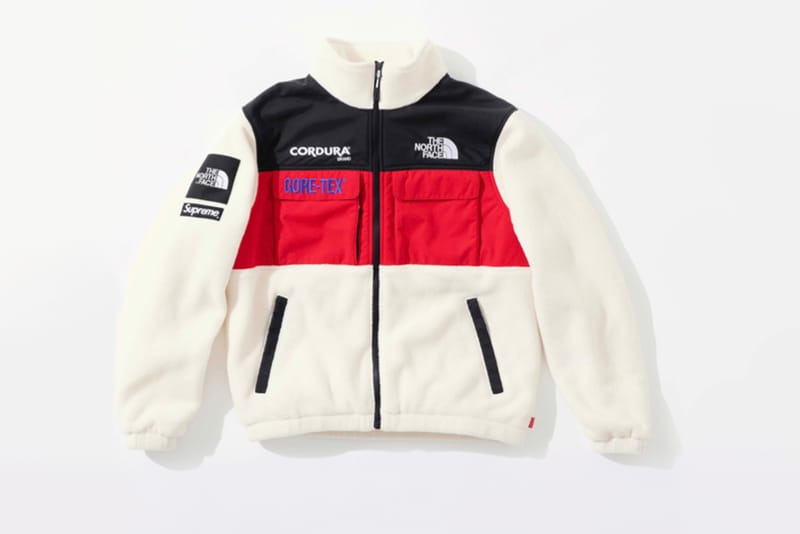 GORE-TEX and Cordura Expedition Jacket, 2018Supreme23 of 29
Metallic Bib Pants, 2018Supreme24 of 29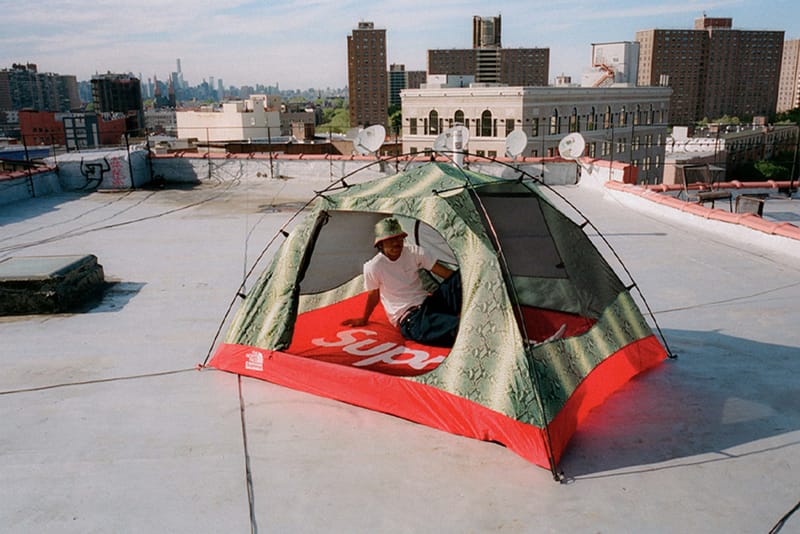 Snakeskin Print Taped Seam Stormbreak 3 Tent, 2018Supreme25 of 29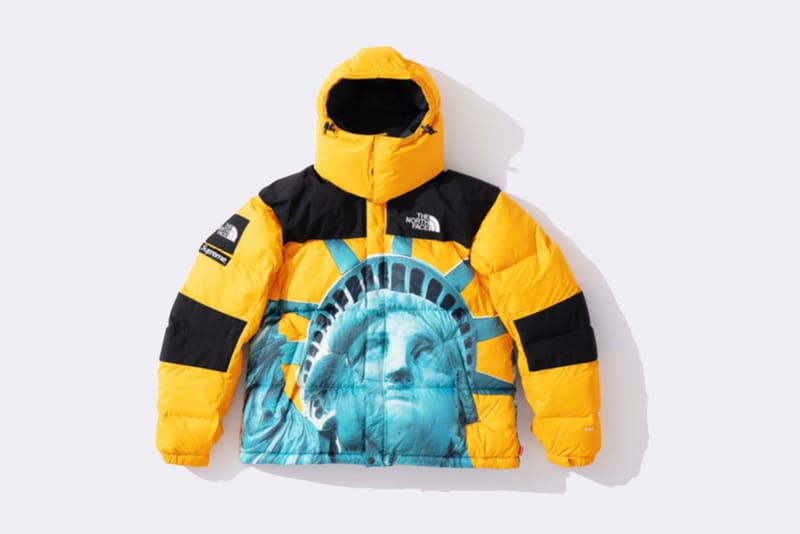 Statue of Liberty Nuptse Down Jacket, 2019Supreme26 of 29
Arc Logo Mountain Parka, 2019Supreme27 of 29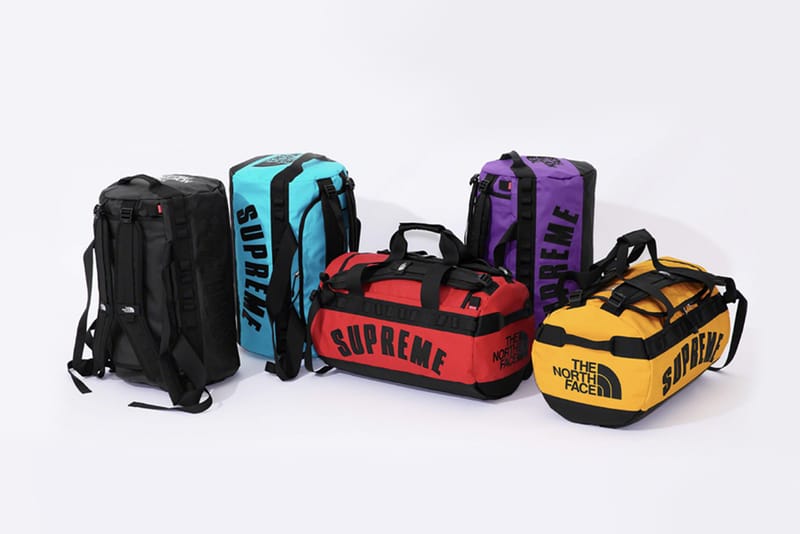 Arc Logo Small Base Camp Duffle Bag, 2019Supreme28 of 29
RTG Jacket, 2020Supreme29 of 29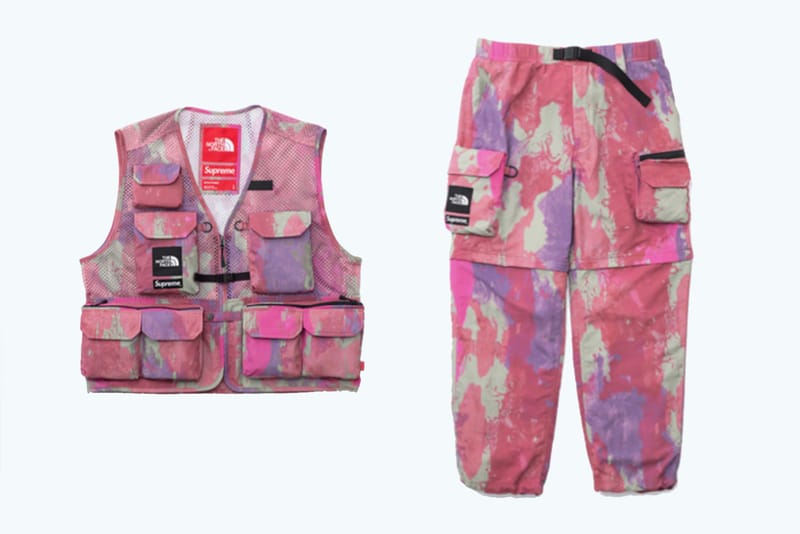 RTG Vest and Pant, 2020Supreme
No roundup of notable Supreme x The North Face drops would be complete with coverage of the duo's innumerable graphic layers, from 2008's cityscape Summit Jackets to 2012's map-printed Venture Jackets to 2015's iconic "BY ANY MEANS NECESSARY" Nuptse puffers. Other key collaborative drops include 2011's leopard outerwear and luggage, 2013's fur-printed Nuptse Jacket and Vest, the many blue and red paisley items issued in 2014, 2017's photographic mountain goods and 2019's arc logo laden goods.1 of 31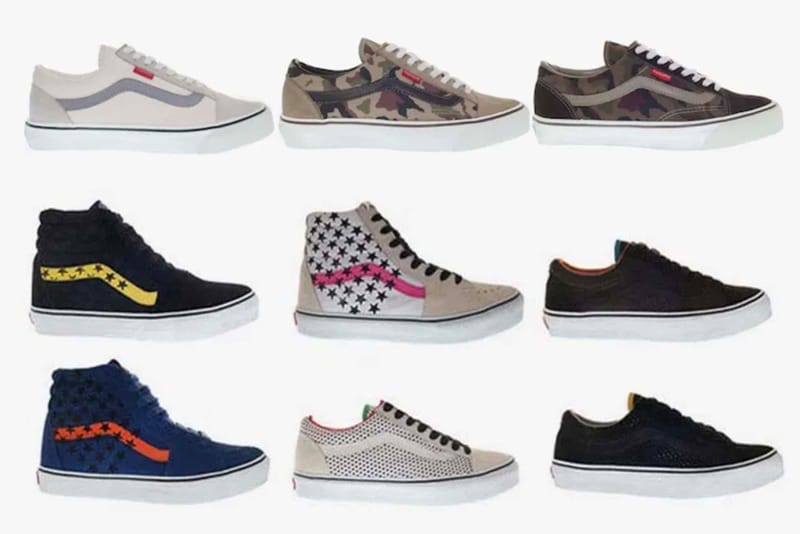 Supreme x Vans '90s sneakersSupreme2 of 31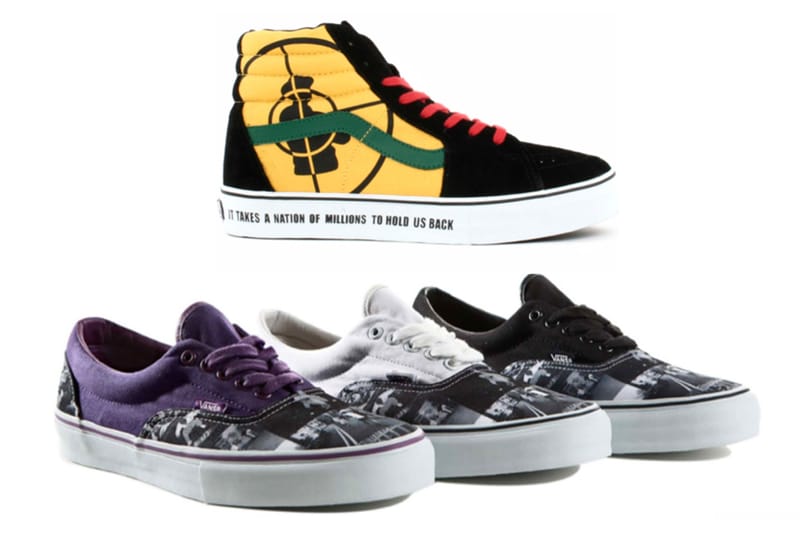 Supreme x Vans x Public Enemy; x Ari Marcopoulos, 2004Supreme3 of 31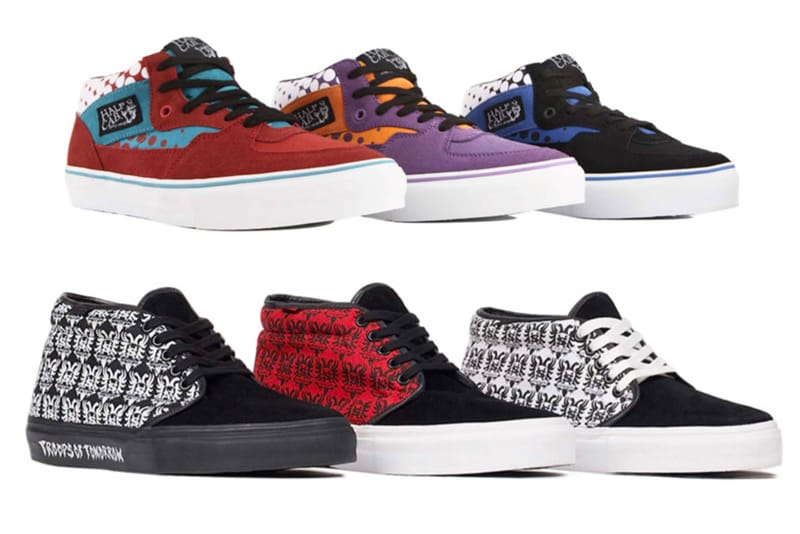 Half-Cabs; x NEIGHBORHOOD, 2007Supreme4 of 31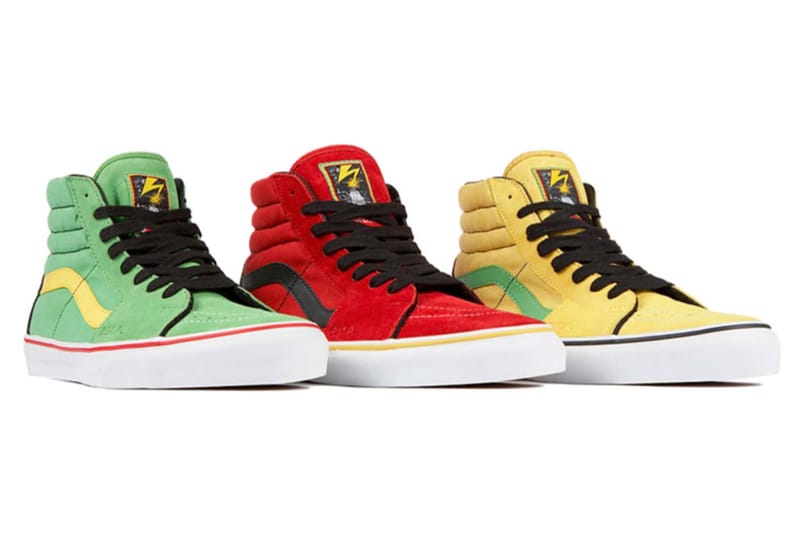 x Bad Brains, 2008Supreme5 of 31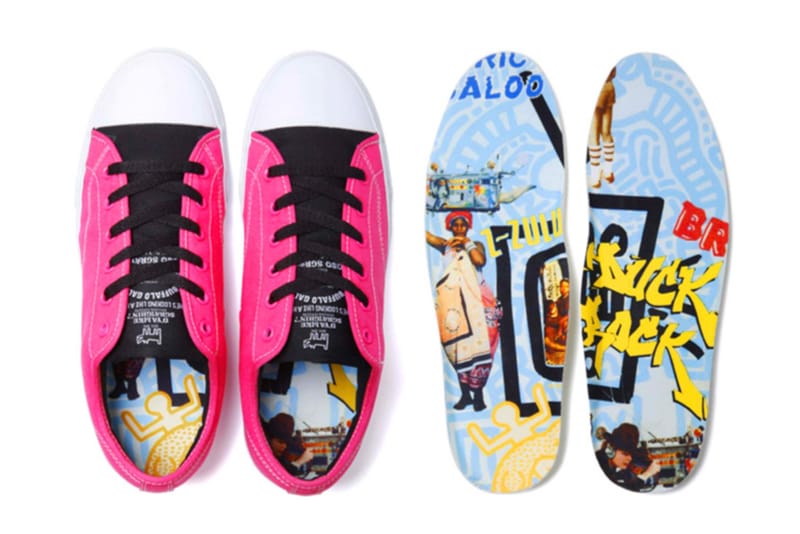 x Malcolm McLaren, 2009Supreme6 of 31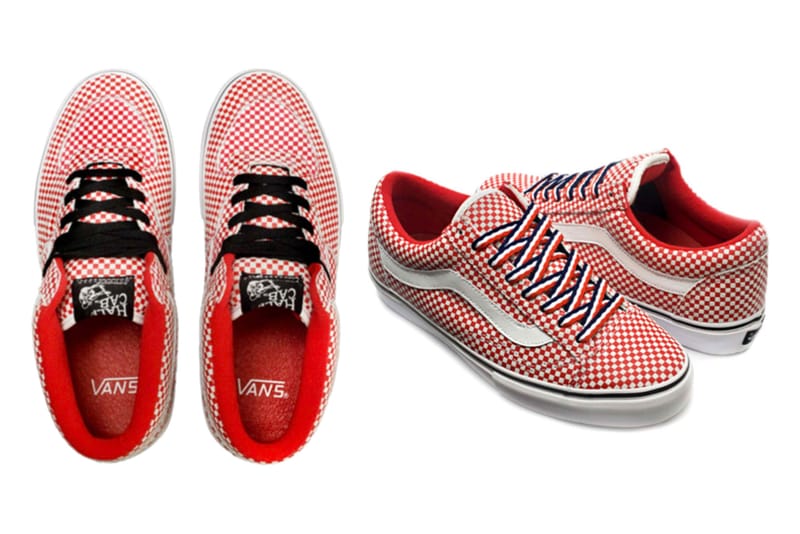 Checkered pack, 2009Supreme7 of 31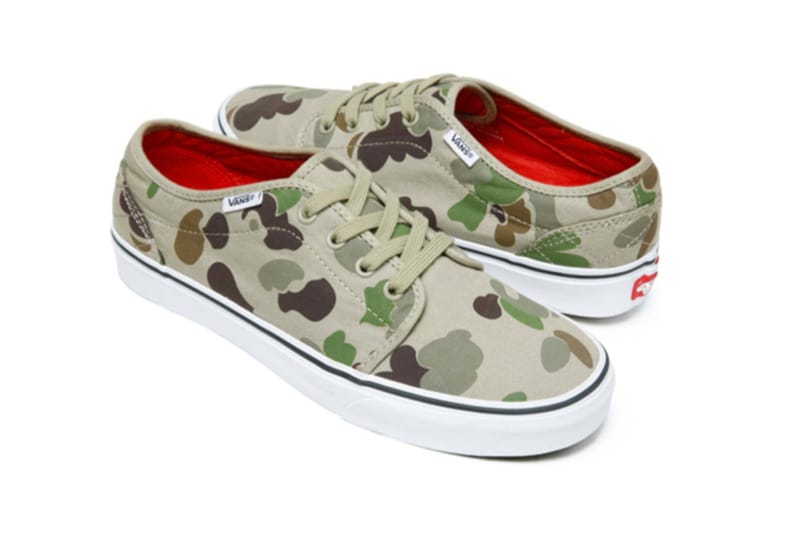 Camouflage 106 Vulcanized, 2009Supreme8 of 31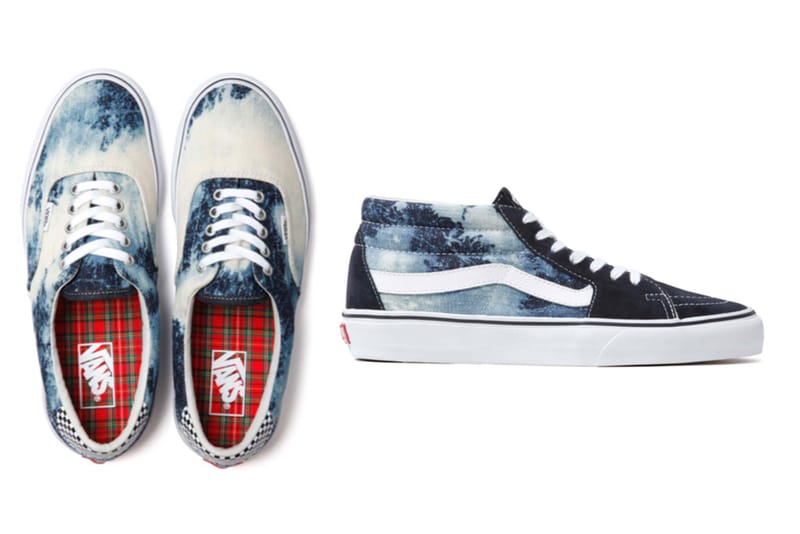 Tie-dye pack, 2010Supreme9 of 31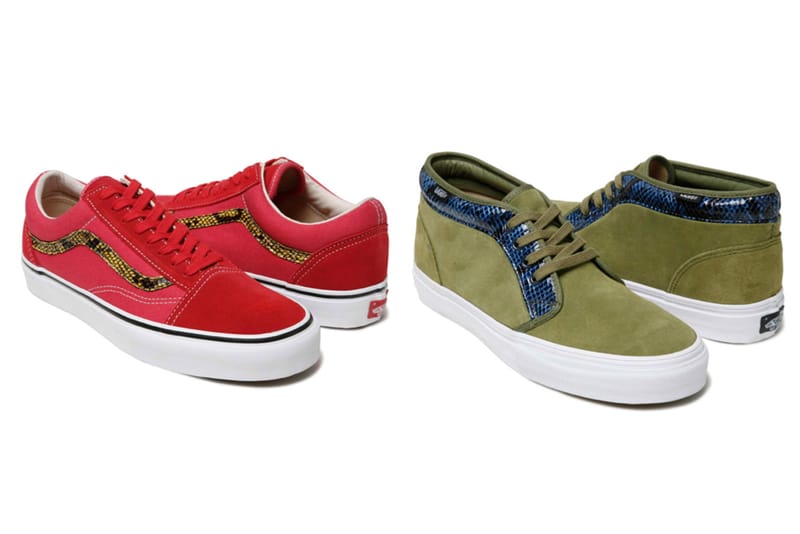 Snakeskin pack, 2010Supreme10 of 31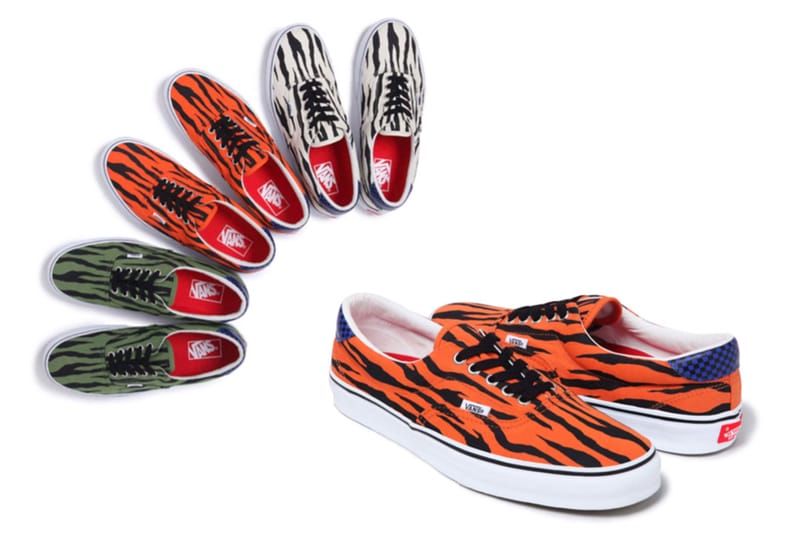 Zebra pack, 2011Supreme11 of 31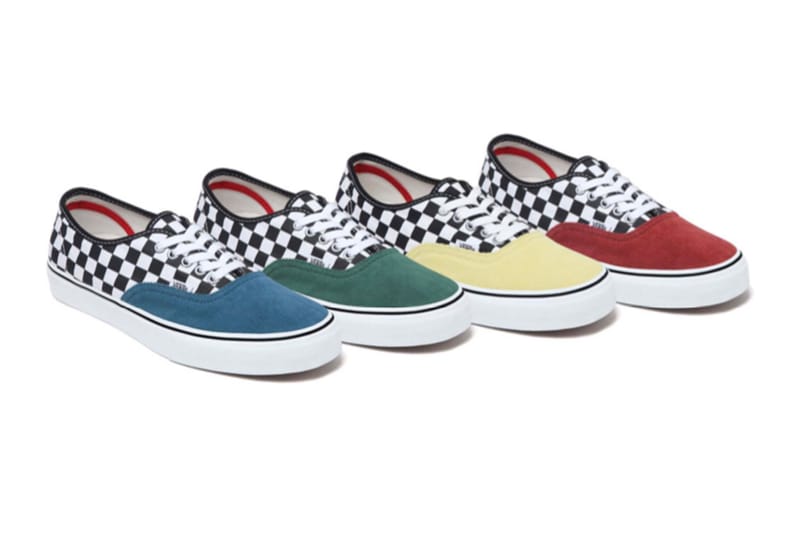 Corduroy Authentic pack, 2012Supreme12 of 31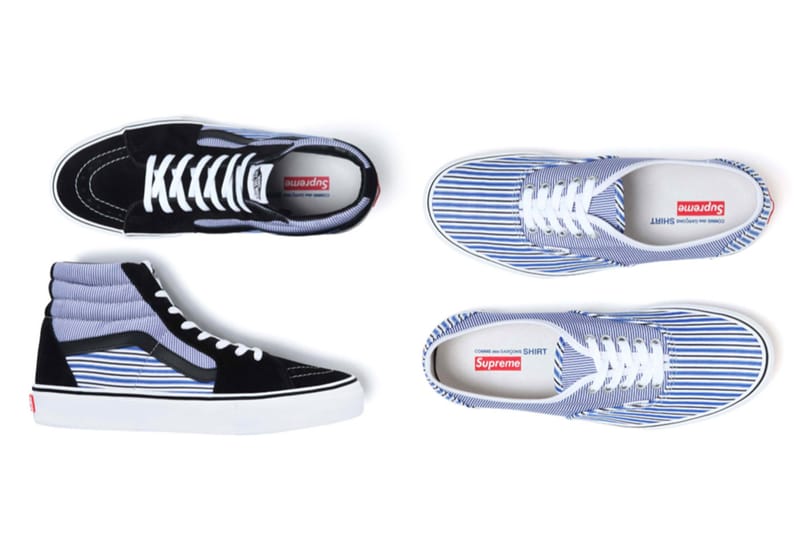 x COMME des GARÇONS SHIRT, 2012Supreme13 of 31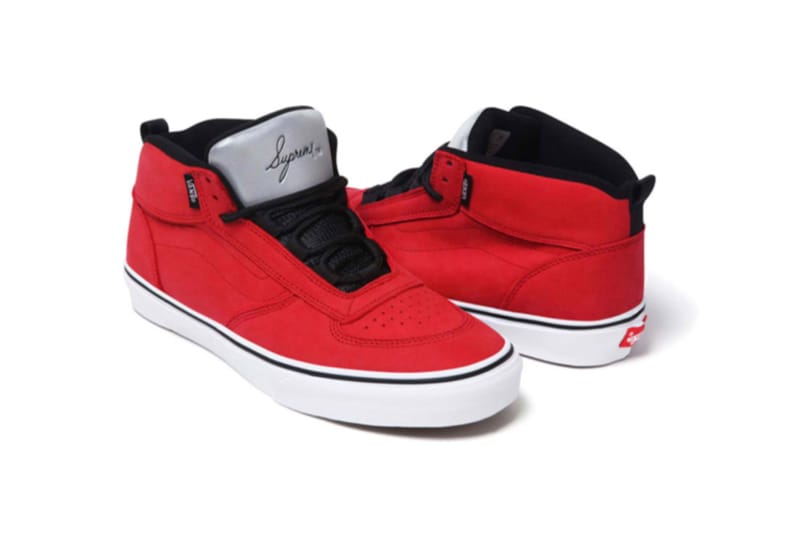 Mark Carrol signature, 2012Supreme14 of 31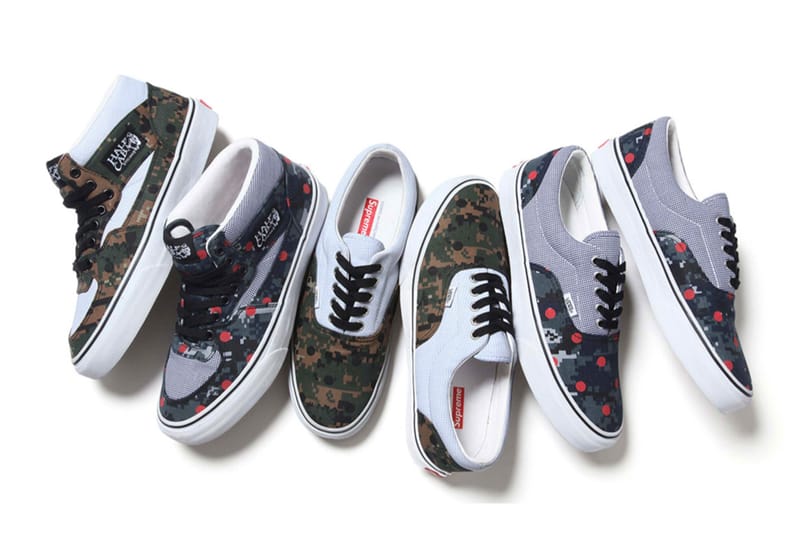 x COMME des GARÇONS SHIRT, 2013Supreme15 of 31
Lampin pack, 2013Supreme16 of 31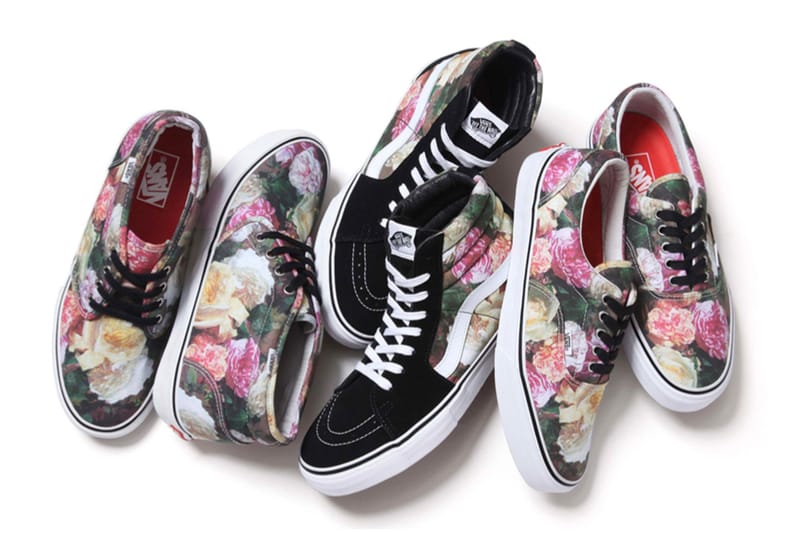 x Peter Saville, 2013Supreme17 of 31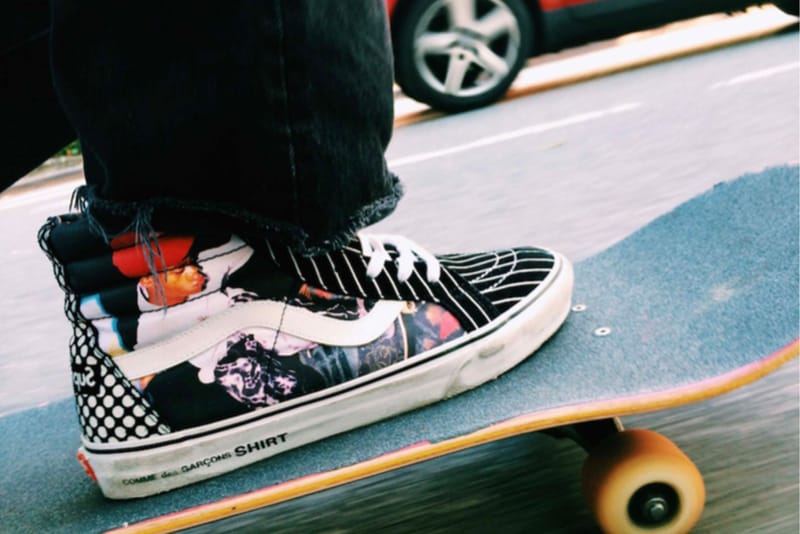 x COMME des GARÇONS SHIRT, 2014Supreme18 of 31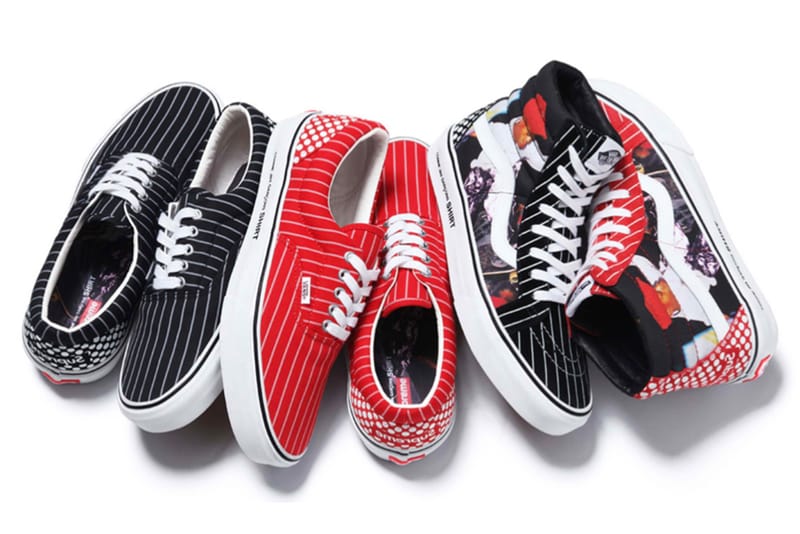 x COMME des GARÇONS SHIRT, 2014Supreme19 of 31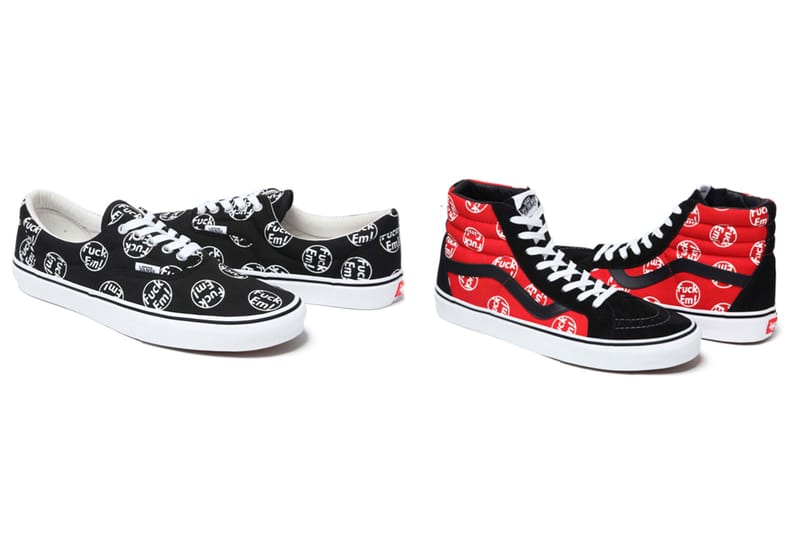 "Fuck 'Em!" pack, 2014Supreme20 of 31
x Playboy Sk8-Hi, 2014Supreme21 of 31
x White Castle, 2015Supreme22 of 31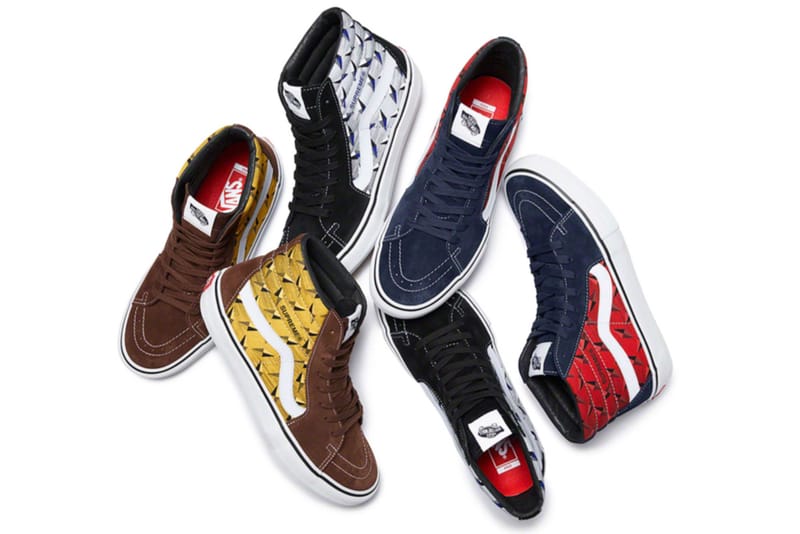 Camo Old Skool, 2015Supreme23 of 31
Checker Logo Sk8-Hi, 2016Supreme24 of 31
Motion Logo Era, 2016Supreme25 of 31
x Andres Serrano, 2017Supreme26 of 31
Liquid Blue Skull Pile pack, 2018Supreme27 of 31
Sid Pro, 2018Supreme28 of 31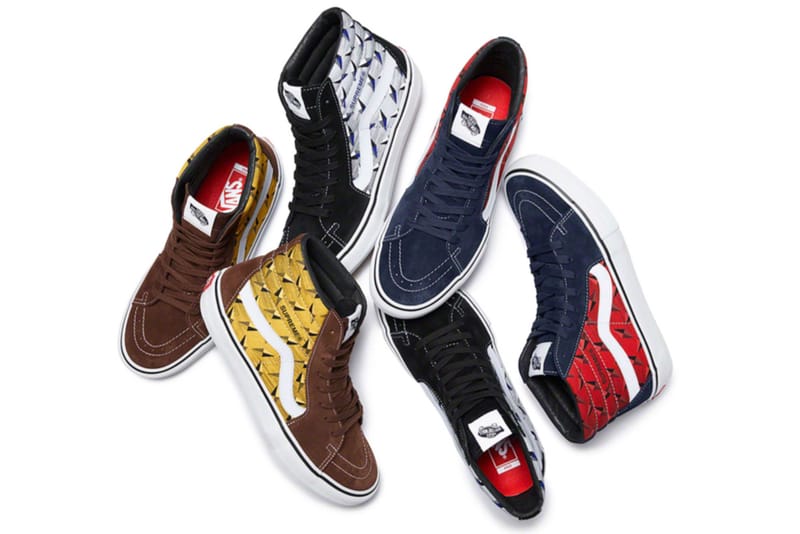 "Diamond Plate" pack, 2019Supreme29 of 31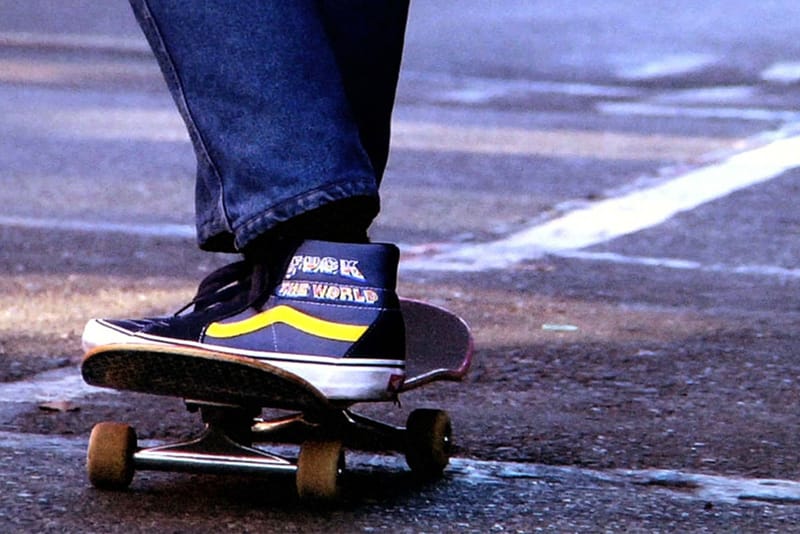 "Fuck the World" Sk8-Hi, 2019Supreme30 of 31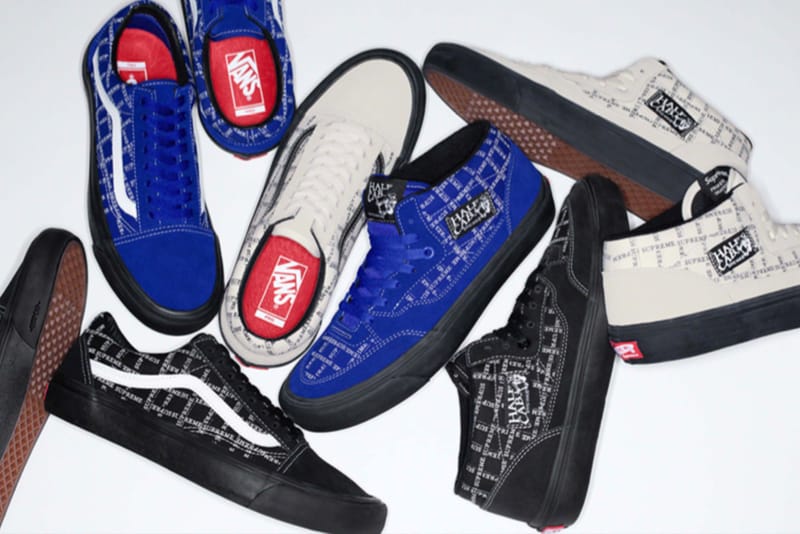 Grid Logo pack, 2020Supreme31 of 31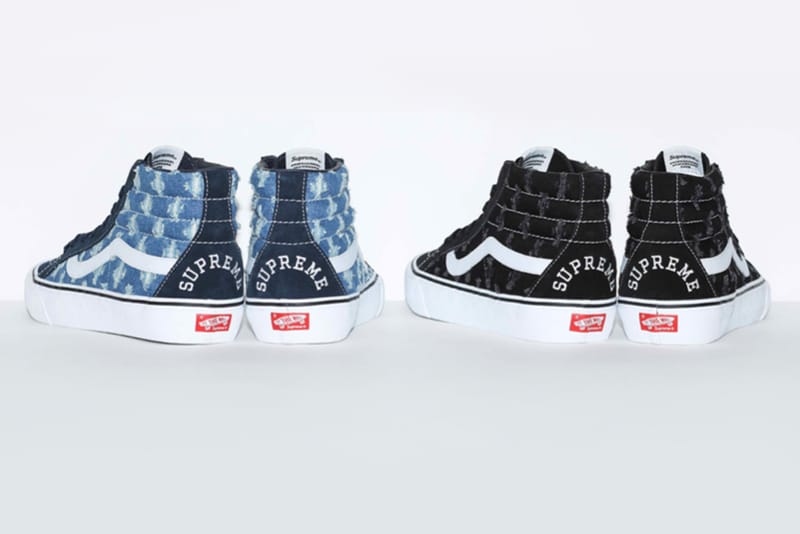 Distressed Denim pack, 2020Supreme
Vans is Supreme's most frequent co-conspirator, as the duo initially joined forces only two years after Supreme New York opened its doors way back in 1996. The collaborative sneakers that resulted from that pairing encompass a variety of styles, but are only a fraction as diverse as the models that began rolling out after 2004, Vans' first year under VF's purview. Special Ari Marcopoulos and Public Enemy sneakers kicked things off, followed by more triple collabs with the likes of NEIGHBORHOOD, Malcolm Mclaren, COMME des GARÇONS SHIRT, Bruce Lee, Playboy and more.
Supreme also dreamed up a massive assortment of its own special Vans makeups. The run the gamut from brogued Half Cabs in 2007 to tie-dye Old Skools in 2009 to 2011's colorful Chukkas to 2013's velvety, star-studded Sk8-His. Along the way, Supreme revived a host of overlooked Vans silhouettes from the past, including the sleek 106 Vulcanized, the Lampin, the "Native American" and 1994's Mike Carrol signature.1 of 13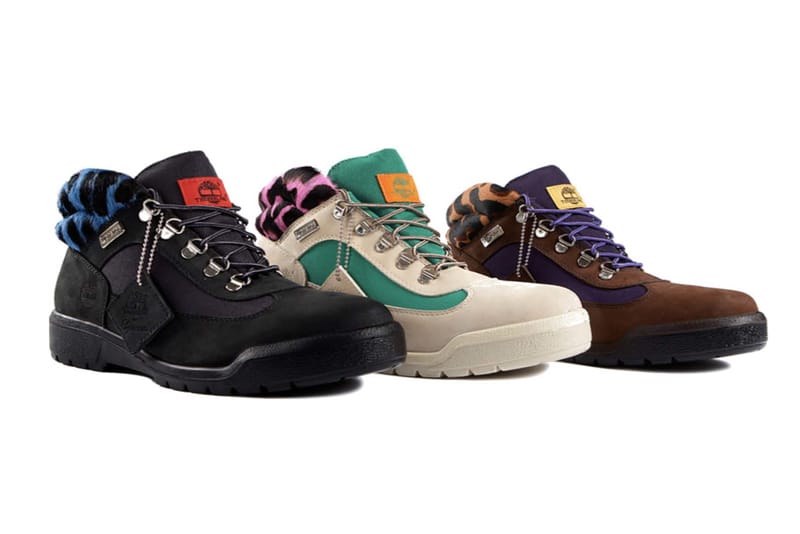 Supreme x Timberland Classic Field Boot, 2006Supreme2 of 13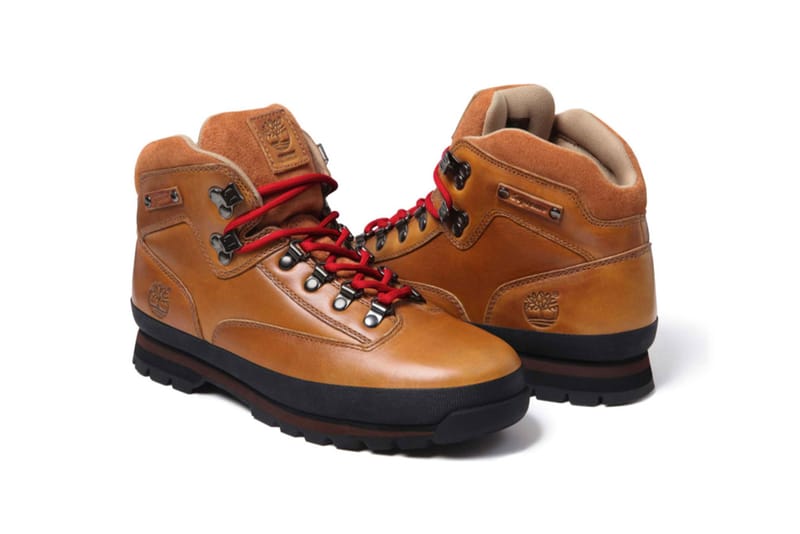 Euro Hiker, 2011Supreme3 of 13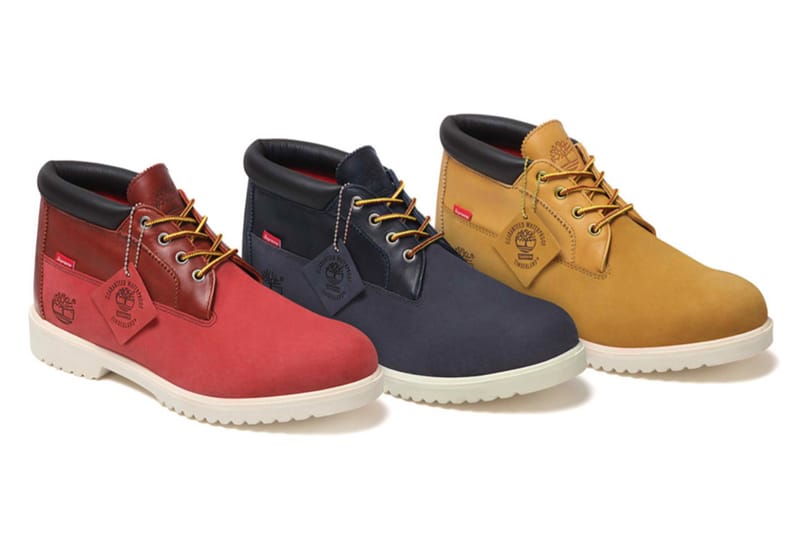 Waterproof Chukka 2012Supreme4 of 13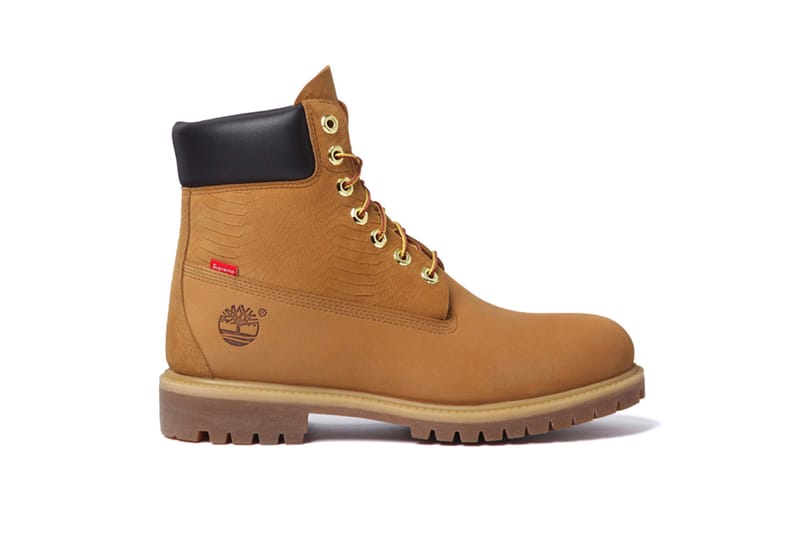 6-Inch Field Boot, 2013Supreme5 of 13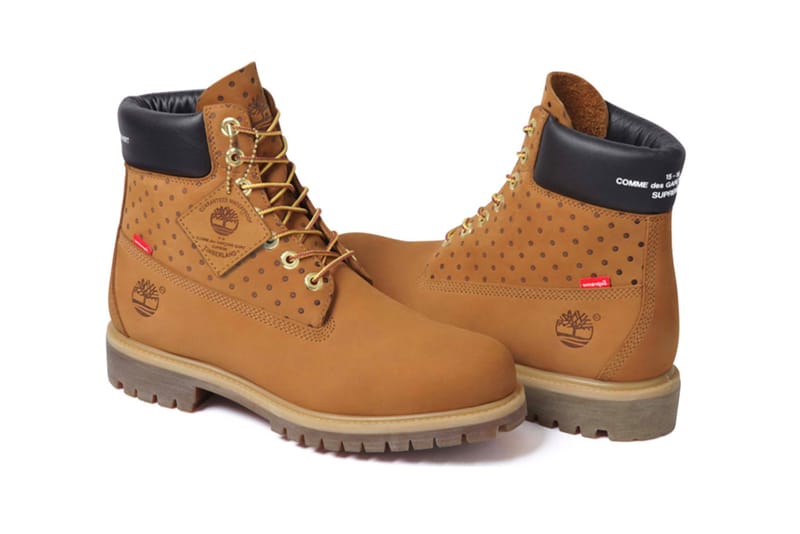 x COMME des GARÇONS SHIRT, 2015Supreme6 of 13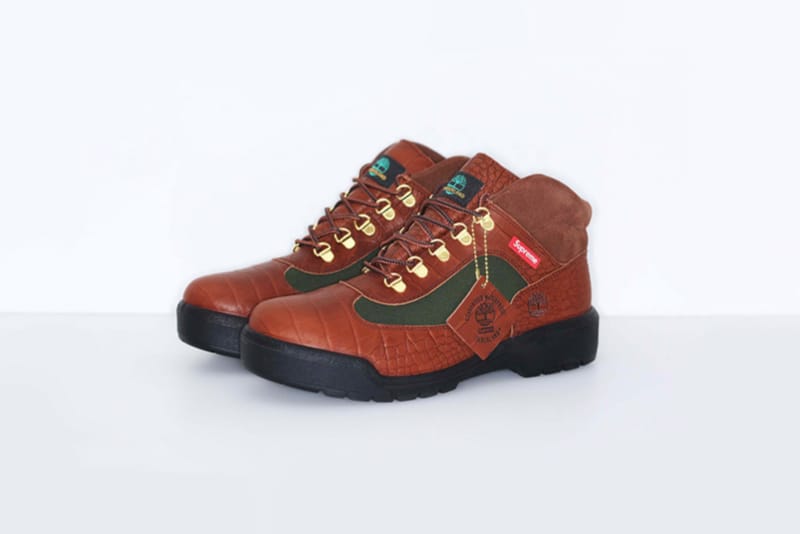 Field Boot, 2014Supreme7 of 13
Supreme8 of 13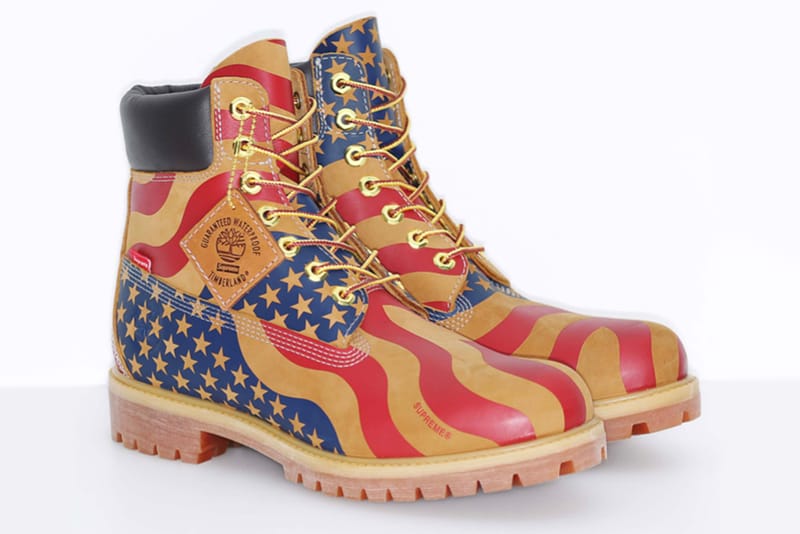 American Flag 6-Inch Boot, 2017Supreme9 of 13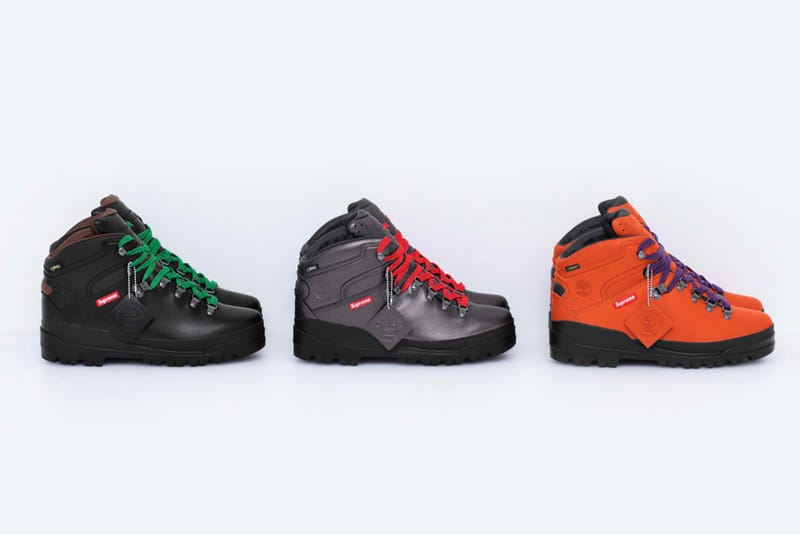 World Hiker Front Country Boot, 2018Supreme10 of 13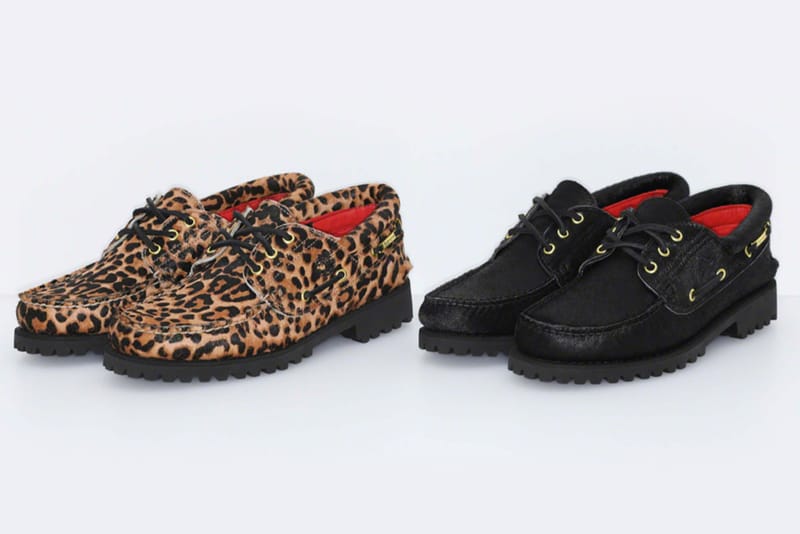 25th Anniversary 3-Eye Classic Lugs shoe, 2019Supreme11 of 13
Apparel collection, 2020Supreme12 of 13
Supreme13 of 13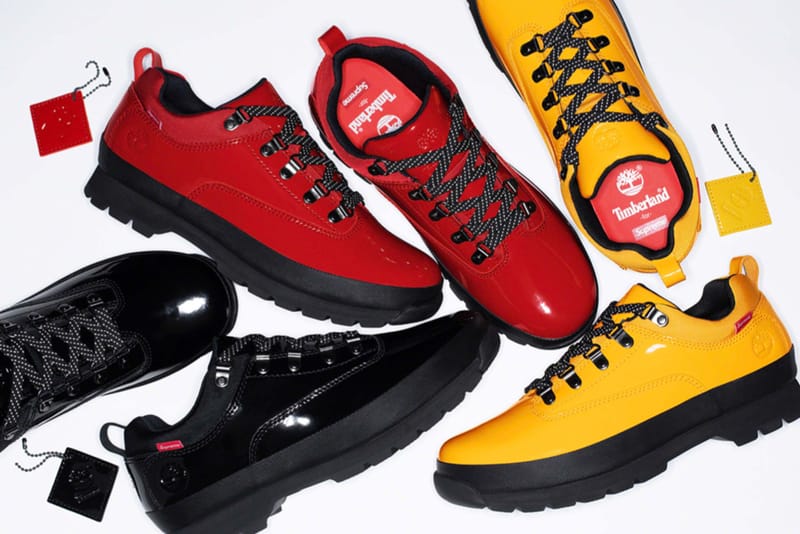 Euro Hiker Low, 2020Supreme
Compared to its two VF peers, Timberland's collaborations with Supreme have only just begun. After relaunching in 2011, the year VF acquired the brand, Timberland's Supreme offerings remained unconventional, issuing premium leather Euro Hikers, waterproof Chukkas and in 2013 the classic 6-Inch boot. The two branched out into apparel in 2016, after a three-way joint effort with COMME des GARÇONS SHIRT a year earlier, giving way to this year's concise multi-part drop.
VF's executives have made it clear that they want to stay consistent with Supreme's winning strategies of minimal social media output, selective physical presence and high-profile collaborations. If anything, more broad partnerships with VF's brands will be in order, and don't be surprised to see Supreme join forces with some of the others in VF's portfolio either, be it Eastpak, Dickies or Napapijri. Otherwise, don't expect sweeping change; VF didn't buy Supreme to kill the goose, it merely wants to profit off those golden eggs.
Source: Read Full Article