Nike's first-ever Mamba Week — a weeklong celebration of Kobe Bryant's greatness — is here and with it a bittersweet feeling. After the tragic helicopter crash that claimed his life as well as the lives of his daughter Gianna and seven others in January, Bryant's peerless commitment to excellence and drive to push basketball forward have been held as paradigms of athletic virtue. The man they called Mamba may be gone, but his impact is more poignant than ever.
In addition to changing the game itself during his 20-year career with the Los Angeles Lakers, Bryant also changed the world of basketball footwear. Nike Basketball's Kobe line matched the intensity of the man it was made for, constantly innovating, tweaking and learning in the quest to create a perfectly lethal pair of hoop shoes. Nike designer Eric Avar — a legend in his own right who was responsible for the Air Flight Huarache, Air Max Penny 1, Air Foamposite One and Air Huarache 2K4 — worked closely with Kobe to squeeze every ounce of performance possible of his footwear.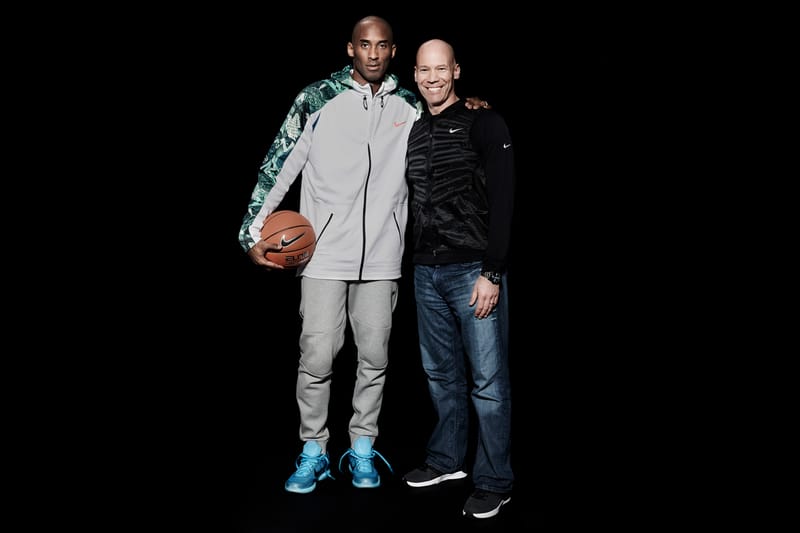 Nike
Beginning with 2009's Kobe 4, Bryant and Avar built upon performance basketball footwear by cutting it down. When Avar joined the Kobe line, basketball shoes were largely high-tops, following conventional wisdom that a high cut was necessary for stability and ankle support. The idea of a low-top signature shoe bordered on absurd, but Kobe was never one to fall in line. He challenged Avar to make him a low, lightweight basketball shoe that would give him the feel and flexibility of a football boot — leaving his ankles uncovered to strengthen his tendons and increase his range of movement. This thinking proved prophetic: today, NBA stars from Paul George to James Harden have offered their main signature models in low-top form.
The Kobe 4 was the lightest basketball shoe ever created at its launch in 2009. However, player and product designer truly hit their collaborative stride on the next signature model: the Kobe 5.1 of 5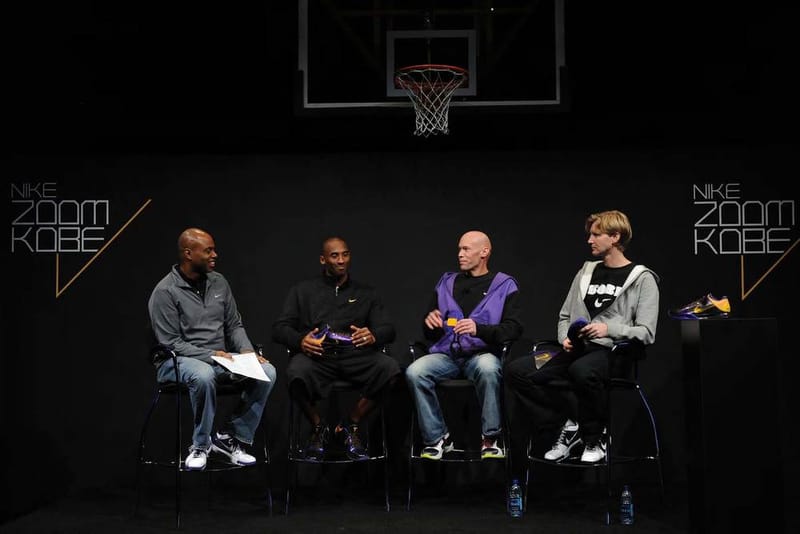 Denton-Cardew Design (2009)2 of 5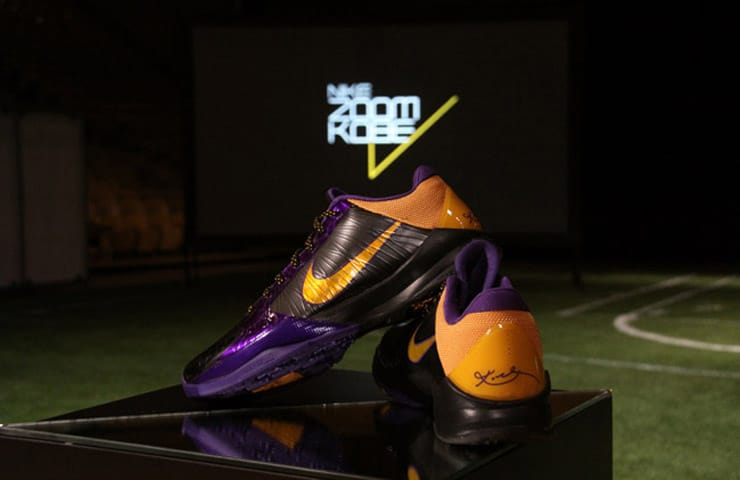 Denton-Cardew Design (2009)3 of 5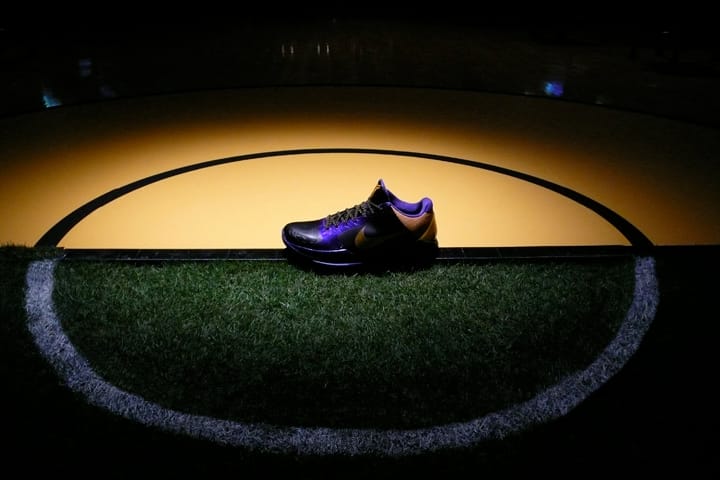 Denton-Cardew Design (2009)4 of 5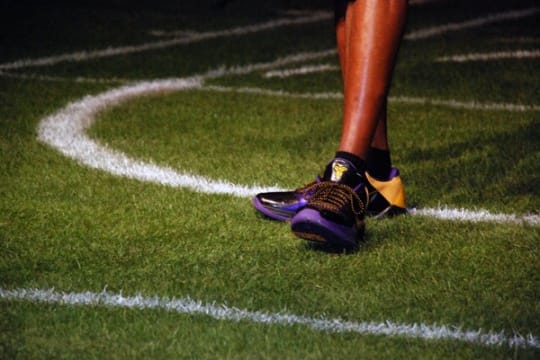 Denton-Cardew Design (2009)5 of 5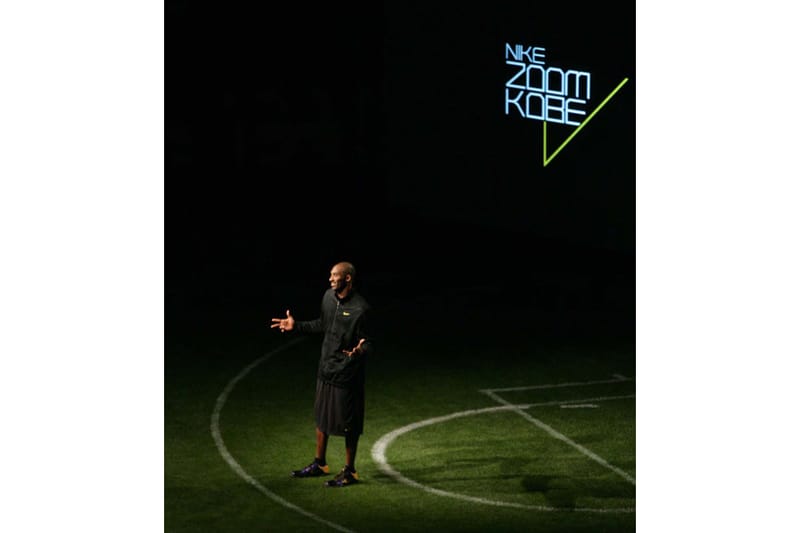 Denton-Cardew Design (2009)
Officially revealed on December 6, 2009, then debuted by Bryant during a December 8, 2009 game against the Utah Jazz, the Kobe 5 was even lower and lighter than its predecessor — which Kobe had played the first few weeks of the season in. Rich in substance, style and storytelling, it featured performance features like a carbon fiber shank plate, heat-bonded overlays, Zoom Air cushioning in heel and forefoot, enhanced outriggers and decoupled heels, all designed to give Kobe a full range of motion and make him forget the shoes were even on his feet. It told a story too, with a "heartbeat" traction pattern inspired by Kobe's passion for the game and a dot matrix "language sequence" that was replicated on all of the season's Kobe products.
Of course, the 2009-10 season was a fruitful one for Bryant and his Lakers. They finished first in the competitive Western Conference and fought through the playoffs before eventually vanquishing the Boston Celtics in a seven-game NBA Finals, giving Kobe his fifth NBA Championship ring and second consecutive Finals MVP award. It was a season full of success and accomplishment — and the Kobe 5 was right there for almost all of it.
In honor of Mamba Week and Kobe's legacy, we're taking a look back at Kobe's five finest moments in the Nike Kobe 5. Of course, it's about the shoes (as Mars Blackmon might say), but it's just as much about what Kobe did in them. The Kobe 5 in Protro form will take center stage during Mamba Week 2020: five colorways — three in-line and two UNDEFEATED collaborations — will release in the coming days.
Hollywood Holidays (December 25, 2009)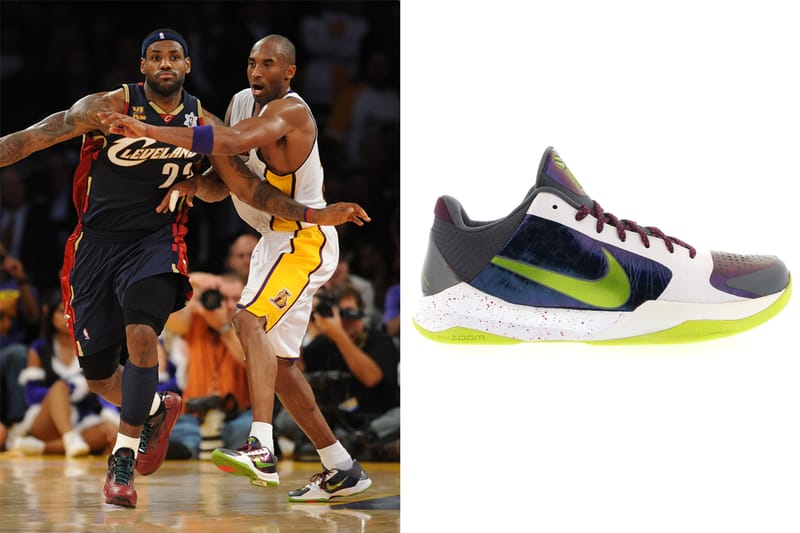 Getty Images/Stockx
Shoe: Kobe 5 "Chaos"
L.A. fans may have gotten a big lump of coal in their stockings when the Lakers were walloped 102-87 by LeBron James and the Cleveland Cavaliers during the NBA's marquee Christmas Day matchup, but Kobe's game (a near triple-double with 35 points, 10 rebounds and eight assists) and feet (Kobe 5 "Chaos") were both on point for the Yuletide showdown. Kobe had debuted the "Chaos" on a November 9 episode of George Lopez, but this marked its first in-game appearance, matched up against King James and his LeBron 7 "Christmas."
The "Chaos" would quickly go on to be the most revered Kobe 5 colorway of all time. Its moniker and colorway were inspired by Heath Ledger's iconic portrayal of the Joker in 2008's The Dark Knight — a role that resonated with Bryant due to the tales of Ledger's full immersion into the life of his character. This shared obsessive nature towards craft manifested itself into a benchmark of Nike Basketball footwear, one where storytelling, colorblocking and tech worked together to make a shoe greater than the sum of its parts.
44 for #24 (December 29, 2009 and February 1, 2010)
1 of 2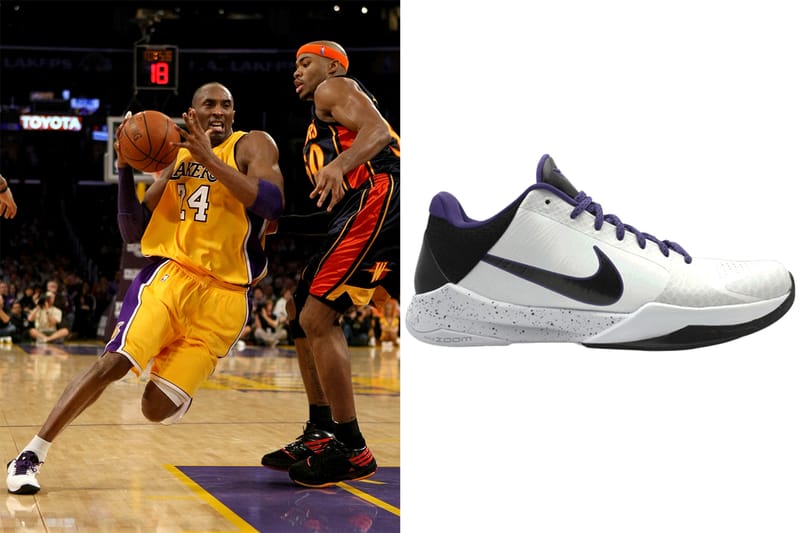 Getty Images/Goat2 of 2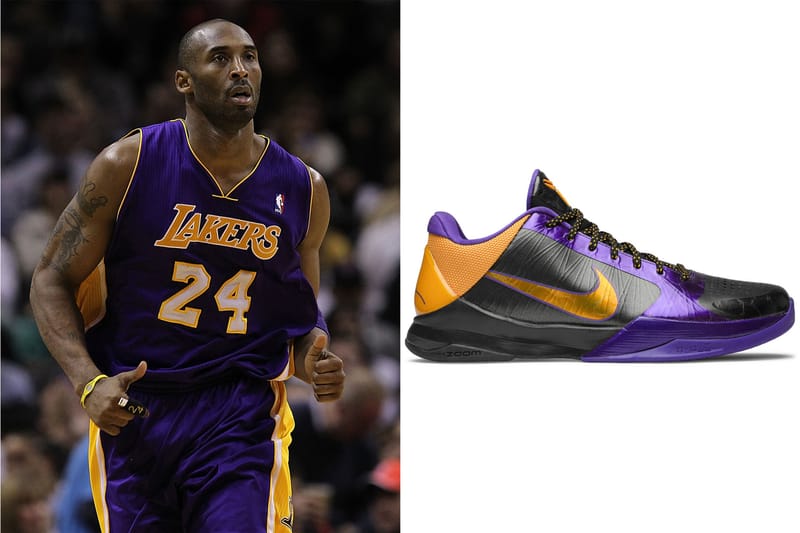 Getty Images/Goat
Shoe: Kobe 5 "Inline" (December 29), Kobe 5 "Lakers" (February 1)
Kobe averaged a robust 27 points per game over the course of the 2009-10 season. His highest single game output was 44 points, achieved twice: once against the Golden State Warriors and a rookie Steph Curry in a 124-118 victory, and once against the Memphis Grizzlies in a 95-93 defeat. The first game saw Kobe notch a double-double with 11 assists to match his scoring outburst, while the latter saw him shoot almost 60 percent from the field and pass Jerry West to become the Lakers' all-time scoring leader.
While pouring in the points over this duo of contests, Kobe sported two different styles of the Kobe 5. For the Warriors, he wore the Kobe 5 "Inline," a simple-yet-effective combination of white and purple with black accents. Against the Grizzlies, he sported the "Lakers," the Kobe 5's debut colorway that melds a black base with regal purple and gold embellishments.
Be Like Water (February 5, 2010)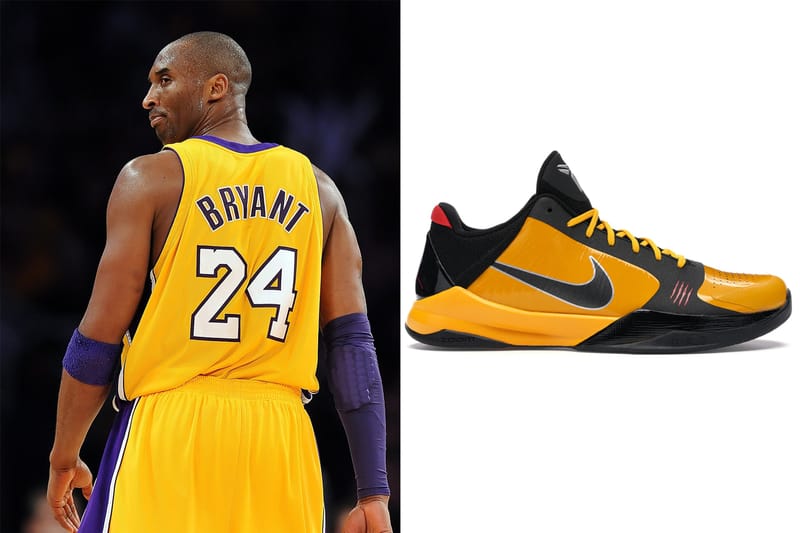 Getty Images/Stockx
Shoe: Kobe 5 "Bruce Lee"
Unable to overcome a career-high 39 points from Chauncey Billups, Kobe and the Lakers fell 126-113 to a tough Denver Nuggets team. However, Kobe channeled his inner Bruce Lee in both his game and footwear choice. Playing on a painful sprained ankle that would keep him out of action for the next five games and wearing the Kobe 5 "Bruce Lee" for the first time, he scored 33 points and grabbed 9 rebounds. Lee's "be like water" mantra applied to both the Mamba and his footwear, with Kobe both flowing around the court and crashing the boards over the course of the game.
On par with the aforementioned "Chaos" when it comes to memorable Kobe 5 colorways, the "Bruce Lee" features a yellow and black color scheme inspired by Lee's tracksuit in The Game of Death. It also boasts four red scratch marks on the lateral forefoot, a nod to the chest wounds Lee suffered during his battles in Enter the Dragon. Much like the "Chaos" salutes the mindset of Heath Ledger, the "Bruce Lee" showcases the ferocity and focus displayed by another of Kobe's Hollywood heroes.
Eyes on the Prize (April 18, 2010)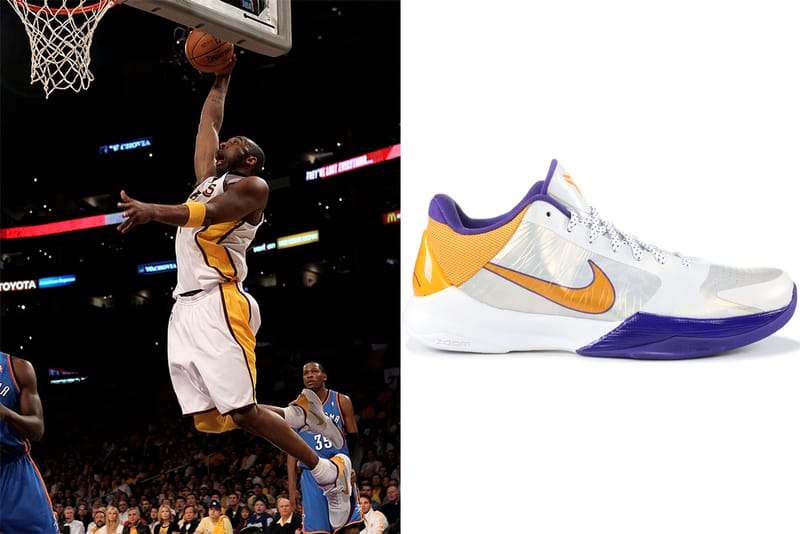 Getty Images/Stockx
Shoe: Kobe 5 "Lakers Alternate"
After finishing the regular season with a conference-best 57-25 record, the Lakers matched up against the Oklahoma City Thunder in the first round of the Western Conference Playoffs. Lead by a young Kevin Durant and a rookie James Harden, the Thunder had promise but couldn't match the firepower of Kobe, Pau Gasol, Lamar Odom and the other Lakers. Scoring 21 points but only shooting 40 percent from the field, Kobe helped the Lakers to a 87-79 victory inGame 1. In a postgame interview, he quipped "It wasn't pretty, but we'll take it," encapsulating his never-ending quest for perfection in a few short words.
On his feet was an alternate colorway of the Kobe 5 "Lakers." Using a white base with purple and gold accents, the shoes were an ideal, understated match for the Lakers' white uniforms that served up classic Lake Show style and new tech in equal measures.
Five Rings (June 17, 2010)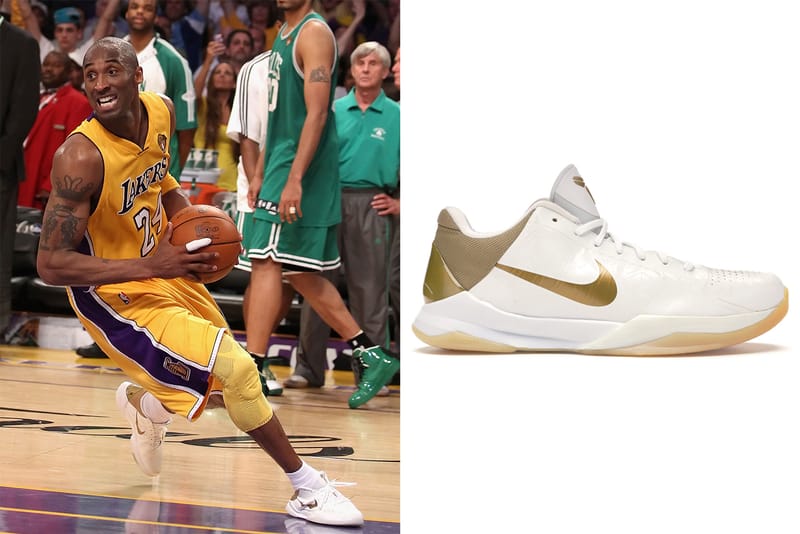 Getty Images/Stockx
Shoe: Kobe 5 "Big Stage Home"
Just like 2008-09, the 2009-10 NBA season saw Kobe lifting the NBA Championship and Finals MVP trophies. Although he'd carried the scoring load for the Lakers over the course of the season and the playoffs, Kobe trusted his teammates in the season's ultimate game against Paul Pierce, Ray Allen, Kevin Garnett and the Boston Celtics, offsetting a down 6-of-24 shooting night by grabbing 15 rebounds and finding an open Metta World Peace (née Ron Artest) for a series-clinching three-pointer in the game's final minutes. This finished off a Finals that many pundits have pegged as Kobe's finest, as he averaged 28.6 points on 40.5 percent shooting alongside 8 rebounds, 3.9 assists and 2.1 steals.
On his feet? A "Home" colorway of the Kobe 5 "Big Stage." The no-frills white and gold colorway was a simple yet effective nod to championship greatness, and provided fitting style for a legacy-cementing victory.
---
It's a true testament to the Kobe 5's design that it still looks just as good today as it did during that memorable season, and the modernized Protro makeup will introduce it to a legion of new fans as well as offer OG Kobe collectors a second chance at some of their favorite styles. After all, Kobe wouldn't have settled for anything less than the best.
Source: Read Full Article